I know a lot of you are moms. And a lot of you love living life in your leggings. I know I do! But I like creating looks with my leggings that let me be oh so comfy, yet still put together. Here are 4 ways to wear leggings that will inspire you to mix it up with your outfits!
I just wore this outfit yesterday! Moto leggings are great for a little bit of extra detail to a more basic outfit. This striped tunic is unbelievably soft, comes in 3 colors and is under $30. My leopard sneakers are 2 years old, but I found these very similar ones and I say grab them! I wear mine all the time.
The wedge sneaker is a hot trend right now and they look great with leggings! If you need a good everyday pair of leggings that cinch and tuck in all the right places, grab these. They're a little pricy, but worth every penny. A light sweater is great for layering under a scarf and still being comfortable when you go indoors. The one shown has amazing reviews and is under $40. Here are other great options here and even more reasonable here. Speaking of scarves. You can get a couple here in tons of different colors, under $15 and add a lot to any fall outfit!
There's something about that all black look that I love! This cozy sweater comes in 9 colors and is on sale for under $40 right now. If you don't have a good pair of over the knee boots, what are you waiting for? They're the best piece to make your leggings dressy. I was worried about them, since I'm short, but once I tried them, I'll never look back! Add a cute fedora (don't worry, you can pull it off!) and you're ready for your closeup.
There are always those times that you'll roll out of bed and right into your leggings. Pair them with a trendy pullover and no one will even guess you took 3 minutes to get ready. I ordered this cute pullover that comes in 6 colors and is under $25 and have been wearing it all the time! These sneakers are the same ones I wear to the gym and get tons of compliments on. They are just black with a little pink on them instead of the grey mine are. They're so cute and comfortable and the laces look like bows.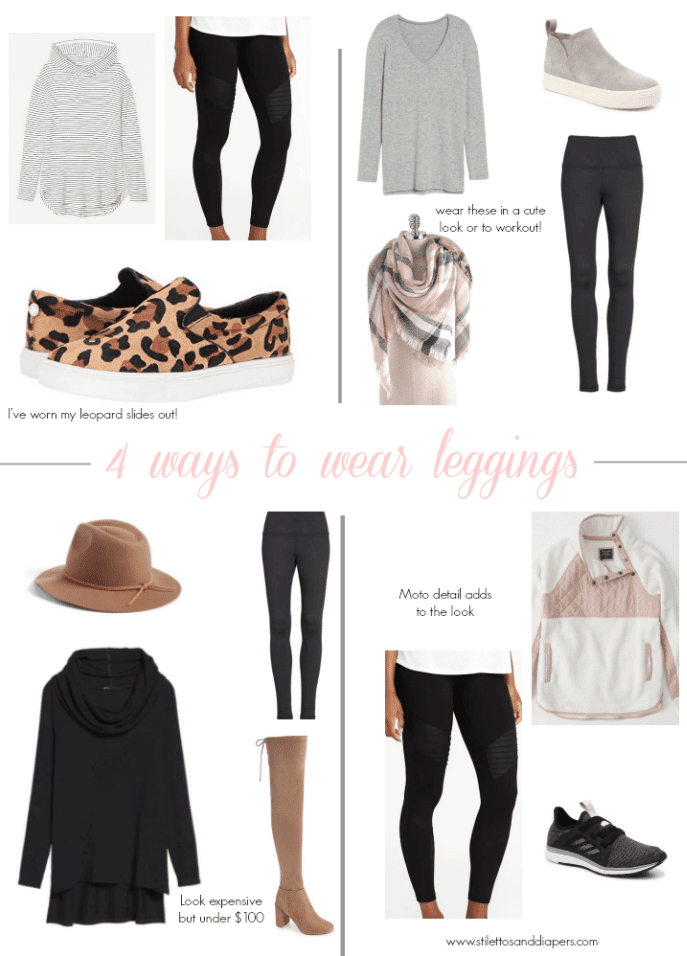 Hope this inspires you with some new ways to wear your favorite leggings. Motherhood and fashion can go together more easily than you might think!