We had such a great trip to upstate New York a couple weeks ago and I wanted to tell you all about it! The Hubs was born and raised there and I lived there for 4 years. It's the place where we went to college, we got married and his parents and one sister still live there. I absolutely love going up to visit and the last few years, it's been in the summer time. We didn't realize until we heard the boys gasping in awe at the colorful leaves, that they wouldn't remember the last time we were up in the fall. It's the most perfect time to visit, in my opinion, with so much to do and see!
I started off the trip with a morning run, which was much cooler than here in NC, but also way more beautiful. The Hubs family lives in a little village (yes, thats a thing!) that is super quaint and cute. There's one little spot to eat breakfast, with grandma style curtains and a random collection of coffee mugs. After my run, we walked about a block to the restaurant and the boys warmed up with hot cocoa. 
The Hubs sister is a hair stylist and just opened her own salon, Embellish Hair Studio and Spa. (If you're in the area, they're having a Holiday Shopping Event on December 1!) We got to go see the new space and I got my yearly fresh cut!
After The Hubs, Cooper and I got our new dos, we headed out to Indian Ladder Farms for some apple picking. If you've never had a New York apple off the tree, well, you'd be surprised to know how much better they taste than the ones in the store! 
One of the best parts of apple picking is the apple cider donuts! I love this pic of the boys, too. It's like Lincoln is wondering if the boys would notice if he ate theirs, too. Haha. 
Friday night, the boys hung out with Pa and Ma'am while we went to 677 Prime for a date night. After dinner, we went to a Halloween party with our friends. The Hubs 2 best friends still live in NY and they've been friends since they were all little. They've all been in each other's weddings and I love that us wives are great friends, too!
Saturday, we went up to Thacher Park which is a NY State park with incredible views! We intended to get family pictures for Christmas cards, but the youngest little wasn't having it. We settled for some candids and let the boys soak in the views.
After that, we drove way out to the middle of nowhere to Pick-a-Pumpkin pumpkin patch. (Literally I fell asleep in the back seat!) It was an adorable farm with tons of activities, like a giant slide, hayride, corn maze, playground, scavenger hunt, more cider donuts and of course, a pumpkin patch. Lincoln hit his limit there and I had to get him to the car, but we all left exhausted from fun!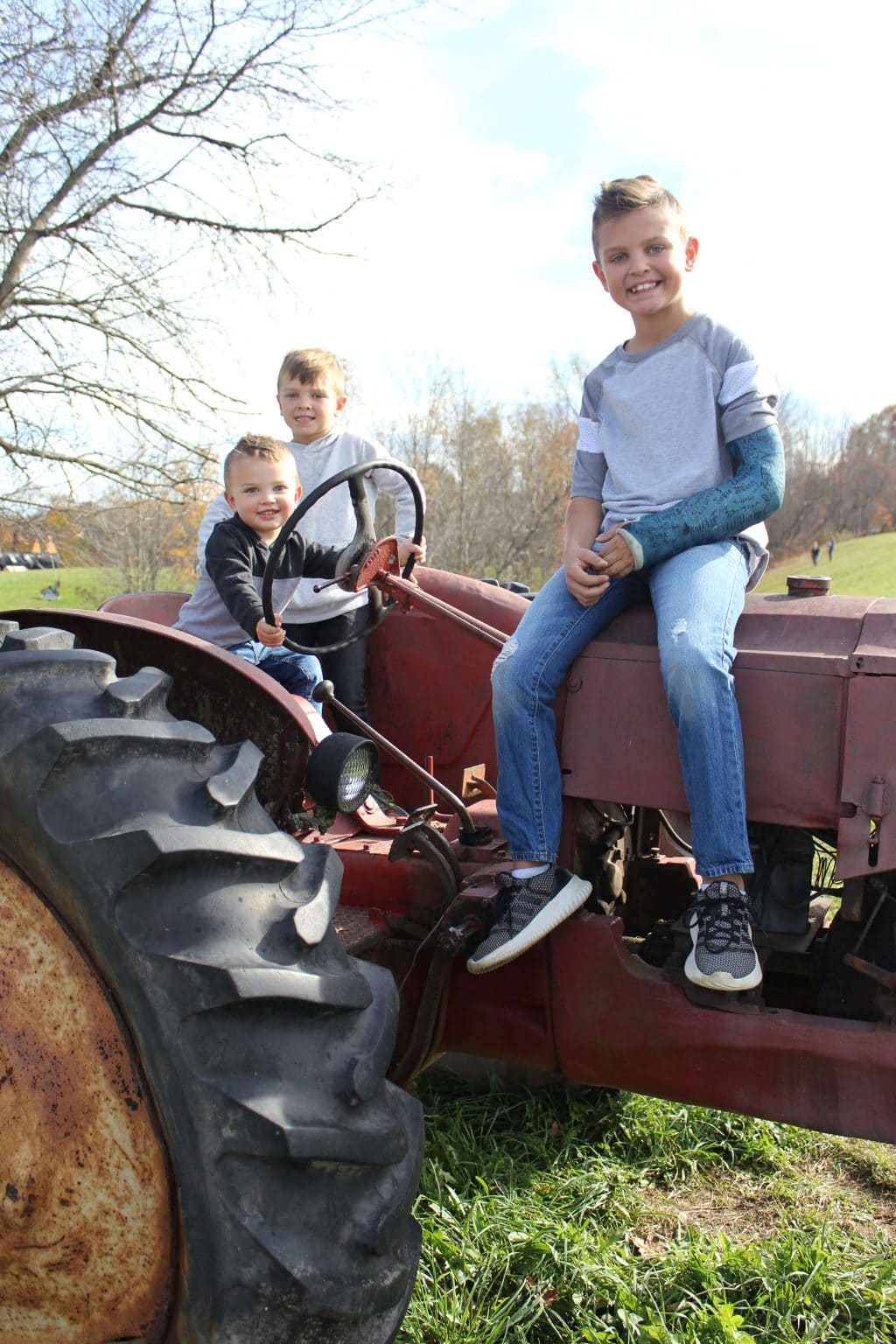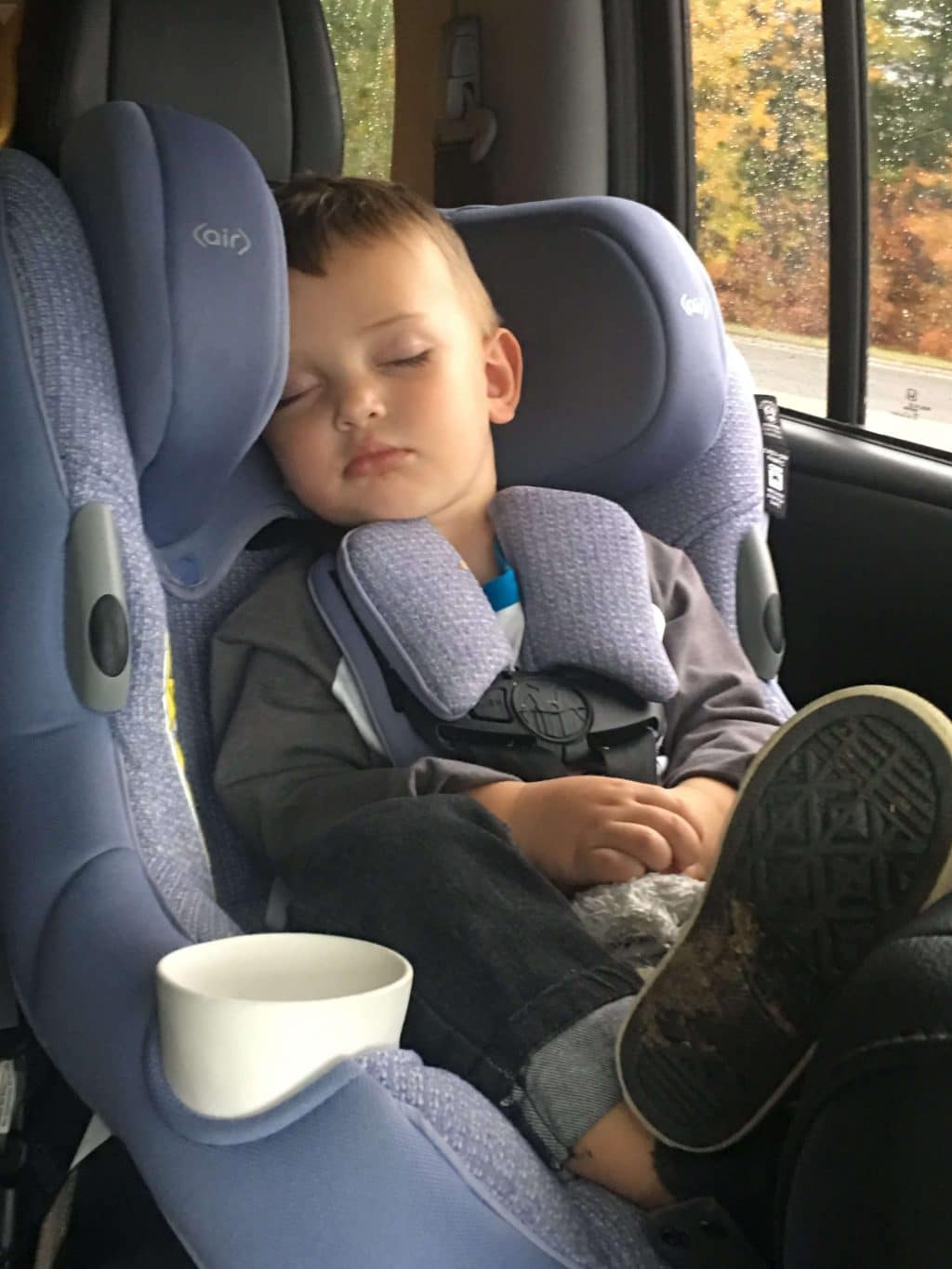 On Sunday, we went to church, then I grabbed my Mother-in-law, Sister-in-law and baby niece for some girl time at Crossgates Mall. I love shopping (y'all know that!) but my favorite place is Crossgates. I loved it when I lived there and it's SO BEYOND what it was then. They just got a Zara and I couldn't wait to get in there! I loved so many things, but my favorites were this camo dress with the fur trim and the leather ruffle jacket! They also have the best kids clothes, if you're kids love to get their trendy on like my boys!
I also love Lord & Taylor and we don't have one anywhere near me here. I tried on lots of great dresses (all but 1 was under $100!) that would be perfect for holiday parties! They have a great selection and even better sales. I couldn't believe some of the deals I saw! If your little guys need coats, or name brand athletic gear, specifically, check them out, because they had a ton.
They also have a massive Forever 21 and Lululemon is another place I like to shop there. There are plenty of fantastic restaurants and they're getting A SPA. Yes, a full blown spa. So we will be scheduling our next New York trip around the opening of Spa Mirbeau!
I hid all my packages safely in suitcases and we headed home. The boys got to love on their new niece, we kept eating apples galore (and still are) and we wished the crunchy leaves goodbye.
It was a pretty whirlwind weekend, but we made record time driving home with our minds full of great memories. I know my mom, who lived in New Jersey for a minute growing up, was super shocked to know there is so much greenery and wide open space in Upstate NY. I half expected to live in a skyscraper when I first went there myself! It's funny now that I've been there, that so many people think of New York as just the city. It's so much more and a perfect place to visit in the fall!
Have you been to upstate New York?