Happy Friday! I busted out the white pants this week, realizing I only have 1 more month until Labor day. Wait, is that even a rule anymore? I should keep wearing them even if it is. I like making my own rules.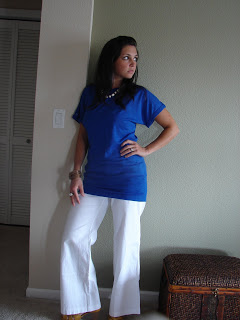 I cut my feet off because I was doing self-timer shots, but I am wearing
these amazing shoes
that I showed you not too long ago.
The pants are Gap, shirt Target, and jewelery Forever 21. Yep, again.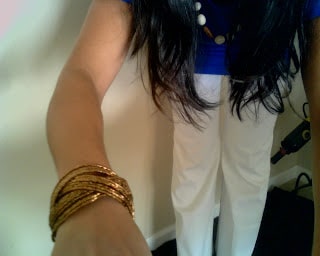 Here is proof that I am taking my own pictures, and have no idea what I am doing.
See my hair? I teased my bangs up all bump-it style. I am venturing out with the hair, because I am very bored with it. Maybe I should go blond…
Here are my little earrings I made this week. Kindof blurry, but trust me, they are cutie patuttie.
If you follow my tweets, you would know that Cooper pooped in the bathtub while I was practicing my sexy face poses in the mirror. He didn't seem to mind, though. Too bad it was a waste since these pictures reflect no improvement from last week. Now I have to go clean the tub.
Go check out Summer's style and link up for Fashion Friday!