January 2007
With just over one year of marriage under our belts, we left all our family, friends and life as we knew it and moved to California. We went all over the west coast that year, exploring everything from San Francisco and Napa to Yosemite and Tijuana.
It was fantastic. We jumped in the car and went, whenever and wherever we wanted to. We worked out a lot. Made mojitos and laid by the pool in the euphoria that is humidity free weather.

By the spring, my nursing license had transferred and we were DINKS (dual income, no kids) with a 5 year plan. We wanted kids eventually, but we were loving the life we were living.

August 5, 2007

I was 6 days late, but knew there shouldn't be a chance of pregnancy. I bought a test, just in case, and decided I would use it the next morning. Drank 2 glasses of wine, with the slight fear that I may have to go 9 months without it and went to bed. The next morning, double pink lines had me in tears. I was shocked. Then I felt guilty. I always wanted to be a mom, but I wasn't ready. We were so happy doing our thing and I was afraid to let it go.

When I came out of the bathroom, the hubs knew what the answer was. He had just been watching the news of the 6 miners that had been trapped in the Crandall Canyon Mine overnight. He hugged me tight and I'll never forget the words he said.

"Those people who are in that mine, that's a sad thing. This is a good one. We're getting exactly what we wanted, the gift just came early."

So 9 months later, we were parents. Just like that, our world completely changed. There was a lot more staying at home. A lot more downtime. And many more smiles.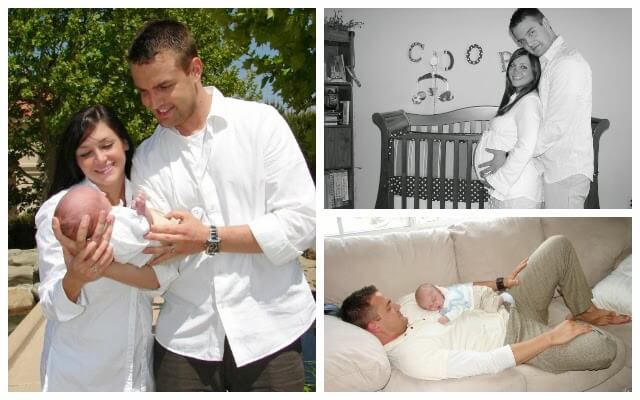 But the newborn phase wasn't so long and once we were confidant in our diaper changing skills, we ventured out. We found out that having a third person isn't that hard and we went everywhere. Tailgating, camping and boating, grape crushing in Napa, hiking in Hawaii and Disney World. Why not?


Life was better, harder and so much fuller all at the same time. We decided that it was good enough, though, to do it again. Baby #2 added even more to our lives.

We were happy in our lives before kids. But now, I can say there is tons of joy. You can't help but look at those little faces and feel it. I feel it when I sit and cheer for my little boy playing sports. I cheer at every shot, every swing, and every run to the base. I feel it when I don't care if I get a single present for Christmas, because all I need is to see their excitement. I feel it when school papers come home with little stars or when we have painted fingers from the latest art project we're sending in. I can't imagine my life without my boys.

Now, more than ever, I'm doing exactly what I want to be doing and what I know I'm supposed to be doing.

The unexpected has a way of turning into amazing sometimes. Take Delivery Man. Watch David's journey (Vince Vaughn) as an unexpected discovery unfolds to help him find his long lost children and his true self. I couldn't do 533 kids, that's for sure, but this hilarious and heartfelt movie sure did bring back memories for me. Bring it home on Blu-ray, DVD and Digital HD 3/25/2014 and have a date night with your honey! You can order your copy here. Check out their Facebook page to learn more about this heartwarming movie!

How have kids changed your life for the better? Tell me in the comments for a chance to win a $100 Visa gift card!


Sweepstakes Rules: No duplicate comments. You may receive (2) total entries by selecting from the following entry methods: Leave a comment in response to the sweepstakes prompt on this post Tweet (public message) about this promotion; including exactly the following unique term in your tweet message: "#SweepstakesEntry"; and leave the URL to that tweet in a comment on this post Blog about this promotion, including a disclosure that you are receiving a sweepstakes entry in exchange for writing the blog post, and leave the URL to that post in a comment on this post For those with no Twitter or blog, read the official rules to learn about an alternate form of entry. This giveaway is open to US Residents age 18 or older. Winner will be selected via random draw, and will be notified by e-mail. You have 72 hours to get back to me, otherwise a new winner will be selected. The Official Rules are available here. This sweepstakes runs from 3/20/14 – 4/19/14. Be sure to visit the Delivery Man page on BlogHer.com where you can read other bloggers' reviews and find more chances to win!