With my sister-in-law's wedding just 2.5 weeks away, I am busily working on all sorts of crafty things for the ceremony and reception. This weekend, I worked my little fingers to the bone for these wine cork place card holders.
For someone that has a massive bag a few extra wine corks lying around, it was a no brainer to make them. It was a pretty simple task, too, even if my fingers were a bit sore this morning.
You'll need:
Corks
Exacto knife
Hack saw
Cardstock in your choice of color
First task, is slicing off a bit of the cork off so that they stand up. It does't take too much and I just used an exacto knife. I looked at the design of the cork first and decided where to cut based on what I wanted to show when it was standing.
Next, stand the cork up and cut a straight slice down the center, going about half the depth of the cork.
That slice isn't wide enough to easily get the card in without bending it. So using the thin cut as your guide, place the cork on a hack saw and gently cut, making sure not to go too deep.
You could also cut down into the cork, but I found moving the cork was easier than moving the saw. Also? Don't drink wine while using the saw. My fingernail barely lives to tell this tale.

We'll be using brown card stock with silver wording for the wedding. My SIL also decided to do 1 card for each couple, which meant I only had to make 80 of these bad boys.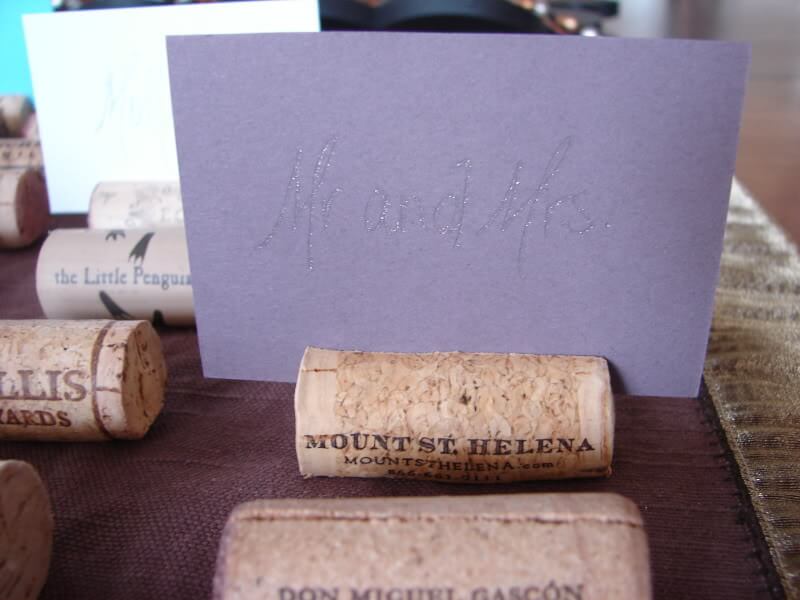 These would be perfect for a dinner party, or even to use as food labels. I'm sure I'll be making some more to keep on hand!