Don't the summer holiday's just bring out all the nostalgia?! Celebrating America, honoring the amazing men and women who fought for our freedom, time with family and friends and warm summer days that turn into long weekends. Memorial Day, July 4th and Labor Day are holidays that I look forward to every year and that I'm proud to celebrate.
Almost every year, my in-laws come home, right before Memorial Day, from a few months in South Africa. This year is no different and tomorrow they'll be here to spend a week with us. I really look forward to this time each year to catch up after not seeing them for awhile and for our boys to spend time with their Grandparents. These absolutely adorable boys, to be exact! This year, they'll be decked out in Gymboree Americana line to celebrate the weekend!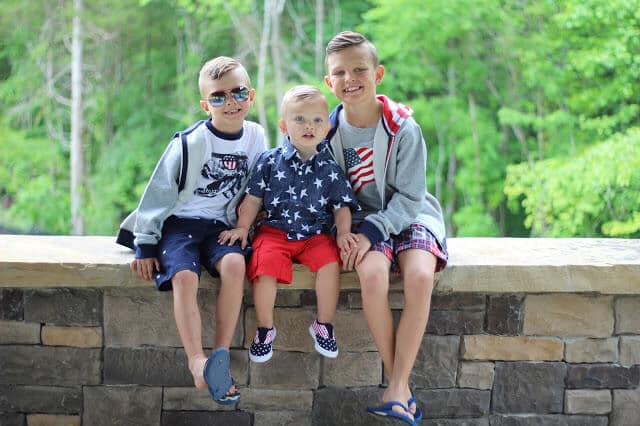 For the holiday weekend, we are pretty predictable and I love our traditions. We will spend the majority of the time on the lake. Boating is one of our favorite family past times and Memorial Day weekend is the kickoff of the summer boating season. I vividly remember family traditions that we had when I was my kid's ages and I think that my kids will grow up, fondly remembering days on the lake. Not to mention, I love getting my tan on when the boys are happy riding around! Baseball is a big part of our lives, (I do have 3 boys after all!) so we will spend a good bit of time playing whiffle ball in the backyard and watching our favorite team on TV. 


Our Memorial Day menu is pretty classic summer foods. My boys always vote for burgers and hot dogs and I already have a special crab sauce that I buy in Florida to serve with our shrimp boil! My in-laws love it almost as much as I do and we do a big spread on newspaper on the back porch. There will be a lot of watermelon juice dripping down little arms and probably a good bit of stain remover on their cute new Gymboree Americana clothing. But the memories will far outlive the stain scrubbing! 



Gymboree has the cutest red, white and blue clothing for girls and boys and right now, everything is under $12.99 with free shipping! You better stock up for the summer now! 


What are your summer holiday traditions? 


Any favorite activities or recipes? I want to hear them!


This post is sponsored by Gymboree.
All thoughts and opinions are my own.