I got the fun pleasure of reviewing the new
Bounce Dryer Bar
! This is a perfect invention for someone like me since I happen to be quite forgetful…and hate doing laundry.
I was sent the dye and perfume free version since I have little booties that I'm washing clothes for. The awesome thing about this bar is, you stick it and forget it! Since my last, oh, 300 loads of laundry haven't had the fabric softener sheet added because I CAN'T REMEMBER, this is super handy. With the bar, it's automatic!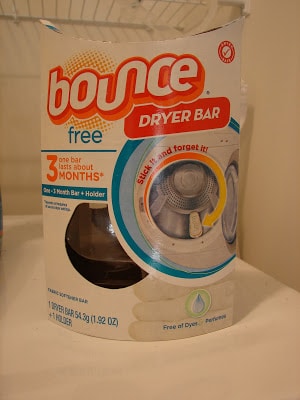 This is the Bounce Dryer Bar stuck to the inside of my dryer. I will admit, it does look kinda nasty. This was after I did a few loads of laundry and a little lint and hair got stuck to it. Not a big deal, though.
How often do you stick your head in the dryer to take pictures?
My very first load with the Bounce Dryer Bar was our sheets and towels. We use the T-shirt sheets and usually, when I get them out of the dryer, I almost get electrocuted. I have to literally peel them apart as sparks fly out. Now, you would think I would remember the dryer sheets, especially with this kind of load, but I don't. The Bounce Dryer Bar made it way too easy!
A load with hubs undershirts in it was noticeably softer. And? My hair didn't stand on end when I pulled on my shirt. You'd think remembering the dryer sheets would be more important to me simply for that benefit! Haha. I am so happy with this simple Bounce Dryer Bar!
Basically, you are getting the exact same benefits as the Bounce fabric softener sheets, but with months of automatic freshness, softness and static-control. It is seriously easy peasy. When it is almost empty, you will no longer be able to read the word "Bounce" on the bar, then it will show the word "replace." Simply put a new bar right into the holder already stuck in the dryer. Have a load that you don't want to have softener in? The bar releases easily from the holder.
The Bounce Bar comes in 2, 3, 4 or 6 month sizes and in Fresh Linen, Free and Outdoor Fresh scents. Trust me on this one, you are going to love it.
Want to try the Bounce Dryer Bar for yourself? You can win one and a $50 Visa gift card from BlogHer and Bounce right here. Leave me a comment, or answer this question:
What is your least favorite thing about doing laundry?
You may receive (2) total entries by selecting from the following entry methods:
a) Leave a comment in response to the sweepstakes prompt on this post.
b) Tweet about this promotion and leave the URL to that tweet in a comment on this post.
c) Blog about this promotion and leave the URL to that post in a comment on this post.
d) For those with no Twitter or blog, read the official rules to learn about an alternate form of entry.
No duplicate comments. Please leave a separate comment for each entry.
This giveaway is open to US Residents age 18 or older.
Giveaway ends Tuesday, 12/6 at 5:00PM PST
Winners will be selected via random draw, and will be notified by e-mail.
You have 72 hours to get back to me, otherwise a new winner will be selected.
The Official Rules are available here.
I was given a Bounce Dryer bar to review and was monetarily compensated for this post. All thoughts and opinions are mine.
For more opportunities to win, visit the Bounce round-up page on BlogHer.com to read other bloggers' reviews!