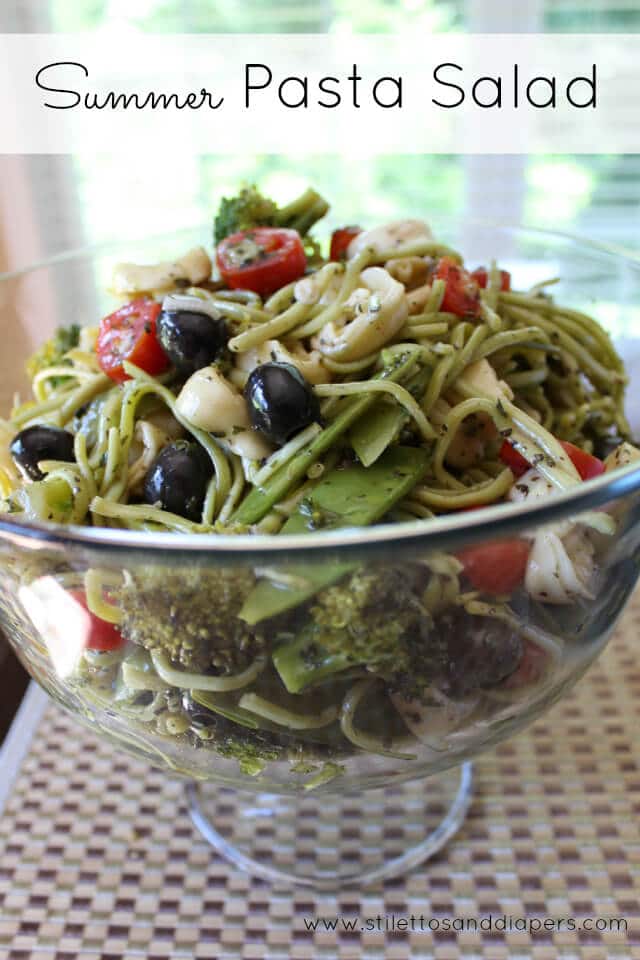 This is one of my absolute favorite dishes to make in the summer. My Aunt gave the recipe to my Mom and she passed it on to me. It's a perfect side dish, but hearty enough that it could be a meal. It has no egg or mayonnaise, so it can sit out at a barbecue for a while without going bad. It also is full of veggies and all in all? Not that bad for you. 


You can make the entire dish, only dirtying up 1 pot and a mason jar, if you time it out right. I blanch the veggies and boil the pasta all together. My fettuccine takes the longest at 10 minutes. The tortellini takes 5 and the veggies, 2. I put the fettuccine it in to boil, setting my timer for 5 minutes, then add the tortellini. Set it again for 3 minutes, then add the veggies for the last 2 minutes. When that timer goes off, everything is cooked and ready to drain!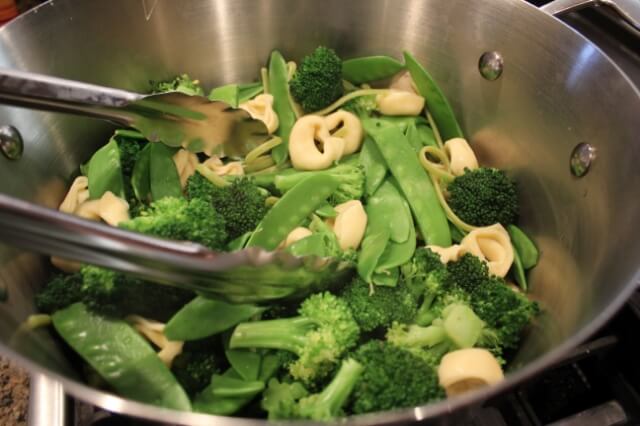 The dressing is easy and is all shaken together. I normally use a mason jar, but couldn't find an empty one this time and just used a tupperware container. 


Then it's as easy as tossing everything together and chilling!


I think it's best if it sits in the fridge overnight or at least for several hours. If you don't have time for that, at least get it chilled. It's meant to be served cold.


Ingredients:


2 cups Snow Peas
2 cups Broccoli
2 1/2 cups Cherry Tomatoes, halved
2 cups Mushrooms, sliced (We hate mushrooms so I don't put them in! You just add them raw, though)
1 can whole Black Olives, drained
1 package Tortellini (I have used both frozen and dried. Either is fine)
3 oz Spinach Fettuccine 


Dressing:


1/2 cup Sliced Green Onion
1/3 cup Red Wine Vinegar
1/3 cup Veggie Oil
1/3 cup Olive Oil
2 Tbsp Parsley
2 cloves Garlic, minced
2 Tbsp Basil
1 Tbsp Dill Weed
1 tsp Salt
1/2 tsp Pepper
1/2 tsp Oregano
1 1/2 tsp Dijon Mustard


Shake dressing ingredients vigorously in a sealed container until well combined.


Cook pasta according to package directions. Blanch snow peas and broccoli for 2 minutes. Toss together with remaining ingredients and dressing. 


Serve chilled.


Enjoy!