Do y'all have a summer bucket list for your kids? Mine have created one and we've gotten to do a ton of stuff off of that list already. Family whiffle ball game, going to a water park, eating sno cones and lots more! You know what wasn't on their summer list? Shopping the Nordstrom Anniversary Sale. Hehe. But the went along with me yesterday and were total troopers. I bribed them with going out to lunch and driving around the city, which is one of Cooper's favorite things to do. 
I got some really cute stuff and I have more coming in the mail. I just needed to go make sure I didn't miss anything online! This cross front top is super cute and will be perfect to transition to fall. (If you don't have denim cutoffs, get someeeee!)
These leggings are high waist and have the best moto detail. (This picture was right before both big boys wrestled right onto the floor)
I had to order this bow sleeve sweatshirt online while I was there because they didn't have my size in the store. I just loved it so much when I put it on that I had to have it! You need to size down one, even if you want an oversized fit!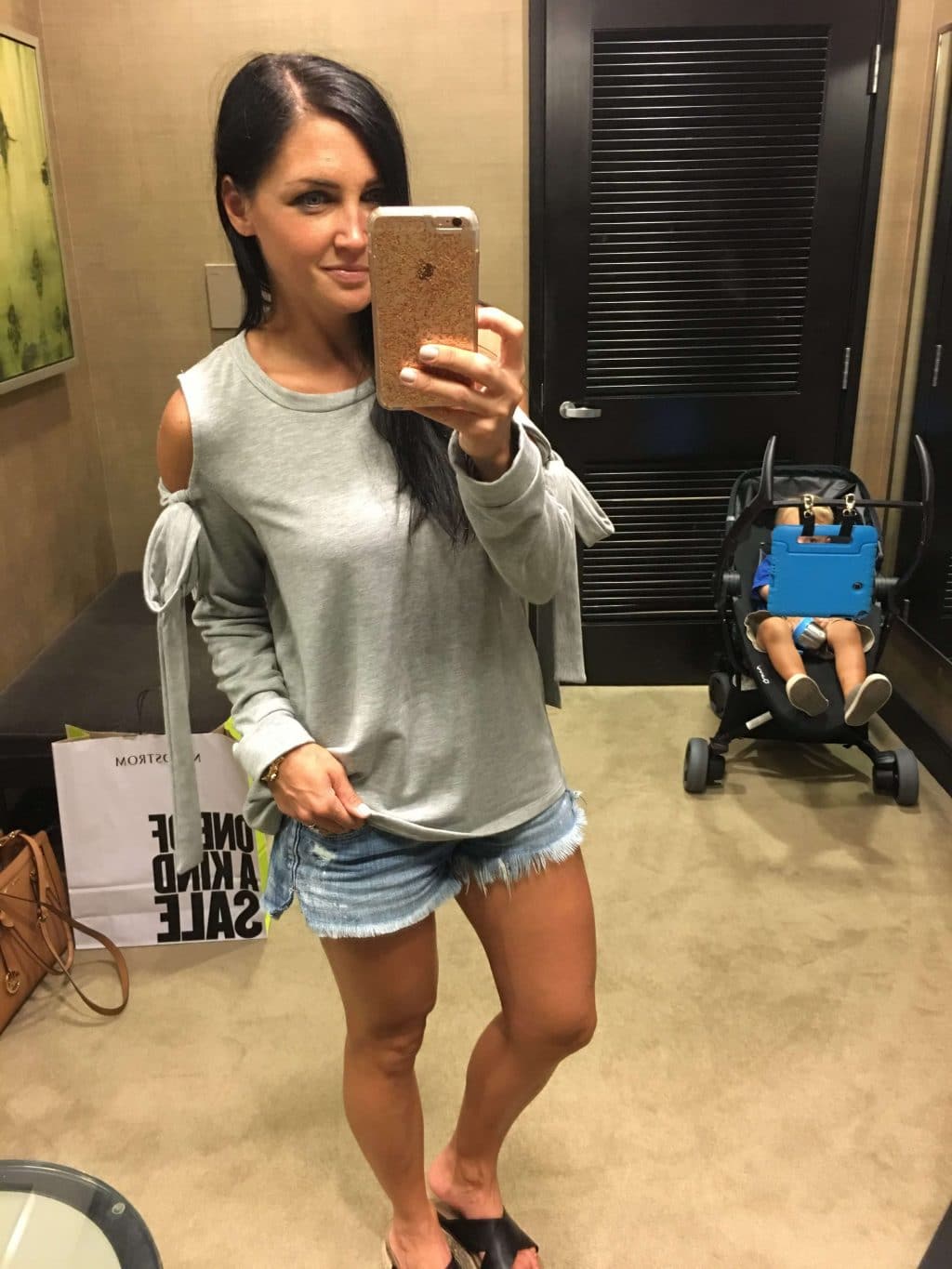 I really loved this cold shoulder cross front top. It's a good one to dress up or down. I didn't end up getting it because I have one that's really similar to it. But it does come in 4 colors!

We have had much more fun this summer than shopping, though. We've spent many, many days at the pool this summer and I let the boys pick out a giant swan float at the store. (I have a thing for cute pool accessories!) The thing is a beast and we had to drive with it upside down through the sunroof. 
And then when we got home, I realized it doesn't exactly fit in our garage… Pretty sure The Hubs isn't amused by it's current home. 
We are celebrating National Hotdog Day today, which is a big highlight for my stinky boys. Circle K has $1 hotdogs all week to celebrate and since we're road tripping to the beach, we'll be right back there! Hotdogs are seriously one thing all my boys agree on.
I feel like it's a challenge to do all the fun things, while still getting the stuff done that you need to do all summer long. My house is staying a bit messier, I'm not blogging as much and we're really taking advantage of those free bakery cookies during grocery runs. But we're having fun together and I want the summer to SLOW DOWN!  
Any fun summer bucket list ideas you have? I'd love to hear them!