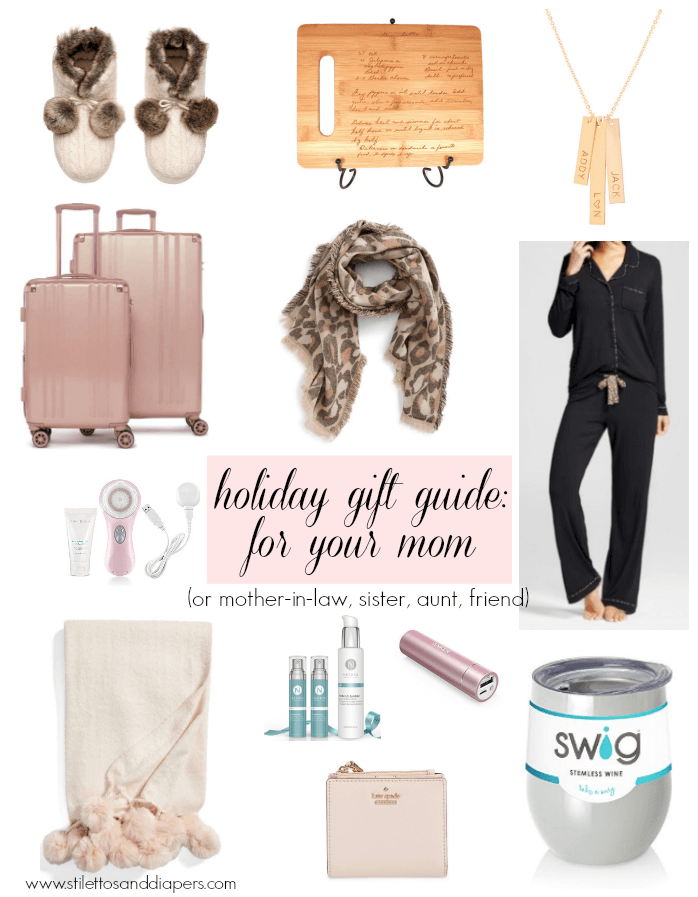 This gift guide is written with my mom and things she would like in mind, but these gifts would be great options for a mother-in-law, girlfriend, aunt or sister. Or yourself. I must admit that I'm hoping for a couple things on this list!
Slippers – You better just stop right now if you think your mom (or grandma, or girlfriend) doesn't want a new pair of slippers. I know I do!
Handwriting Engraved Cutting Board – The year my mom's mom passed away, I got an old recipe with her handwriting and had it engraved on a cutting board. It was surprisingly affordable and such a special memory for my mom.
Personalized Necklace – I have one of these that The Hubs started for me when I first had Cooper. I have since gotten one for my mom with all her grand babies birthstones and she loves it. There are so many great options for personalization as well.
Luggage – If the woman in your life does any traveling, she could probably use new luggage. That stuff never lasts long! Why not get something that goes beyond basic black and is a real show stopper, like this rose gold set?
Leopard Scarf – This print goes with just about anything and my mom especially loves wearing a scarf.
Pajama Set – This is one of those things that us mom's don't often buy for ourselves when we need it. I am a total fan of the whole Gilligan & O'Malley line and the price point is perfect.
Pom Pom Throw – Is it odd that this has been in both of my 2 gift guides so far this year? I think not. It's a need. Hehe.
Nerium Gift Set – I started using Nerium products late last year and I'm a big fan. They're perfect for any girl in your life, really. For a limited time, they have special holiday bundles that are amazing deals! (Don't tell, but The Hubs loves their eye patches!)
Portable Charger – I have this portable charger and absolutely love it. It comes in tons of colors, too!
Small Wallet – This little wallet is perfect if you're wearing a crossbody bag, with enough room for some cash and a few cards. If the person you're buying for is out of diaper bag days, they probably need a smaller wallet.
Wine On The Go – This cup isn't just for wine, as it's vacuum technology keeps beverages hot or cold. But its perfect for taking a glass of vino on a walk, to the neighbors house, or to the beach.
Soft Robe – Somehow this picture missed the guide, but Y'all know I love a cozy robe. This one looks like you could just turn to butter in it!