Here is my Spring Skin Routine for face and body! This post is the breakdown of all my favorite products and how I use them.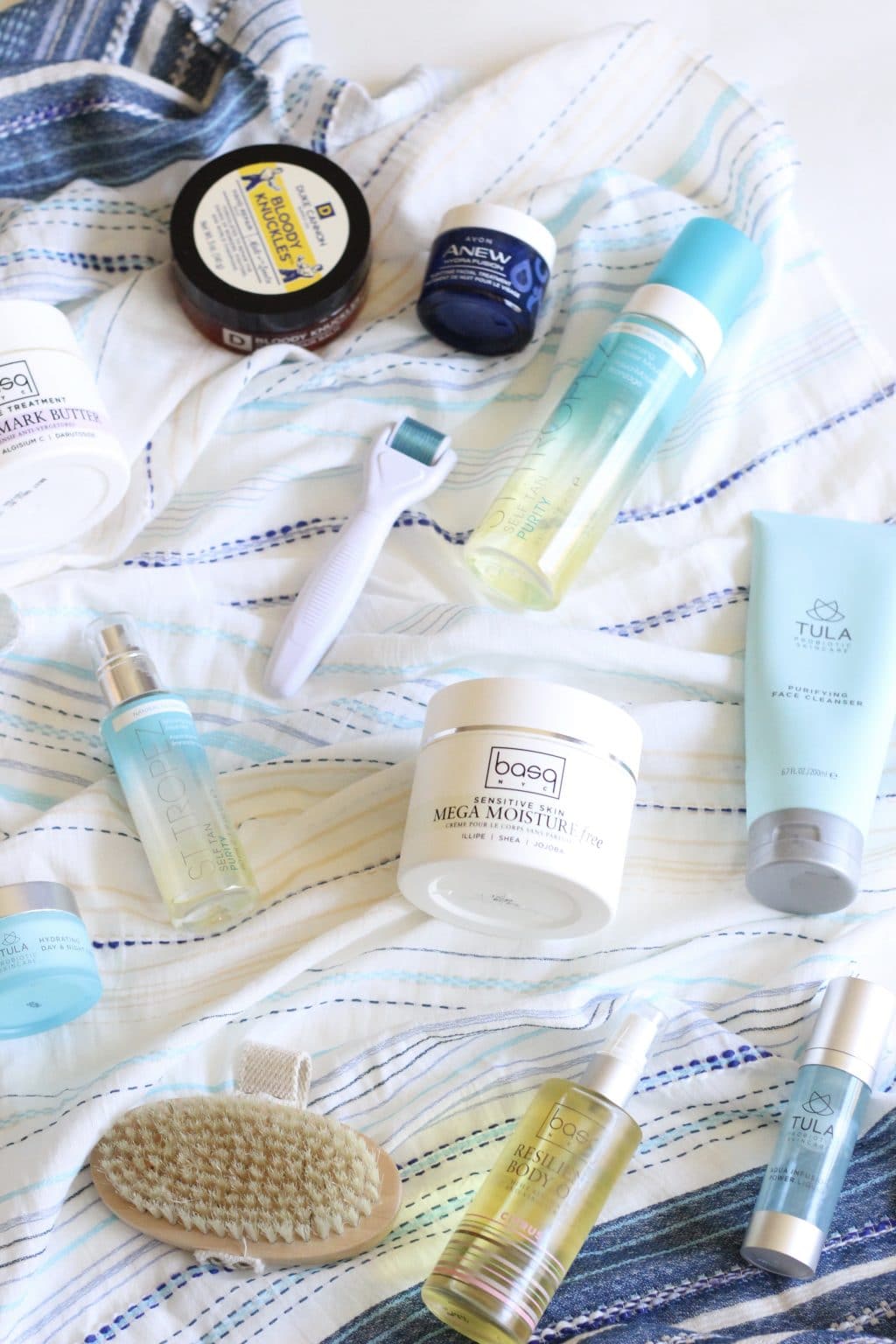 Now that I'm almost officially into my mid-thirties, I've put much more emphasis on taking care of my skin. It takes me about 5 minutes a day longer than it used to when I didn't have these steps, but let me tell you. It's completely worth it!
Morning Routine
Body – This whole post was really inspired by a new product I got, Basq NYC Stretch Mark Butter. I have had 3 big babies and I have some stretch marks and loose skin. I started using this butter and it's by far the best one I've tried! I can see a noticable difference in the skin on my stomach. I slather it on right out of the shower every morning. If you're pregnant, or just had a baby, I can't recommend this enough! For the rest of my body, I use Basq NYC Mega Moisture on the drier areas, like my elbows, knees and ankles. I love Hawaiian Tropic after sun lotion. I bought it at the beach once and have been using it for years all over my body. It's awesome for holding your summer tan!
Face Lotion – Tula Hydrating Day & Night Cream hydrates without making you oily. It contains probiotics to keep your skin balanced and retinol helps improve the appearance of wrinkles. I like that it feels moisturizing, while still light and doesn't break me out.

Evening Routine
Face Wash – Tula Purifying Face Cleanser is what I've been using for the past year or so. It's great for sensitive skin, doesn't dry me out and removes eye makeup. The Hubs has more combination skin and he uses this as well.
Face Lotion – I use the same Tula Hydrating Day & Night Cream that I use in the morning.
Deep Hydration – Avon Anew Hydra Fusion is my go to when my face is super dry. Coming out of winter, I've been having a hard time a bit around my nose and mouth, so I will sometimes use it just there. But this stuff feels literally magical. The Tula Aqua Infusion Power Liquid is also a great one for deep hydration. I sometimes put it on under my lotion or even just as a base under my foundation.

2 – 3 Times Weekly Routine
Microneedling – I use this microneedle derma roller. I had seen rave reviews about an expensive one with LED lights, but wanted to try a similar process out for myself before spending a lot of money. I absolutely love the one I have and feel like it makes a big difference in my skin. I use the face roller, followed by Avon Anew Hydra Fusion and the body roller over my stomach, followed by the Basq NYC Stretch Mark Butter. It permeates the skin and allows the creams or oils you use to really soak in. I just do it at night before bed, because it does cause a little redness.
Dry Brushing – Not only does dry brushing exfoliate your skin, it can diminish the appearance of cellulite and help remove toxins through lymphatic drainage. This is done with a dry brush, rubbing in a circular motion, upwards and toward your heart. I do it mostly on my legs and arms for about 5 minutes. Follow it up with a shower, then plenty of lotion or oil.
Hydrating – Basq Body Oil is super hydrating and feels amazing! I think I'll use it even more in the summer when I have a tan legs, as it gives that pretty glow to your skin. For now, I slather in it 2-3 days a week, right out of the shower and after dry brushing.

Self Tanning
I LOVE St. Tropez products. They give the most natural, at home tan that I've tried. My favorites are the St. Tropez Face Mist and the St. Tropez Bronzing Water Mouse.
Miscellaneous
Hand Cream – I tried this Bloody Knuckles at some friends house and got hooked. My hands are very dry and crack often. I have been using the same tub of this for 5 months and am almost done with it. It's has very clean ingredients, is fragrance free and doesn't sting at all.

It's clear as I write this all out, that I really have a couple brands that I love and trust. Just as I try to be careful about the ingredients of food that I put in my body, I'm being much more mindful of the ingredients in my skincare. Yes, you can get cheaper creams and facewashes, but I've tried lots of different products and these all have been proven to work really well for me! I hope these suggestions can benefit you as well!