Summer clothing just makes me so happy to buy! I did a poll on Instagram to see what y'all most wanted to see and here is the first half of my haul! Summer dresses, breezy shorts and pjs were high on y'alls list this month and I think I found some good stuff!
Amazon Summer Fashion
This is such a versatile dress and I love how comfortable it is! It buttons all the way down and has a removable tie. The flutter sleeves make it a little more interesting and it's perfect for wearing casually, or dressing up for an event. It comes in several different patterns, too.
These slide sandals are super affordable and very comfortable. I've had them about 3 weeks because I really wanted to make sure they're comfortable before sharing. They come in several colors and are very versatile! I have the white, but they are not bright white, more of an off white/bone color.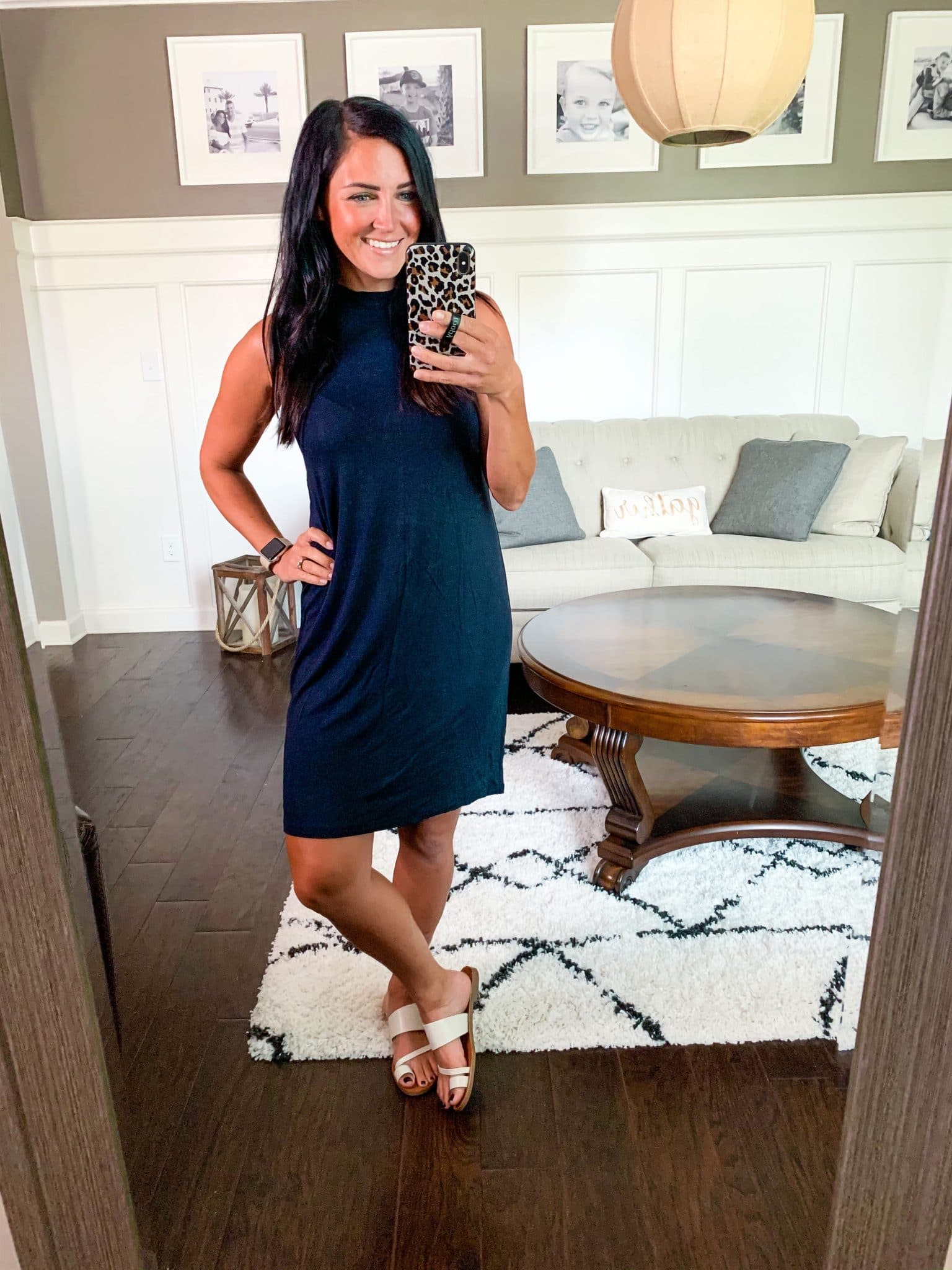 This dress has enough stretch to fit great, but it's not clingy or tight. It comes in a lot of colors and I think the mock neck is a super chic look for the summer. It's great to throw on when you don't want to put a lot of thought into what you're wearing.
I have long loved cutoff denim skirts and I'm so happy to see them making a big comeback. My favorite ways to wear them are with graphic tees and sneakers, or a bodysuit and kimono like this! This one has some stretch to it, making it fit really well.
Kimonos are such a great summer accessory! They can be paired with a dress, over shorts and a tank, or as a bathing suit cover-up. This one has actual sleeves, so it lays nicely. It is pretty long, hitting almost to the floor on me. There are tons of different options in the listing and I am wearing pattern 8.
This romper is so cute and comes in tons of patterns – including a few tie dye prints! It has an elastic waist and decorative tie, pockets and functional top buttons. It would be perfect for every day wear, or as a bathing suit coverup!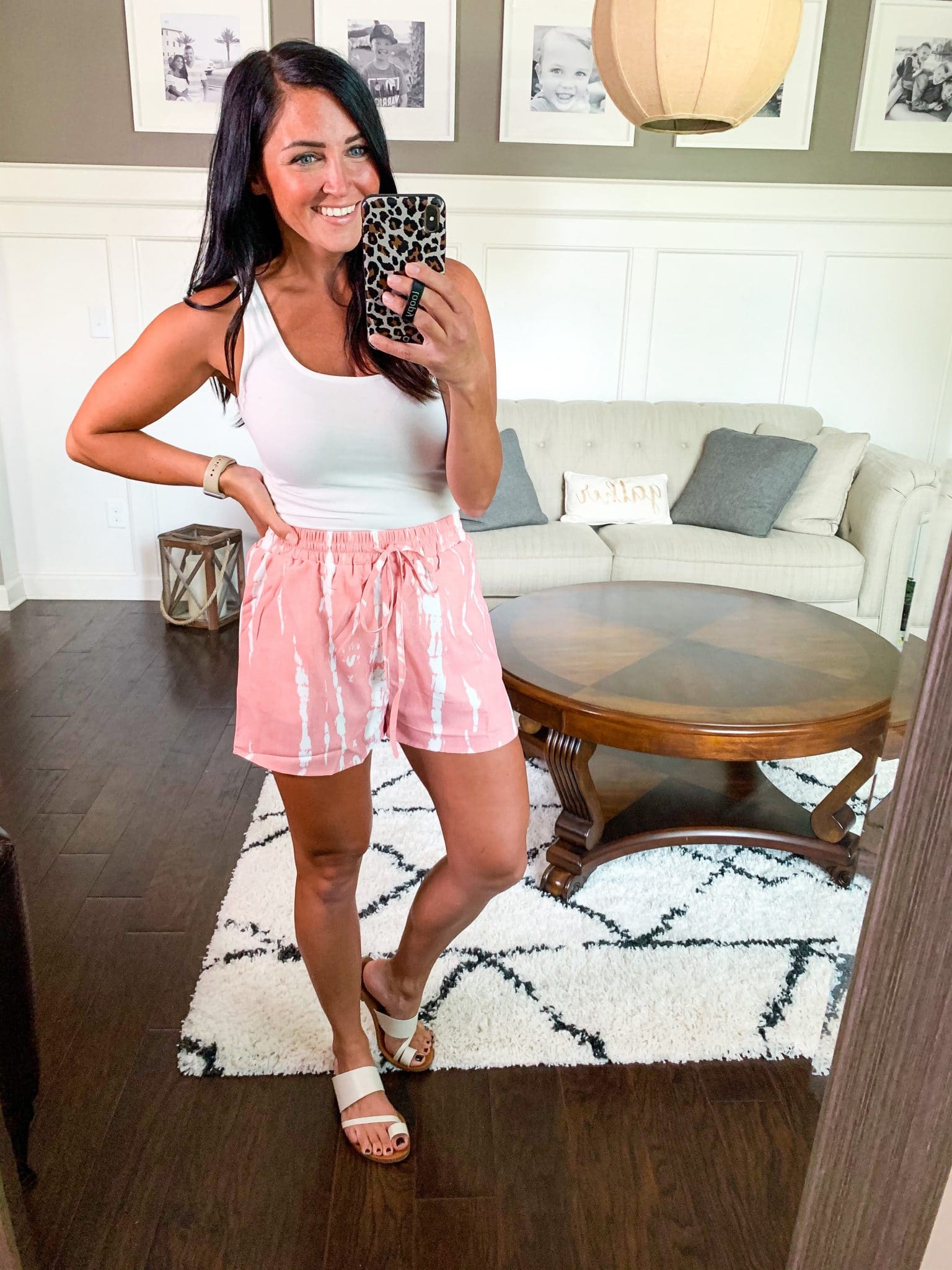 These are so lightweight and airy, yet not see through! They come in lots of different patterns and are just a comfy, summer short. They look best on me up higher on my waist, since they are on the longer side, which I like. Also wanted to show you how they look paired with this twist front crop top for a little bit more of a fun look!
Pajama Set | TTS | Small | A-Black
Summer travel always has me wanting new pj sets and apparently y'all too! These are so soft and have a little bit of stretch to them. They come in tons of color options. The top has side slits and a slightly lower back, the bottoms are elastic and not too tight at all.
Yes I did save my favorite for last! I am in love with this set and I really think they look better in person than on the listing! Tie dye sets are hard to come by, but as of typing, they're in stock in a couple color and sleeve options. These almost have a velvet-y feel to them, while not being thick. I would say they feel like peach fuzz! The drawstring isn't functional, but they are elastic waist and absolutely perfect!