This post contains affiliate links. 
It's finally chilling off here in North Carolina and I've been excited to pull out the sweaters! This was a fun haul to shop for, because I feel like I can finally have a reason to wear some of the fall trends now! I have several comfortable tops and sweaters, jeans, and even some Spanx leggings dupes that I'm so excited about sharing with y'all! As always, I will be posting the full try on videos on Instagram today, if you want to see more of how things fit!
October Amazon Haul
This sweater has the cutest bell sleeves and is so comfortable! I feel like it's a great one to dress up or down. It comes in 3 great fall neutrals. It's oversized, so I suggest sizing down one.
I'm not entirely sure I'm a hat person, but this one is stinking cute! It has adjustable ties inside, making it fit great for just about any head size. I am wearing the dark-camel. At under $20, this is a fall trend worth trying!
These are a great basic, skinny jean. I love the rise on them; not too high and not too low. They have a slight stretch and are just a great fit. They come in several washes and colors and have held up really well, as I've washed them several times! They look slightly blurred in this particular photo, but they're the same jeans I have on for this whole try-on.
I love this one! I actually wore it in family pictures last week at the beach with shorts. It's really versatile and can be worn off the shoulder or regularly. It comes in 3 different colors, including a great fall orange!
This ribbed sweater has fun little puff sleeves. It's pretty fitted, but the ribbing keeps it flattering. It's great for layering under a puffy vest, or wearing alone. It comes in 5 different colors.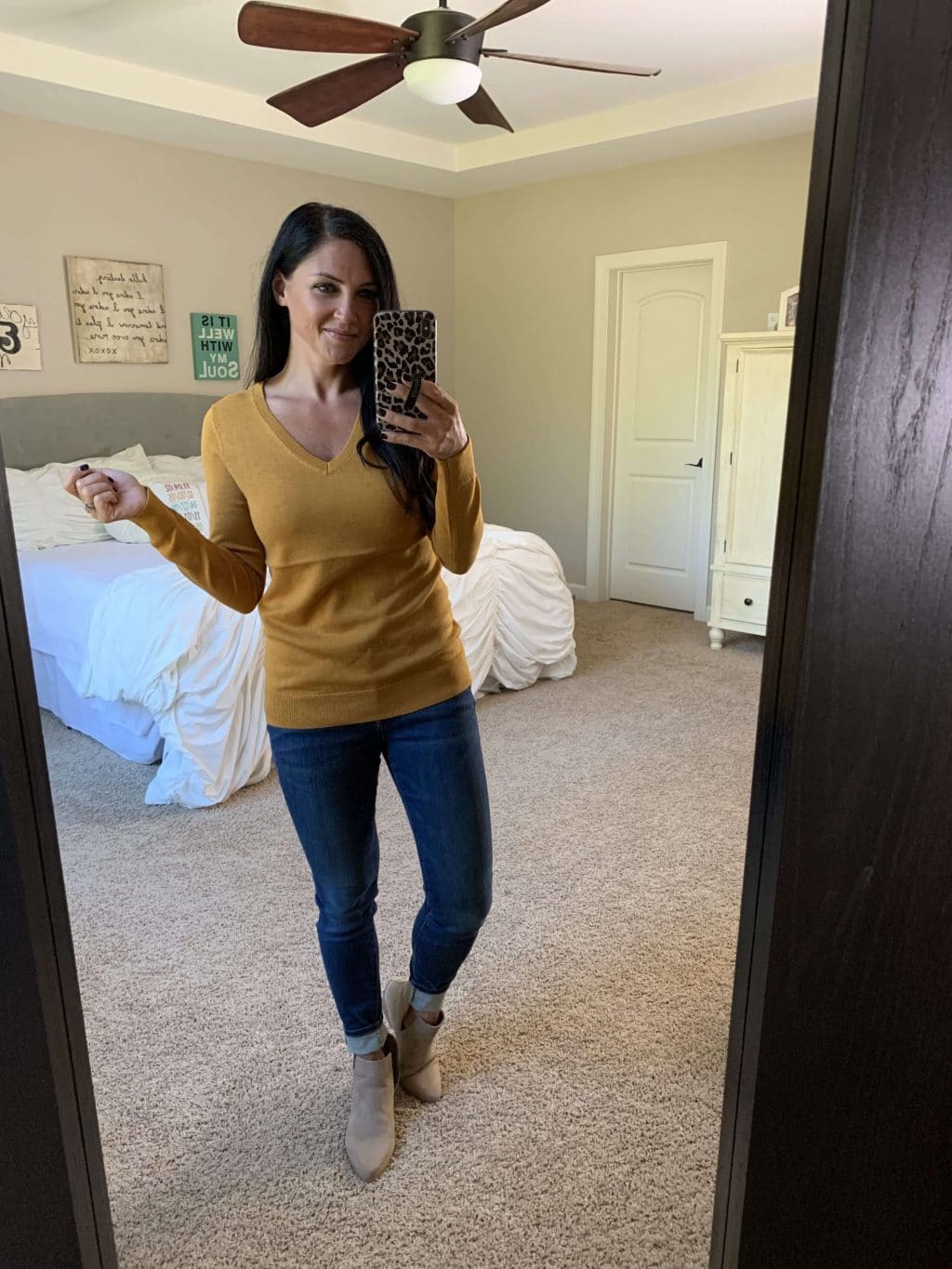 This sweater is an amazing basic. It comes in 30+ colors and patterns, including leopard and stripes! At under $20, you can add a couple to your fall wardrobe! (PS, the line in the center is just from being folded!)
This is a fun little bracelet that has a magnetic closure, making it easy to get on. It comes in several patterns, but I'm a total sucker for leopard right now.
I'm actually shocked I haven't bought this one before! It comes in many colors and patterns (including leopard!) and is a great fit. It's lined in the body of the blouse and is long enough for wearing with leggings. I'm wearing the color orange. Great outfit for Halloween night! At the time of this publish, there is an extra $3 off coupon.  
Speaking of leggings! I absolutely love my Spanx leather leggings, but I know they're pricy! I wanted to try to find some good dupes and these are great. They aren't as tight in the stomach as the Spanx pair, but they hold it all in well. I ordered the small, which left me a little room around the knees and ankles. I think the XS would be a better fit, but overall, at under $30, I think these are a fabulous dupe!
This hoodie is lined in a really soft fabric and is a great pullover. It comes in lots of colors and patterns and is so comfy! I can absolutely see myself wearing this piece a ton this fall.
Graphic tees are huge this fall and I couldn't resist one with sequins! I wore this whole outfit last night to an event and got lots of compliments. The denim jacket is from last month's Amazon haul and I've worn it countless times! The leopard midi skirt isn't Amazon, but it's a good buy!
This pullover is an old faithful that I had to reshare from last fall! It's stretchy, not too thick and very soft, making it one of my go-tos. It's long enough to wear with leggings and I've worn it tied up in the front as well. It's been worn and washed many times and still looks great. Minus the wrinkles! 🙂
I'm a slipper fanatic and thought these were too cute to pass up. They come in 5 different colors and are very soft. They would make a great Christmas gift! I wear a 7 and ordered the medium. I probably could have gone with the small, but I prefer them oversized.
This is a great jacket for layering over gym clothes, or casual wear! It is so very warm and I know I'll get a lot of wear out of it. It is pretty oversized, so I suggest sizing down. I ordered the small first and exchanged it for the XS seen here. It also comes in a pretty pale pink color.
This coat is so gorgeous and is amazing quality. It is fully lined and I think an absolute steal! It comes in a few colors and I really can't get over what a nice coat it is, especially for the price. It is pretty oversized, so it's too big on me. I'm so sad about it! I would suggest sizing down 1, maybe even 2 sizes.
Maybe my favorite piece from the whole haul, are these leopard pants! I love how comfortable they are, while being super trendy. I'm wearing them with this bodysuit, but I want to also try a long sleeve bodysuit with them for fall. You could also throw a leather or denim jacket over to complete the look.
These are a perfect dupe for these Karen Walker sunglasses. I love having a pair that are cheap and I don't have to worry about wearing on the boat, or with the kids! I ordered the C03 | Tortoise / Green color combo.
What do you think of these picks? Any faves?

Happy Friday and have a wonderful weekend!