This post is sponsored by At Home, but all opinions are my own. Thank you for supporting the brands I love!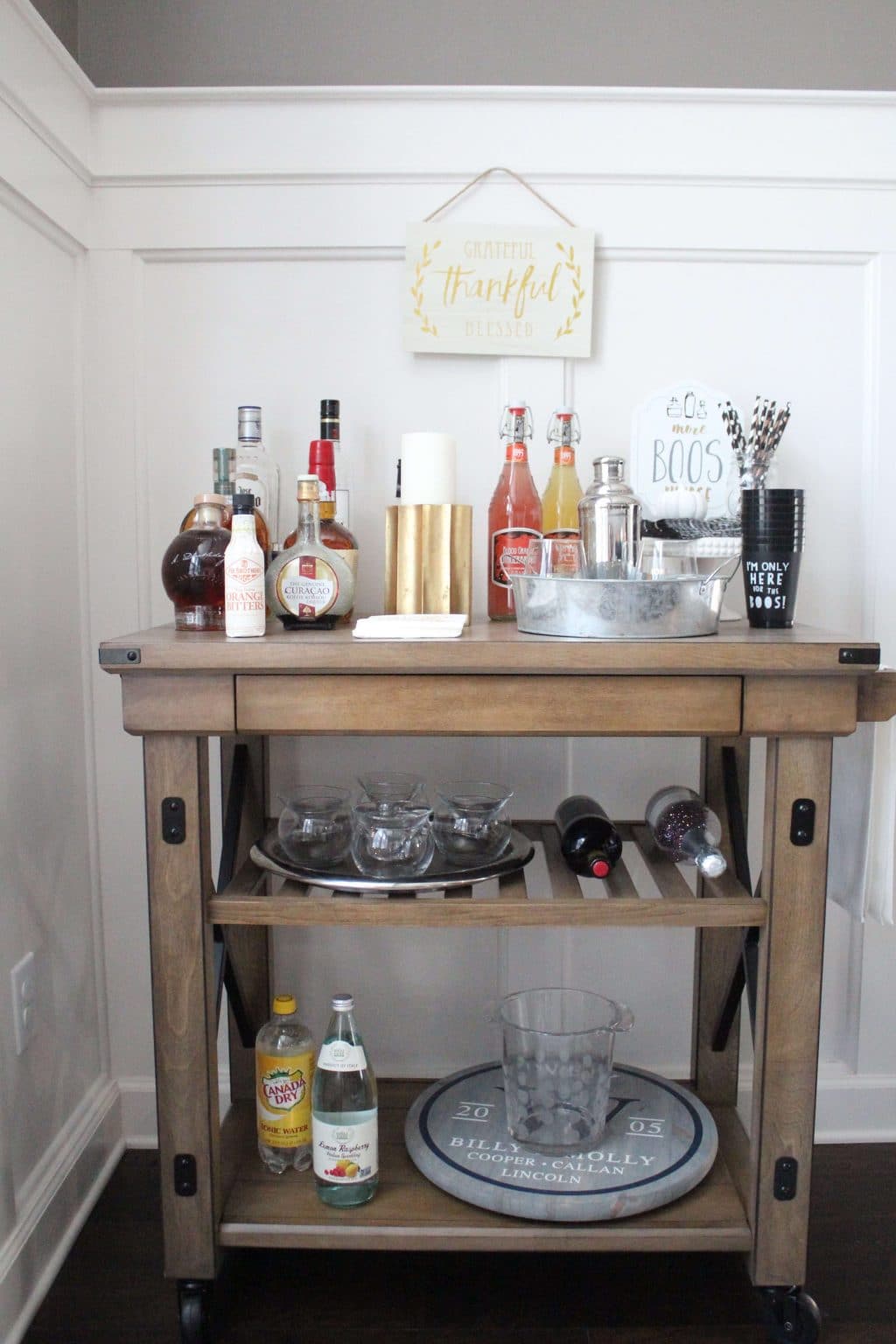 Fall is such a fun holiday to decorate for! I've always gone right into the fall hues and pumpkins and kinda skipped over the whole Halloween bit. That is until recently. My boys love Halloween and I've found myself with company and very little in the way of decor in the last 2 years. This year, we'll have another family over before we trick or treat and one area I really wanted to spruce up was the bar cart. It's in the dining room, where we'll also host Thanksgiving dinner, so I wanted to get some decorations for both holidays.
We had some free time over the weekend, so I loaded up the whole family for a trip to At Home. I knew I wanted something on the wall, but we have 3/4 wainscoting, which makes it tricky. I found that pretty wooden "thankful" sign that was light enough to tack in the top of the wood, without putting a big nail in the wall. Now, there's no doubt that "boos" must be frequently used on a Halloween bar cart, right? I found cute cups, pumpkins, napkins and glasses that all were boasting the "boos" theme.
I'm a sucker for cocktail napkins and grabbed some with one of my favorite Thanksgiving phrases "Gobble Till You Wobble". They coordinate with the pretty gold candle holder and spa candle I found!
If you don't have a bar cart but want to put one together, here are my essentials:
Liqour
Mixers
Funky glasses
Shot glasses
Shaker
Jigger
Beverage napkins (preferably themed with fun sayings!)
Ice bucket
Colorful paper straws and stirrers
A tray
Cake Stand
Decorative pieces
In addition to the classic drink ingredients and cups, I love to make the bar cart look pretty. A tray helps to keep a grouping of things together, heigh always adds interest (I get that from my candle stick and cake stand) and throwing in holiday themed napkins, cups and straws makes it impress your guests!
We had been searching for lamps for our bedroom and I was so excited that on our trip to At Home, we found the perfect ones! They needed to be tall, shallow and the perfect distressed tan. (Not picky at all, right?) But we found them! And I can't wait to show you that room when we have it all done!
What is your favorite thing to have on your bar cart?