Wow. I am a blog slacker. I used all my recent bloggy time for some other good stuff. Outcome:
Made new pillows for my couch.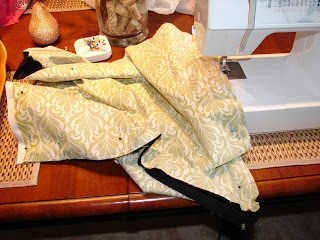 Finally finished my little niche. Well, almost. The desk is done, but a chair still needs to be found.
Spent time with my visiting sis. Sang "Everywhere you look" and yelled "Danny Tanner" out the window about 7 million times. Did some touristy sight seeing by the Golden Gate.
Played in the park with Maggie and Cooper while Bill and Lance played ball.
Lastly, ate Lance's delicious, chocolate birthday cake that Maggie made…from scratch. Now I can just hope Billy forgets about it before his birthday so I can use a box.
I am easily distracted, you see? Don't think for a minute that there was nothing to blog about. I did drop the pack-n-play on my toe and bleeding ensued. I bought Cooper's Easter outfit (his first tie!) and he is going to match his cousins. So adorable. Also found big brother shirts for my nephews and great deals on Coop some summer clothes to take to FL next month. The real kicker of the week was Cooper wiping the hubs blackberry clean. Yeah, like there was nothing in it at all. No contacts, emails, ANYTHING. Just "Welcome. Your number is:" Awesome. And it had to be on my watch too. Double awesome.