Happy Tuesday that feels like Monday! It's been a week since I posted and that's because I was so busy gearing up for a full Memorial Day weekend! My sister just turned 21, so we had her, a couple of her friends and my entire family here for the weekend. We spent a lot of time in the sun, celebrating and eating! I'm so grateful for the reason that we celebrate this holiday and thank every one of you who have sacrificed for this great country!
Friday, we kicked off the weekend with some time on the lake and surfing with friends. I don't see the surfing habit dying off anytime soon! Everyone started trickling in Friday afternoon and into the evening. We ended up going back out on the lake for a night cruise and had a blast. It's so peaceful on the lake at night!
Saturday we spent the morning relaxing, had a BBQ, went to church and then took off to the city for the celebration portion of the weekend. I really wanted my sister's Birthday to be special and I knew there was no better place to go than to Merchant & Trade. The views are absolutely incredible, cocktails are delicious and you won't have any complaints about the food. We ate the filet sliders, fried calamari and lamb meatballs, all of which I loved! We started with one of their seasonal cocktails, the Nakatomi Tower. The drink is served to the table, make your own style and is so fun to put together! My only complaint is that it wasn't daylight for a proper picture of how gorgeous it was. Next time we go, I want to do a sunset date with The Hubs!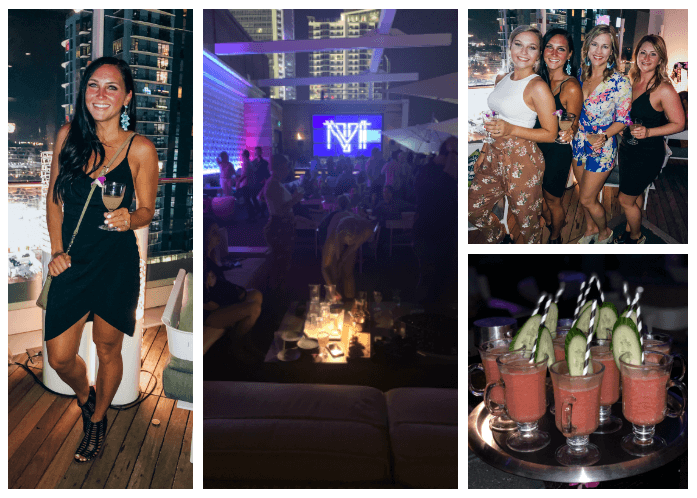 It wasn't until after this picture that we realized the birthday girl and her best friend were missing! Haha.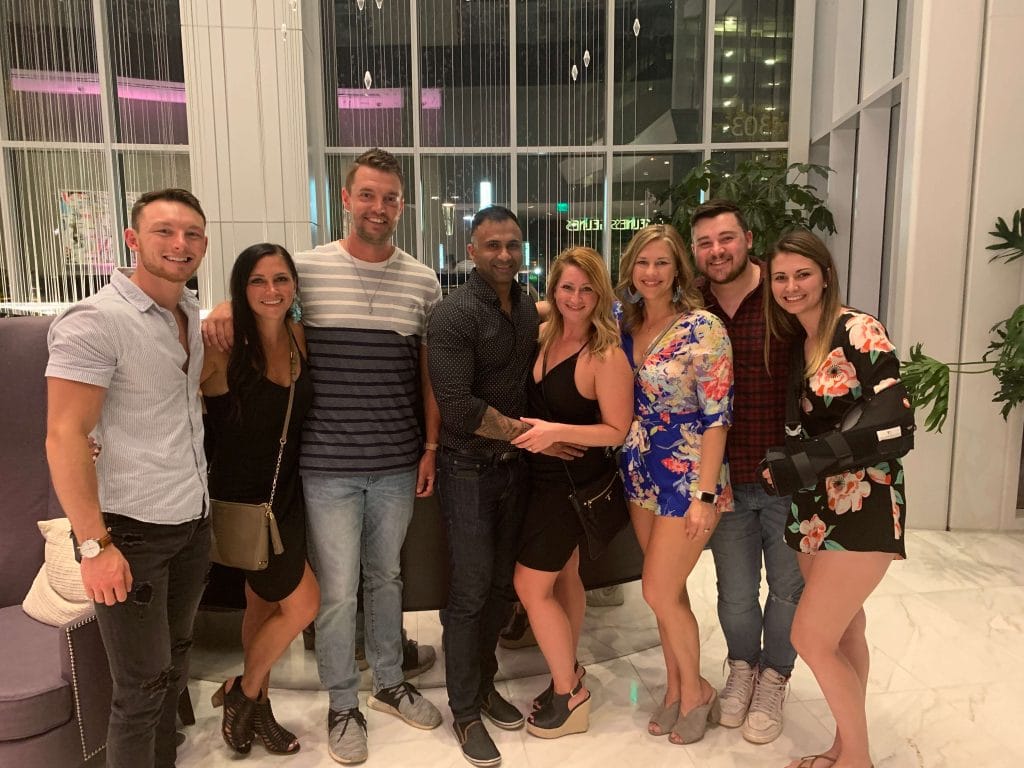 Sunday, we all loaded up for a day on Lake Norman. We swam, tubed, drank fruity drinks and had a general blast. We came home tired, so we ordered pizza, sat outside on the deck and listened to my brother play the guitar!
I had planned all weekend to make a patriotic trifle, but totally forgot! It worked great because I ended up putting it together for a BBQ we went to on Memorial Day. It's actually really simple, I just layer angel food cake with a cream cheese and cool whip mix, then strawberries and blueberries. It's also a great dessert for July 4th! The BBQ was at our friends house in a gorgeous, Lake Norman, location. It was here that Callan decided to catch a frog and put it on The Hubs leg. He doesn't like bugs at all and our sweet neighbor had to save him!
And lastly, for the most ridiculous part of the weekend. A "code brown" in our neighborhood pool, caused it to be closed most of the weekend! I pulled out this giant flamingo and set it up in the back yard for the boys to be able to swim! I'd be totally lying if I told you I didn't lounge in it with them!
Weekend favorites things:
The little black dress I wore to Merchant & Trade on Saturday night. I've worn this several times and it's a comfortable, great fitting dress! It's under $30 and comes in lots of colors. It's fitted and gathered enough to hide flaws, yet not tight. I highly recommend it!
The short overalls I just got in and wore this weekend, but didn't get a picture! They're adorable. The fit is a bit oversized, so if you're in between, size down.
I got a ton of compliments on this high waisted bathing suit! It comes is a ton of colors and is flattering for all shapes.
And I can't leave out the giant flamingo pool. This thing is so fun. We even took it to the beach last summer to set up on the deck for the little ones. I did find this one that has more seating that looks like a blast, too!

Hope you all had a wonderful Memorial Day weekend with family and friends!