Growing up, I spent many days making bread with my mom. She used to buy buckets of wheat, grind it and make the most delicious bread. There was nothing quite as delicious as a hot slice slathered in butter! Her recipe came from a mennonite family that owned a bakery and taught people how to make bread. While she was baking, she would use some of the dough to make cinnamon buns. She gave them to neighbors when they moved in, brought them to church functions and everyone who ate one, loved it.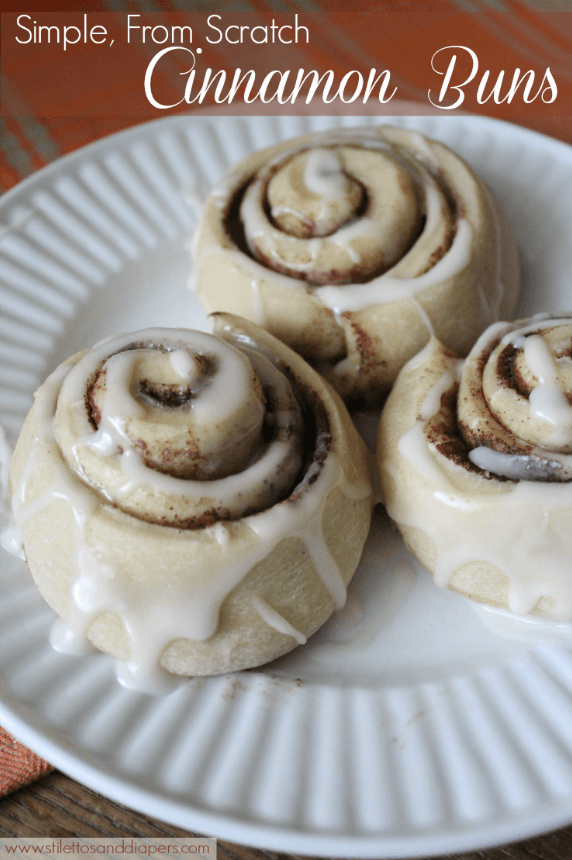 I don't make the bread (although I probably should!) but I really love making these cinnamon buns for my family. The dough is actually very versatile and I do also use it for pizza crust, rolls or even big pretzels! The thing I love the most, is that it's a simple, 6 ingredient recipe, doesn't have any sugar in the dough and I know exactly what my kids are having as a treat.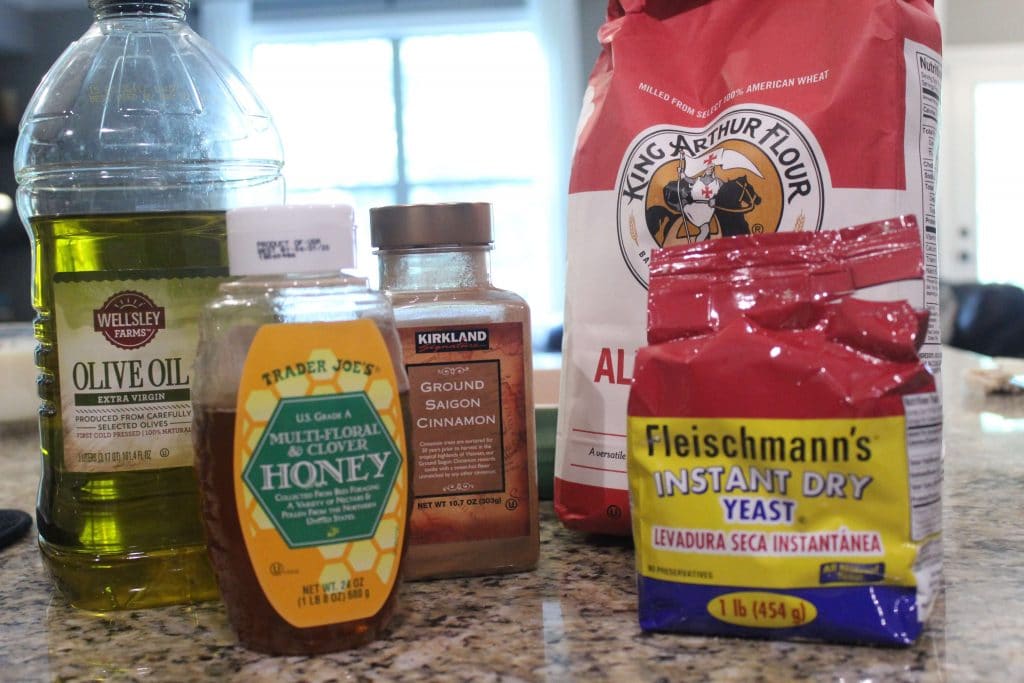 I use my KitchenAid stand mixer with a dough hook to mix the dough and to knead it. The key is making sure you add just enough flour to clean the sides of the bowl, without adding too much. The humidity really seems to affect this for me! Sometimes I will do 5 cups and sometimes it's more like 6.5!
Once your dough is kneaded, split it in half. Roll one part out into a big rectangle; about 12×18. Spread with the butter, then sprinkle with cinnamon and sugar.
The dough gets rolled lengthwise, making sure to keep it as tight as possible. I use dental floss to cut it into slices! Just slide it underneath, then cross it over and pull. It will cut the dough perfectly, without pinching it down! If you're using the rest of the dough for cinnamon buns as well, repeat all those steps!
The frosting I make is a simple powdered sugar and milk mix.
Cinnamon Bun Dough Recipe
1/3 cup Honey
1/3 cup Olive Oil
2 1/2 cups Warm Water
2 Tbsp Yeast
2 tsp Salt
7 cups whole wheat flour (I like King Arthur unbleached flour)
Inside Cinnamon Buns
6 Tbsp butter, softened
1/4 cup Sugar
3 Tbsp cinnamon
Icing
2 cups Powdered Sugar
3 Tbsp Milk
1/2 tsp Vanilla
Instructions
Combine honey, olive oil, warm water, salt and 2 cups of the flour in your mixing bowl. Mix in the yeast, then 4-5 additional cups of flour. Be sure to use as little flour as possible, while still letting it clean the sides of the bowl as it mixes.
Knead the dough on medium for 5 minutes. Be careful to keep an eye on your mixer as it will move a bit!
Rub a little olive oil on the counter and your hands. Remove the dough and split into 2 portions.
Roll each portion out into a 12×18 rectangle on the greased counter. Spread 1/2 of the softened butter over entire surface, then sprinkle with half the cinnamon and sugar. (You could also add nuts here, if you'd like.) Starting on the long end, tightly roll the dough all the way across. Use dental floss to cut dough into 1-1.5″ sections. Place in greased pan about 1″ apart. Repeat with the other section of dough. Let rise in a warm (100 degree) oven for 30-45 minutes, or on the counter up to 1.5 hours. Bake at 300 for 20 minutes. Drizzle with frosting and dig in!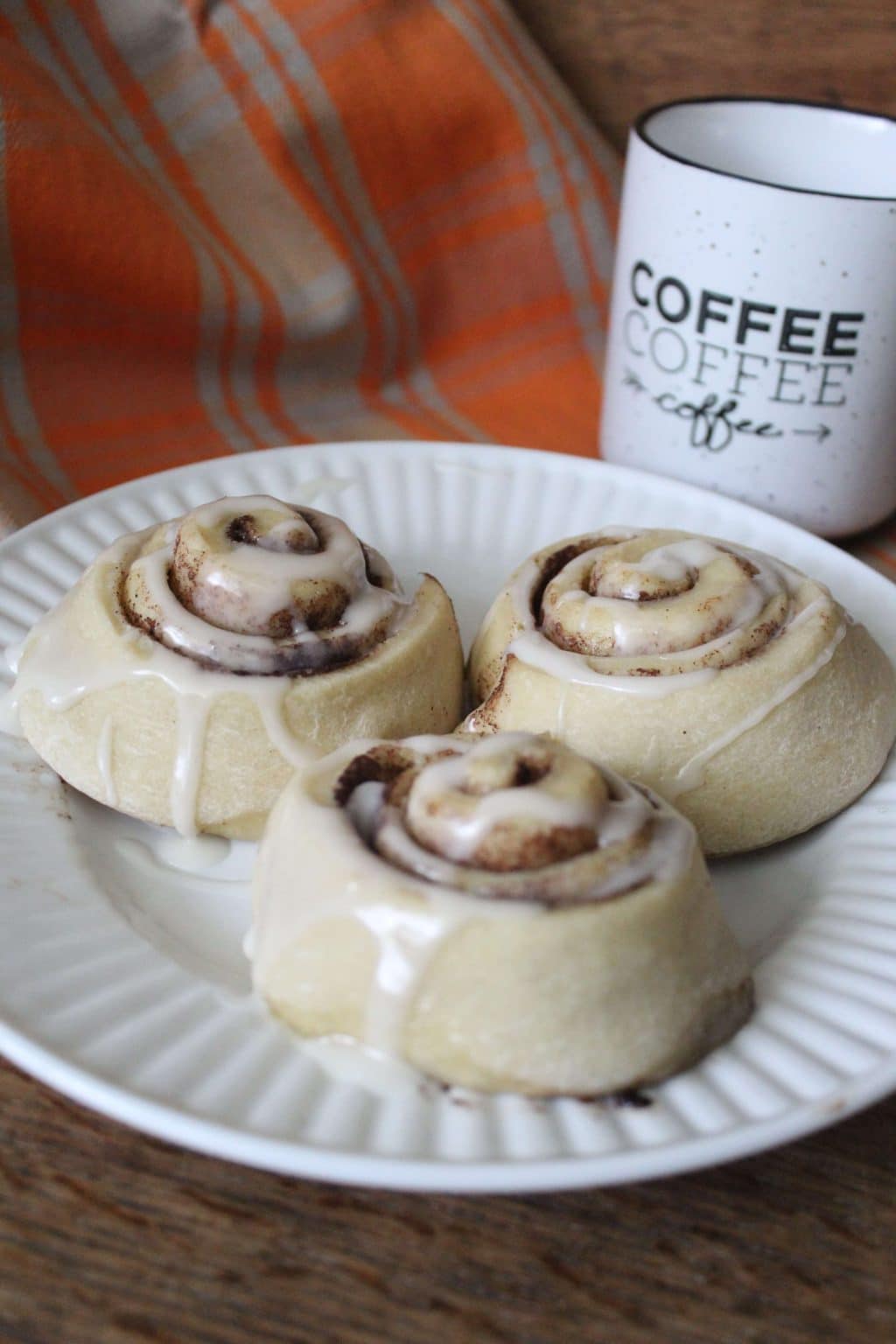 I'm confident that you'll love these as much as my family does!