Happy Fashion Friday, a day late! It's still fun anyway, right? These pictures were all taken yesterday, so it totally counts! Last night was girls night out since my sis-in-law is in town. She took my pics while we were getting ready. Please ignore the random messiness, that is my bedroom, in the background.
Alrighty then. First up is the dress. It's been begging to go out since July when I got it, but I haven't had the right night. You can probably guess where it is from…yup, Forever 21. BUT, it is from the outlet in Anaheim and I paid a whopping $3.99 for it. If any of you girls are in that area, YOU. MUST. GO!
Allow me to show off my sweet dance moves, and the back of my dress at the same time. See that Ross bag hanging on the door? Want to know what's in it? I'll tell you. Just keep reading.
I am obviously putting a heart by my shoes, right? I love them. They are a Ross find from a couple years ago. Oh, and the necklace is Forever 21. It had a teal bead strand through it, but it looked weird, so I took that part out.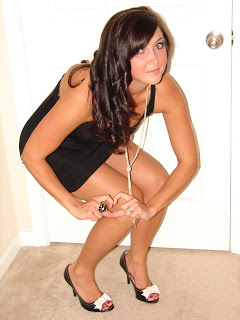 And the shot before the night began. Laura (sis-in-law), Erika, Me. Erika got middle all night due to her non-LBD outfit.

You remember that I am the queen of cheap frugal, right? Well, yesterday we were shopping at Ross, looking for Laura's dress. I was pulling out cute dresses to show her, when I came across a cute hot pink number. I immediately thought, next girls night! I totally wanted it for myself. I pulled out the tag and it said…wait for it…$0.49. Laura was so mad when I tried it on and it fit perfectly. Only you, she said, could find a cute dress that fits for $0.49. Teehee! I'll show you all soon, I'm sure!
Happy Weekend!
Fashion Friday has been brought to you by the lovely, Summer. Go visit her feathery self!