Last night, I went to a blogger event at Brookstone in our local mall. I know, I know. I'm supposed to be on bedrest. How could I go to the mall? Well, I really wanted to go and I wanted to get out of the house. I also found an article about how women on bedrest can develop depression that can last after the baby is born. So see, I did myself and my unborn child a favor. And I will never tell my Dr's name because y'all will tattle on me.
Anyhoo, this is what I wore.
It takes talent for a shirt to button around this massive belly and not the boobs. Holy hugeness.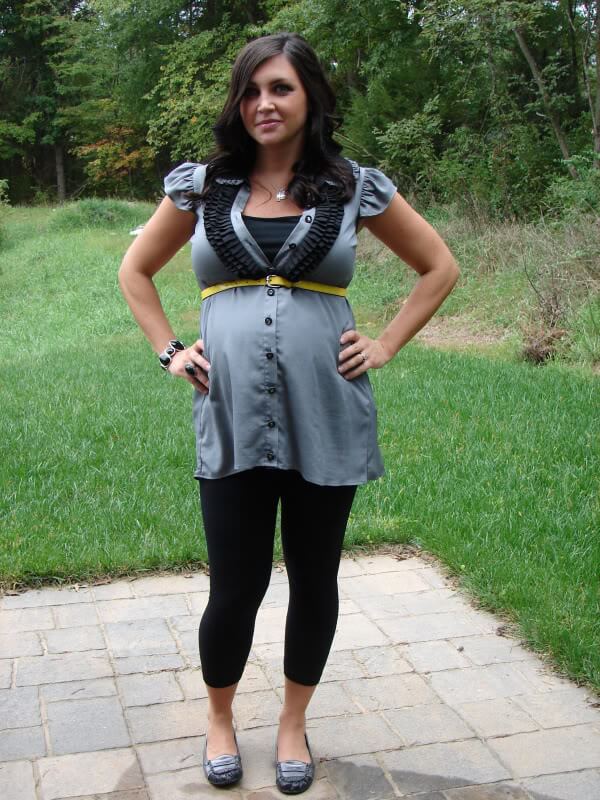 This is probably the most comfortable outfit I've worn in awhile. Probably will keep showing up for the next few weeks.
How far along: 33 weeks. I.Can't.Believe.It.
Size of baby: Half a pineapple. Average is a little over 4lbs and 17in long.
Total Weight Gain: I hit the 30lb mark. It hurt bad. Then I decided that it doesn't matter and kept eating donuts.
Maternity Clothes: A mixture of both.
Gender: Sweet baby boy!
Movement: Tons!
Sleep: Insomnia like whoa. You may find me tweeting at 4am.
What I miss: Eating a full meal then not having to eat for a few hours. I am having like 1/4 meal every couple hours.
Cravings: Cherry Dr. Pepper. I am really trying to only have like half a glass because its sooo bad, but I NEED it.
Symptoms: More contractions, some swelling and intense, hold nothing back heartburn.
What I'm looking forward to: I am getting so excited about having my little one here for the holidays! I have been looking at matching Thanksgiving outfits for my boys. Eek!
Outfit Deets:
Shirt: F21 (Non Maternity)
Leggings: Papaya (Non Maternity)
Shoes: Target
Belt: F21
Ring: F21
Bracelet: Stolen Borrowed from my Sis-in-law
Earrings: Can't remember