Happy Monday! I know it's late in the month, but I'm finally getting around to showing you my August Amazon haul! This is such a weird month, since kids are in school and it seems like we should be changing to fall clothing, but it's pretty darn warm here in North Carolina still! I went with several pieces that can be layered, a few things that will be great for Labor Day and also some workout gear!
August Amazon Haul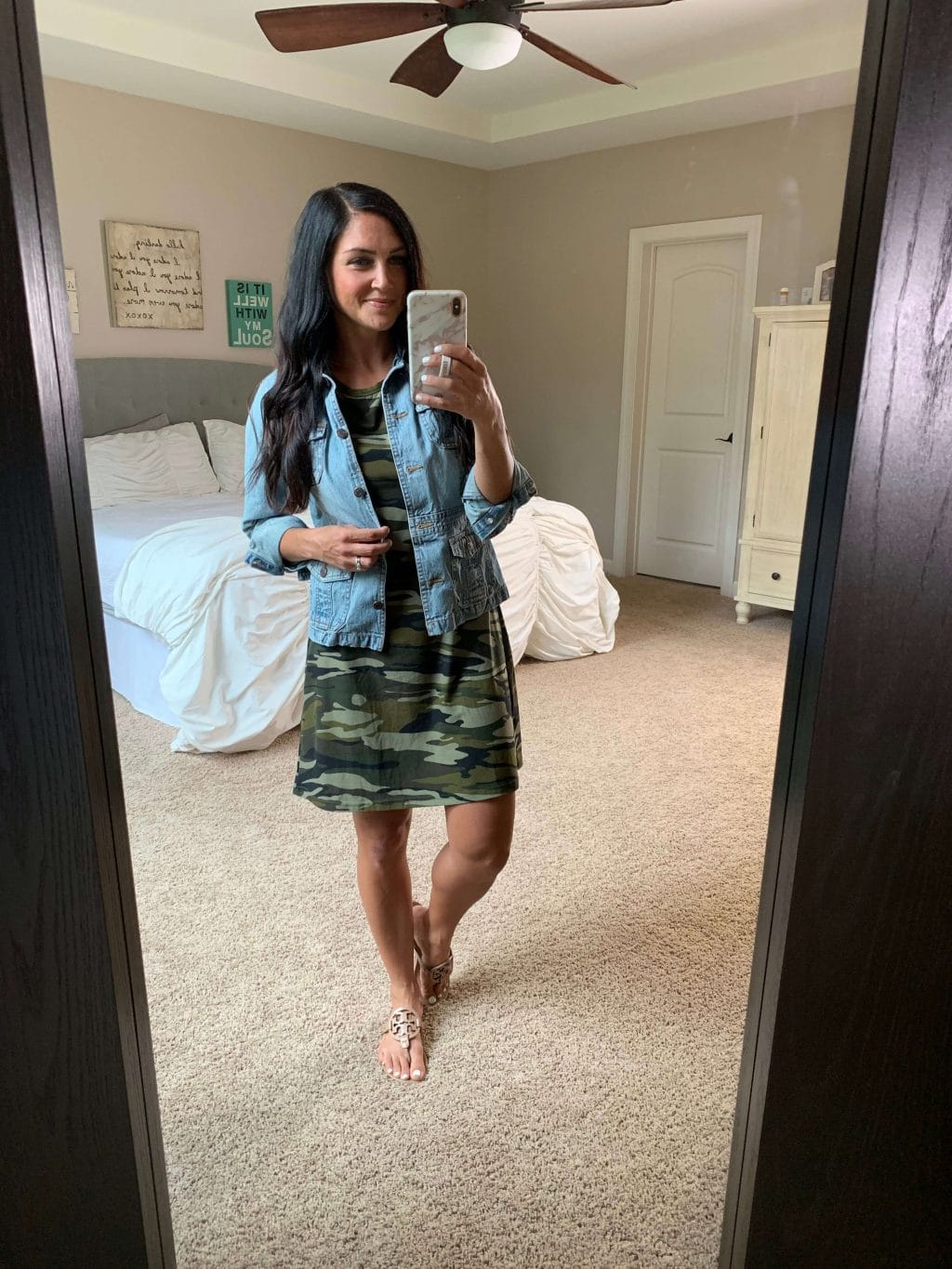 This is an amazing dress and it's insanely affordable! It's more of a jersey material, so it holds it's shape well. I've already worn it twice in a week!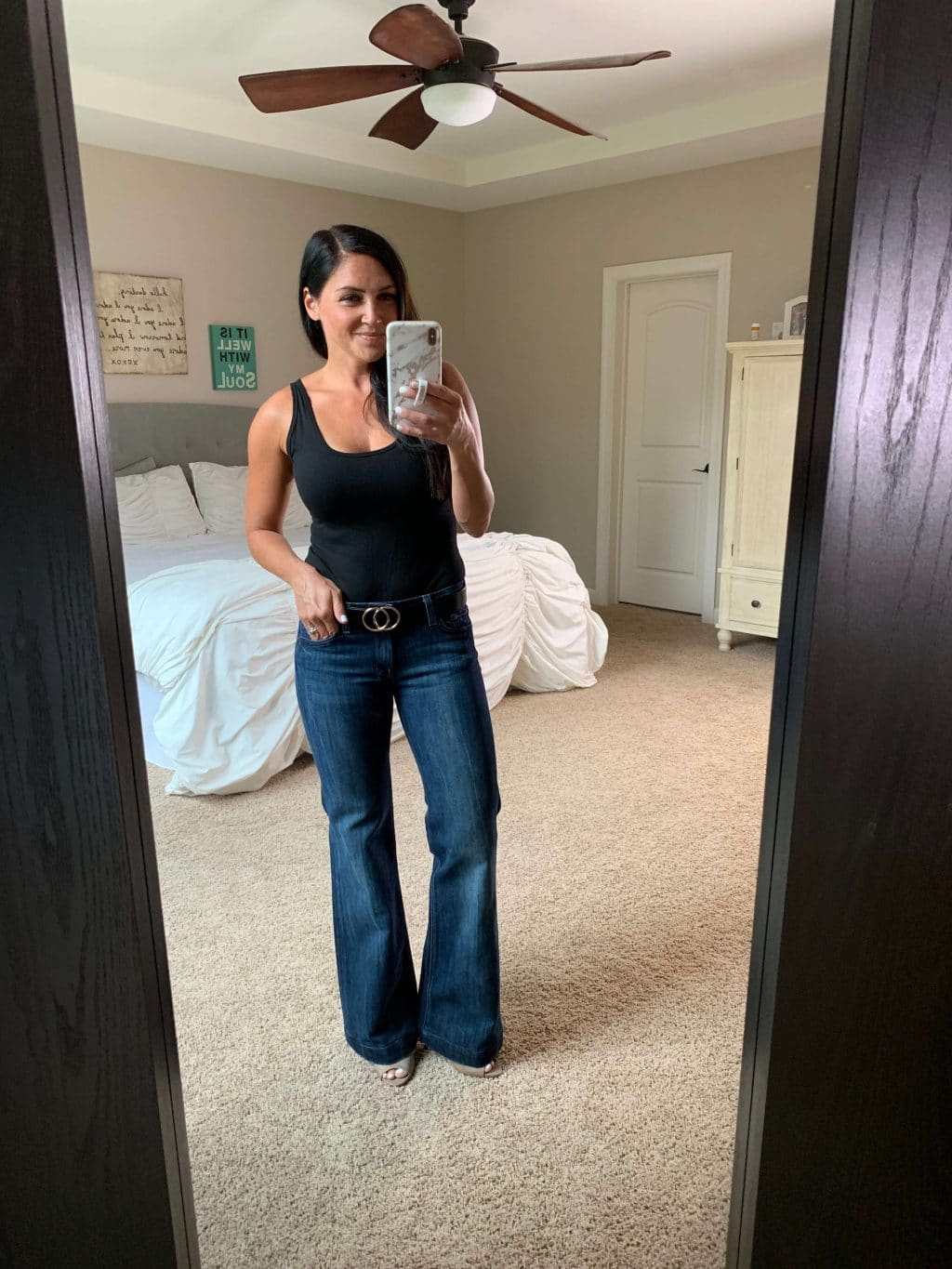 I love the Gucci belt trend, but as I said in my try on, I'm not willing to spend that kind of money or basically anything. Hehe. This double o ring belt gives you the same look for under $15! I also love the flare denim trend and feel like they really help my short self look a bit taller!
This is such an adorable jumpsuit! It's really great quality with thicker material that isn't see through. It fully zips in the back and the tie is removable. It would be so great for work, a date night, or even dressed up for a wedding!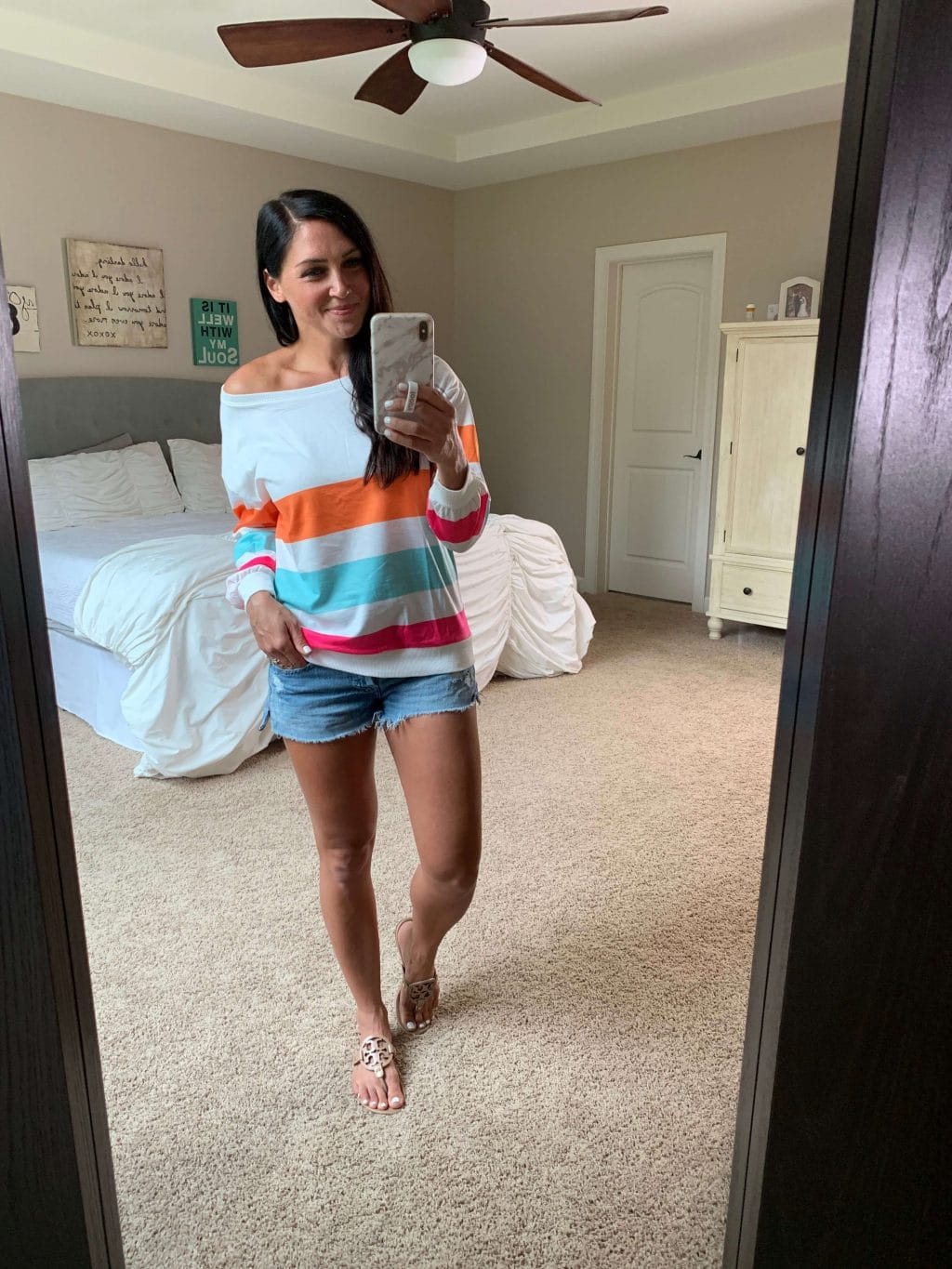 I love the colors of this stripe sweatshirt and it also comes in 5 other color combos. You can wear it off the shoulder or regular style and it's perfect for cooler end of summer days.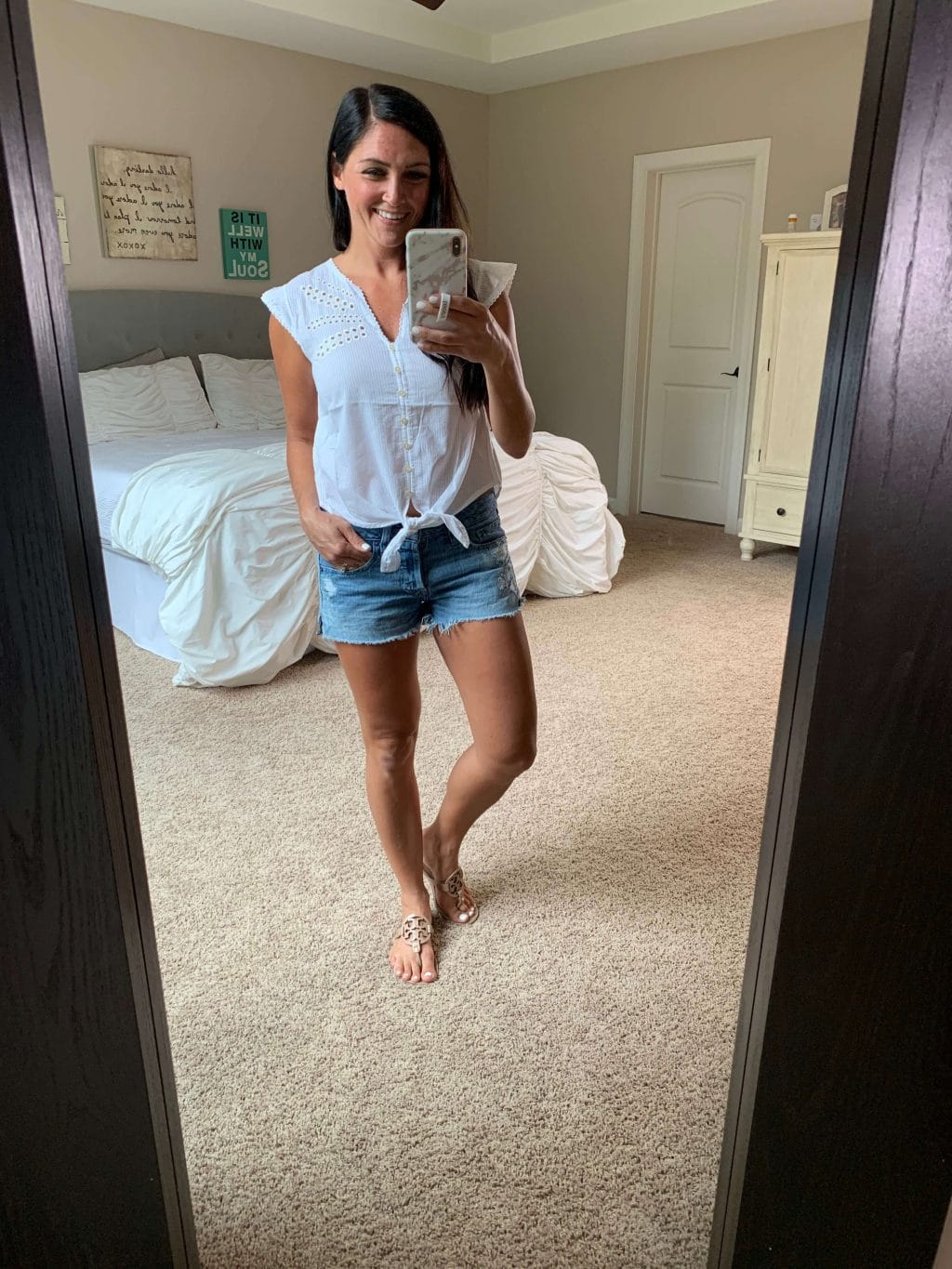 This is a great buy for Labor Day weekend! It's a little cropped, so you can have a small amount of exposed skin, or pair with high waisted denim. It's on the thin side, so you will want to pair with a nude bra.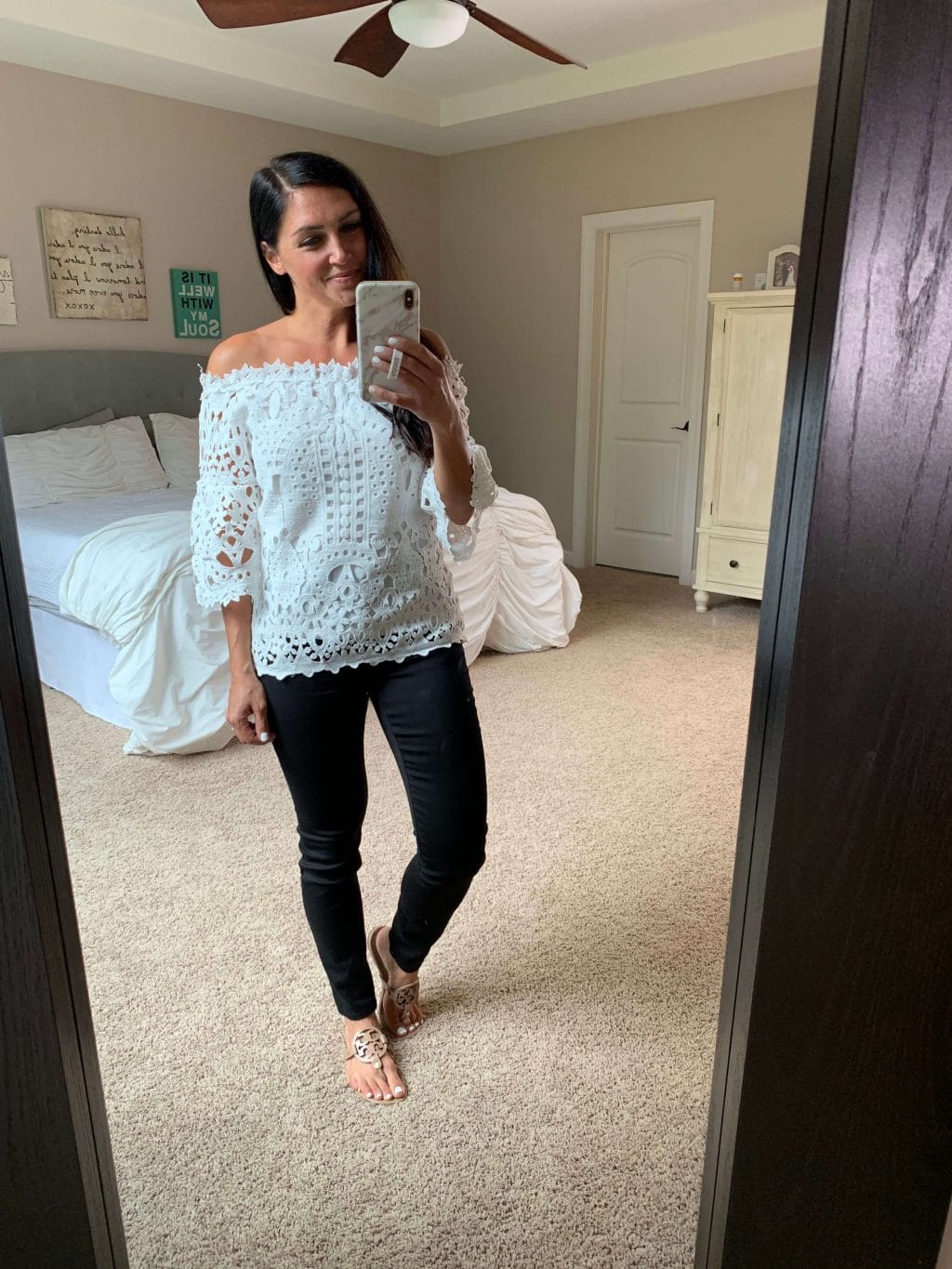 I am blown away by the great quality of this top! It's so gorgeous and looks way more expensive than it is. It has a gold zipper up the back and the elastic around the top isn't tight like some other off the shoulder tops I have.
In preparation for fall, I wanted some non distressed black denim that I could dress up a bit. These are perfect and fit like a glove. They are a mid rise, hitting right at my belly button. I went with the regular length and they are right at my ankle. If you want them this long and are tall, I would order the long length.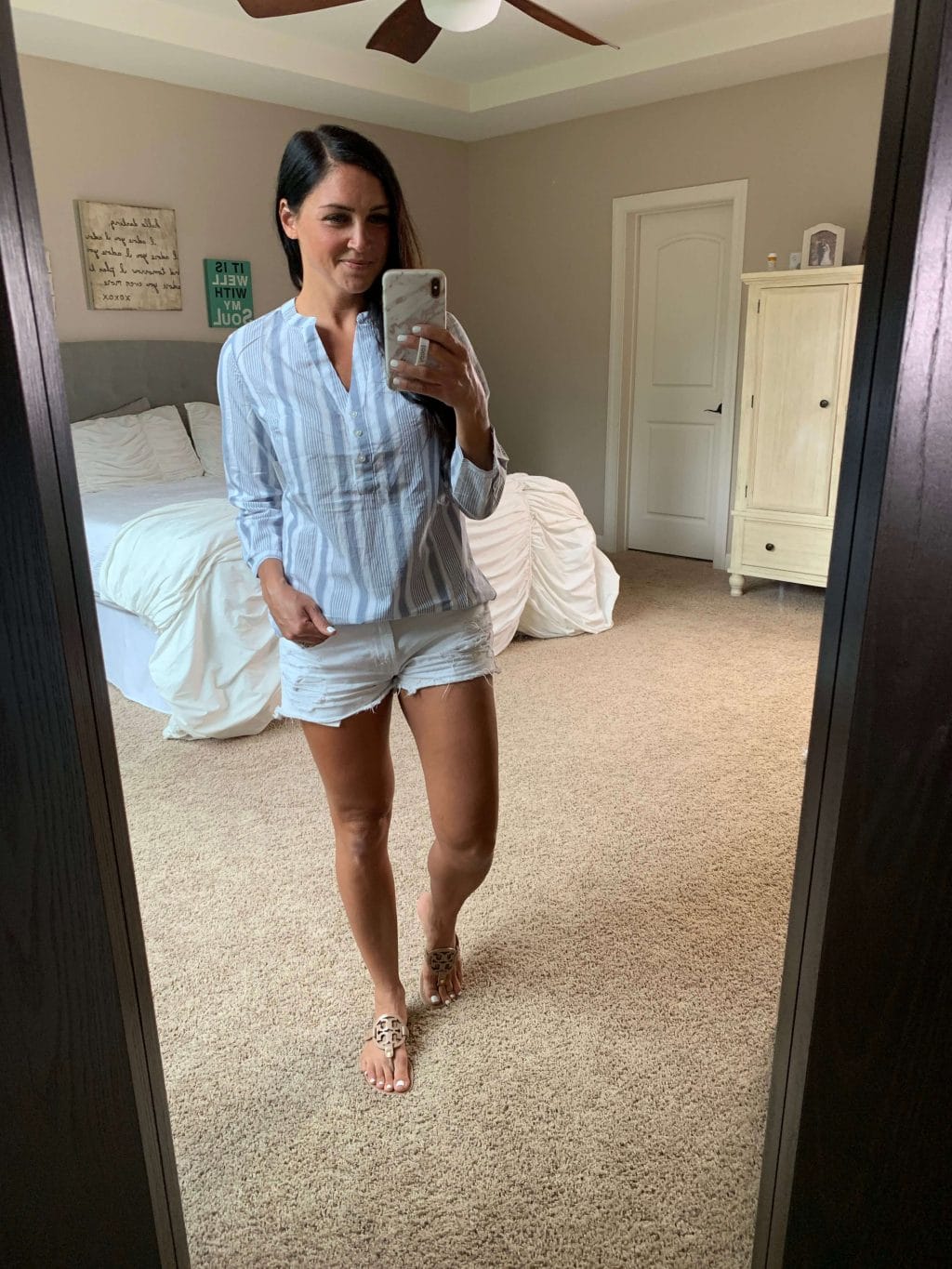 Another great Labor Day option, especially if you live where it's already a bit cooler. This top actually comes in 14 different colors and patterns and could easily be dressed up.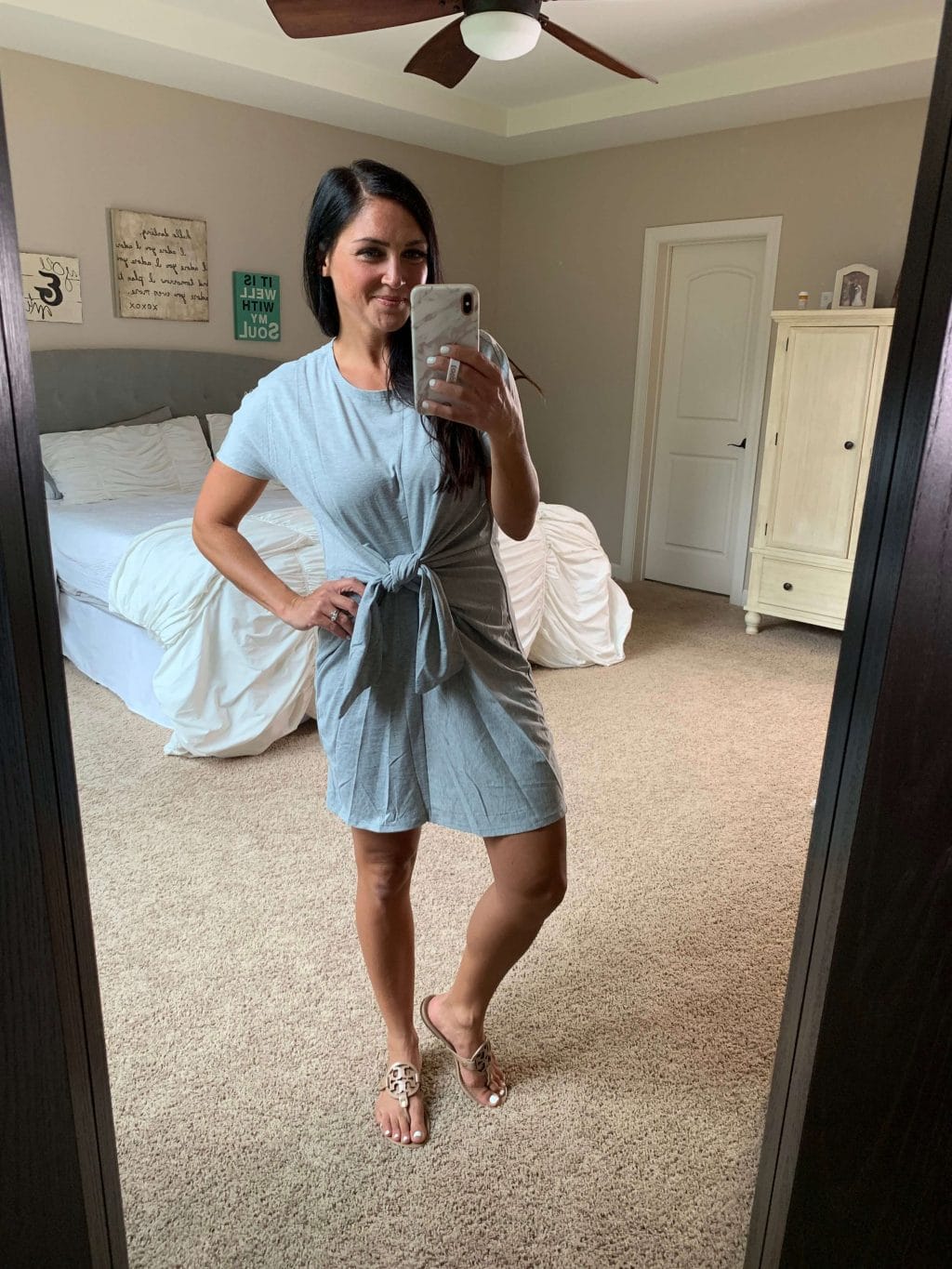 This is a fun twist on a t-shirt dress, with an adjustable tie in the front. I love that it makes it flattering on many different body types! It comes in 5 different colors/patterns.
T-shirt dresses are so great for layering in the fall and this one has such a fun knotted hem. I'm wearing the army green, but it comes in 2 other colors, including a leopard print!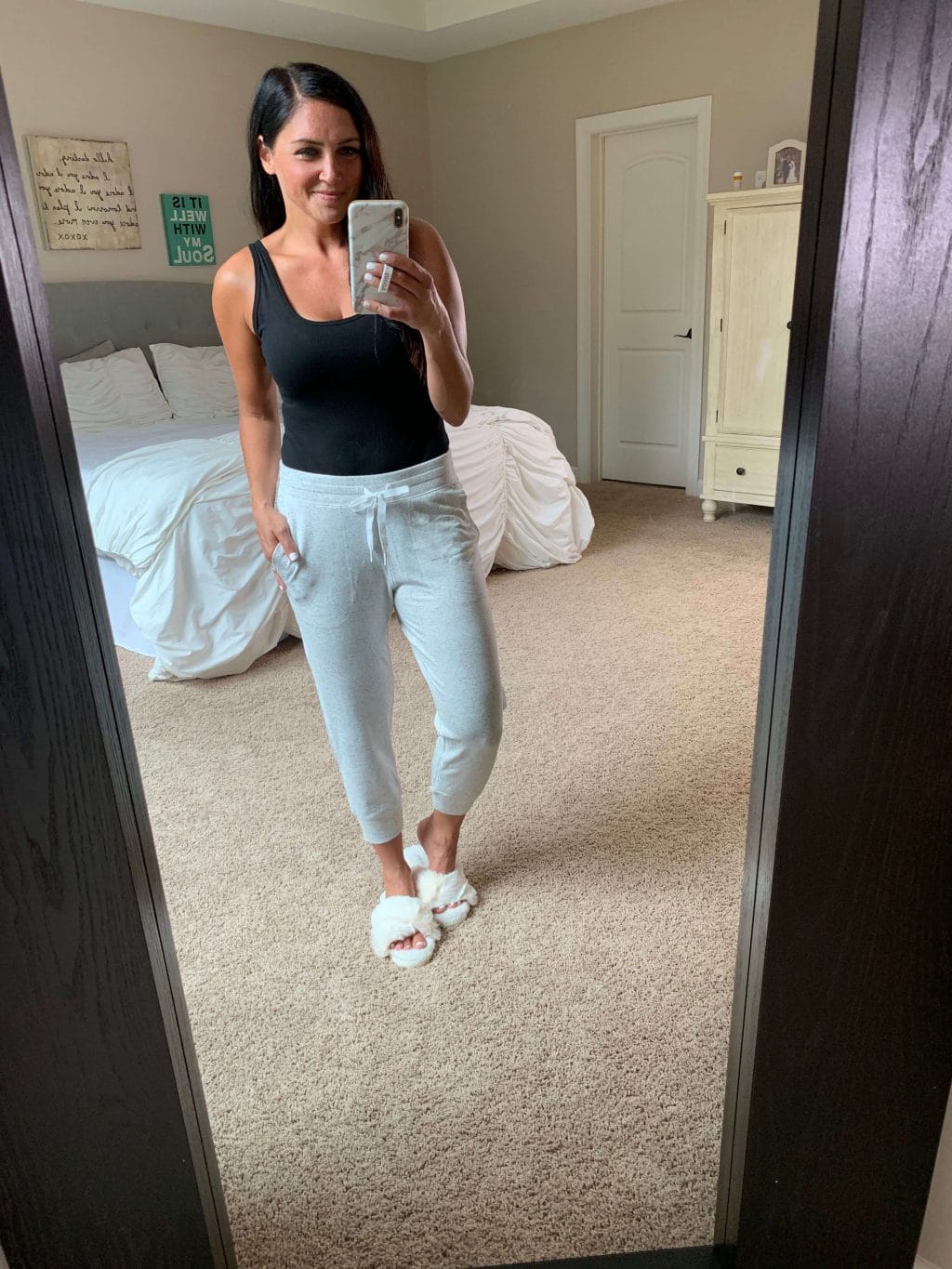 Slippers, 7-8, slightly small | Cropped Joggers, XS, slightly oversized
Now on to what I really wear in the fall…athleisure! These cropped joggers are probably something I will wear multiple times a week! I wore them all day to baseball over the weekend and they didn't lose their shape a bit. They come in many colors and are under $20! The slippers are the softest things ever and come in several colors as well.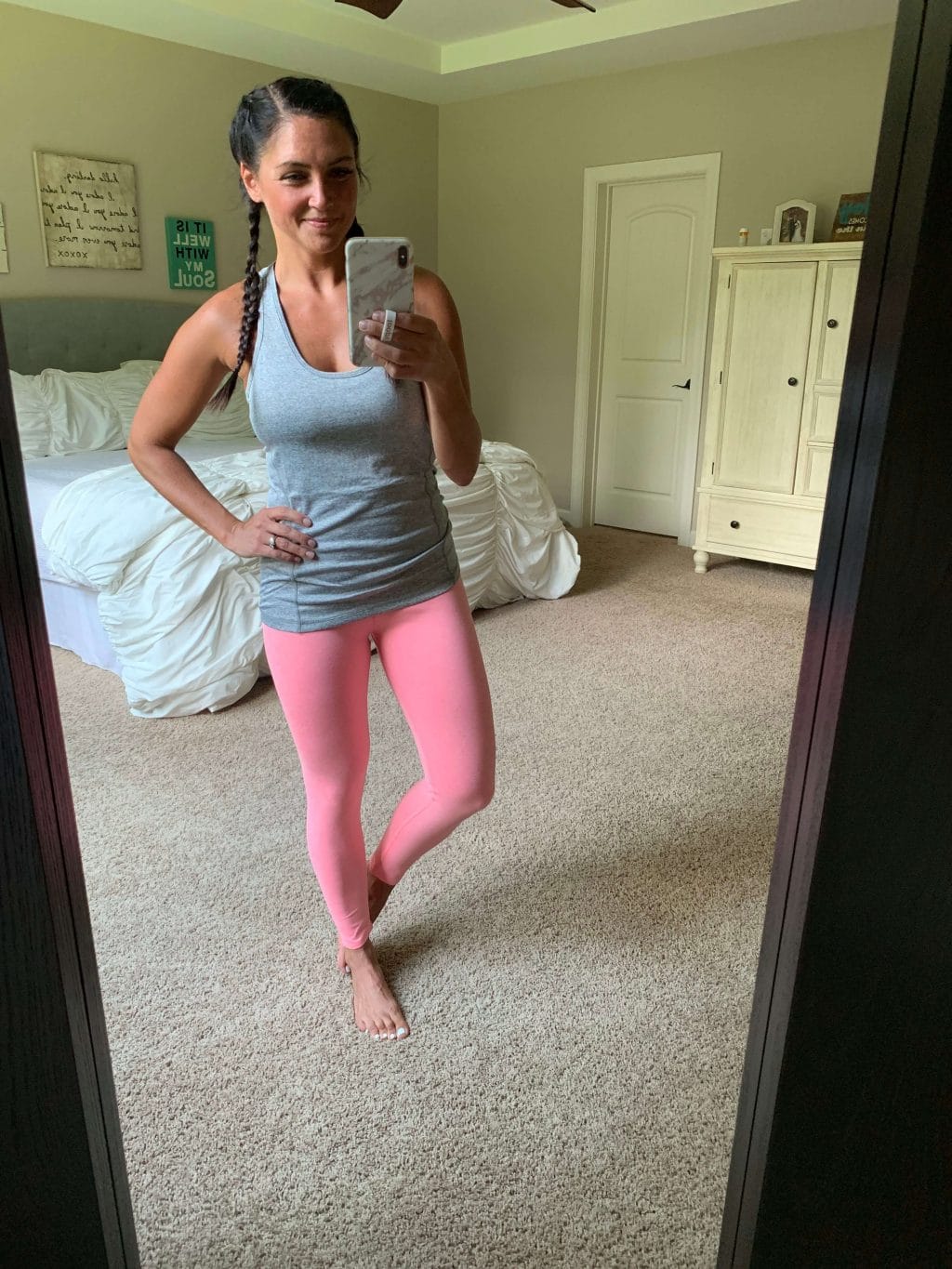 Super impressed with the quality of these leggings. They're buttery soft, not see through and pass the squat test. They're a high rise with a pocket in the band and come in what seems like a million colors. If you wear workout clothing at all, get these tanks! You won't believe how cheap the 3 pack is! I got the pack with black, granite and blue and they fit great.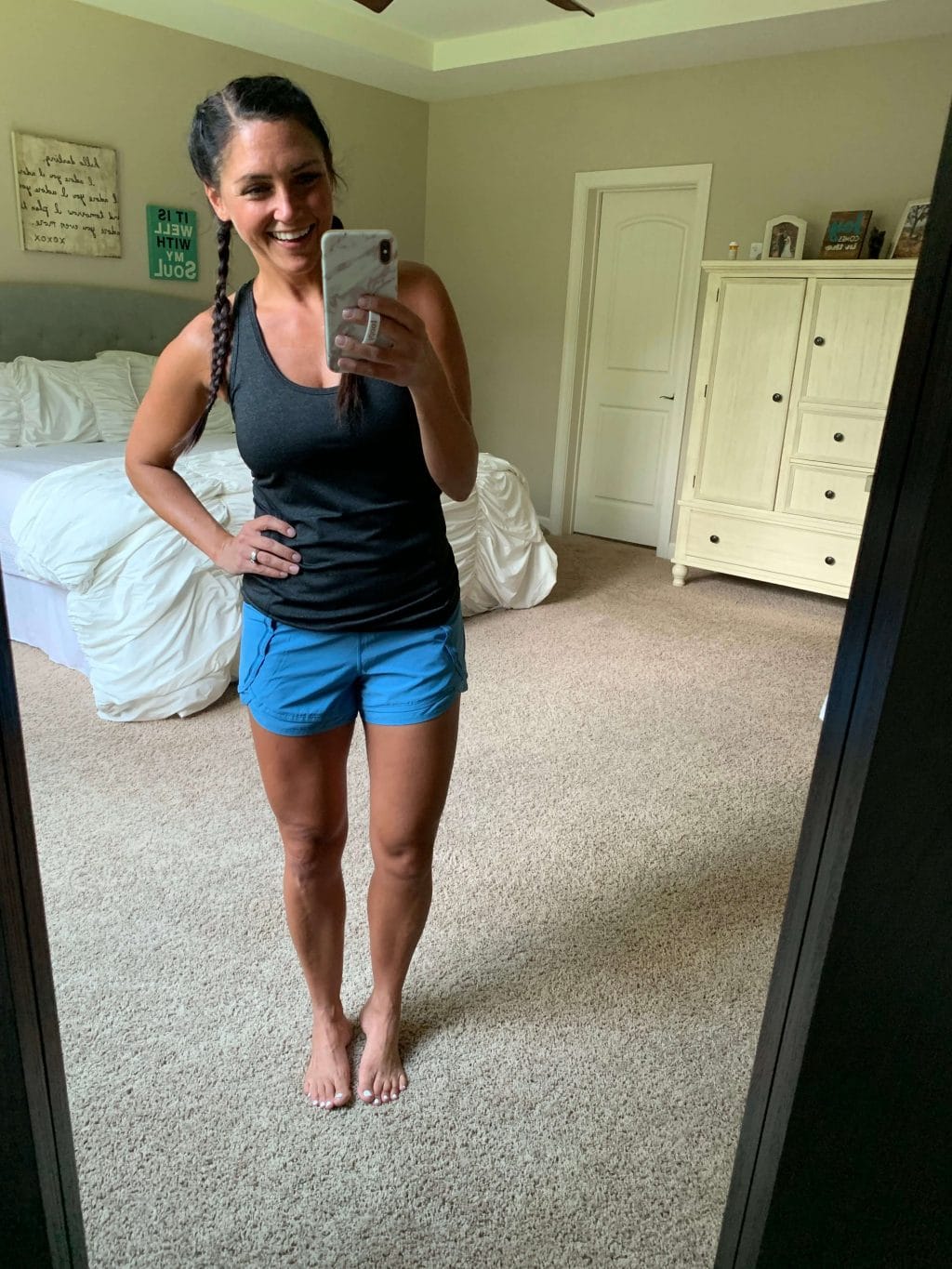 These running shorts are basically identical to my Lulu shorts I always run in. The quality is amazing, the price way less and they're awesome to run in. The top is a stretchy band that lays flat and there is a back zipper pocket.
Hope you liked this August Amazon Haul! I like to look back to see what your favorites are each month, to tell what types of things you prefer. Here are your top purchases from July!
July Amazon Top Purchases

Anything specific you want to see coming up in September? Let me know!