Its been about 2 weeks since we moved Cooper to his big boy bed and it kills me every time I go check on him at night. He's just so…BIG. But somehow looks so little in the big bed. And I love how much he loves it.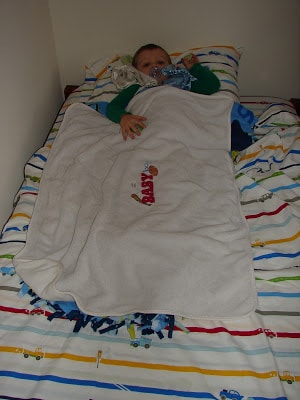 He has gone to sleep perfectly, never escaped, never asked for his crib.
That = Success.
So what is the problem? Instead of waking up at 7:30-8, he's waking up at 6. 6AM. I haven't seen that time in a couple years. And its killing me. More importantly, he is MISERABLE. He's yawning by 7:30 and in full on melt down mode by 10am.
We tried putting him to bed earlier = Failure.
Tried putting him to bed later = Failure.
I need some tips from you been there done that Mommas. The hardwood in his time out spot is worn to the beams. I know he's freaking out because of the exhaustion, so I feel like I really shouldn't be disciplining him.
What the frick to do?