Some of these are things I have, some are things I want (like this makeup bag!) and some are things I know my momma would like. I'm willing to bet yours will, too. And don't fret, there's still time to get all of this before Mother's Day!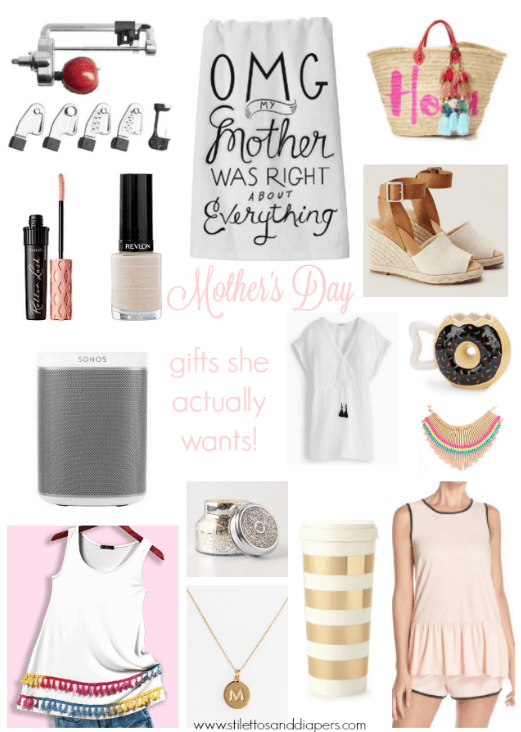 KitchenAid Spiralizer: I got mine about 2 months ago and can't rave enough about it. Tonight, we're having "spaghetti" with meatballs and I make the pasta out of zucchini. If your mom doesn't have a KitchenAid stand mixer, she needs one! Or you can get a manual spiralizer like this one.


Kitchen Towel: We're all right, right?


Hola Beach Bag: How cute is this for those upcoming summer trips! I love this navy one, too!


Roller Lash Mascara: Love this stuff, but it's one of those items I have a hard time chunking the money out for.


Gel Polish: This stuff is awesome. Wore it for the first time for 1 week and that included lots of dish washing and laundry.


Espadrilles: A bit lower and a lot cheaper than the Chloe or even Marc Fisher versions, these are super versatile and super cute!


Sonos Play:1: This was a gift for The Hubs a couple years ago and I think I use it more than him. You use an app to play music from your phone, Pandora, local radio and tons more places. This is the smallest, portable version and its plenty loud for my whole downstairs.


Bathing Suit Coverup: This one comes in black or white and screams beach to me! I love this one, too.


Donut Mug: Coffee and moms go together like PB&J. Add donuts and it's a match made in heaven.


Neon Bib Necklace: A pop of color for the summer, this necklace is just $18!


Capri Blue Candle: I got this as a housewarming gift over 2 years ago and it's still my favorite scent. The pretty mercury glass jar still looks so beautiful once the candle is gone.


Tassel Tank: Tassels are all the rage this spring. Add some colorful ones to mom's wardrobe for $22.


Initial Necklace: You may be out of time for custom monogram orders, but I love a dainty initial necklace that you can wear with anything.


Striped Mug: Are we back to coffee again? Take it on the road in style with this gold stripe mug that's just $18!


Pajama Set: I have a ton of pajamas, but love getting nice, new sets that make me feel pretty. They help spruce up the bead head, eye bags and spit up that I'm normally wearing.
If you want to go the gift card route, get one for somewhere mom can only spend it on herself! Ulta, Nordstrom and Forever 21 would be favorites of mine. As much as I like Target, I would end up spending that on diapers and baseball cards. Ha!


Of course not having to cook or clean and being able to sleep through the night are about the best gifts to give, so don't forget the basics!