Hope you all have had a wonderful last week and been able to find so much good in the middle of this trying time. I ordered a big Amazon haul when we were on spring break 2.5 weeks ago and asked y'all if you wanted to see it. I got a 95% yes response, as I think people want to see a little of normal around the internet! This is a serious time for sure and while I am absolutely not making light of the situation, I do hold hope that before summer, we're able to enjoy the sunshine and take our vacations!
March Amazon Haul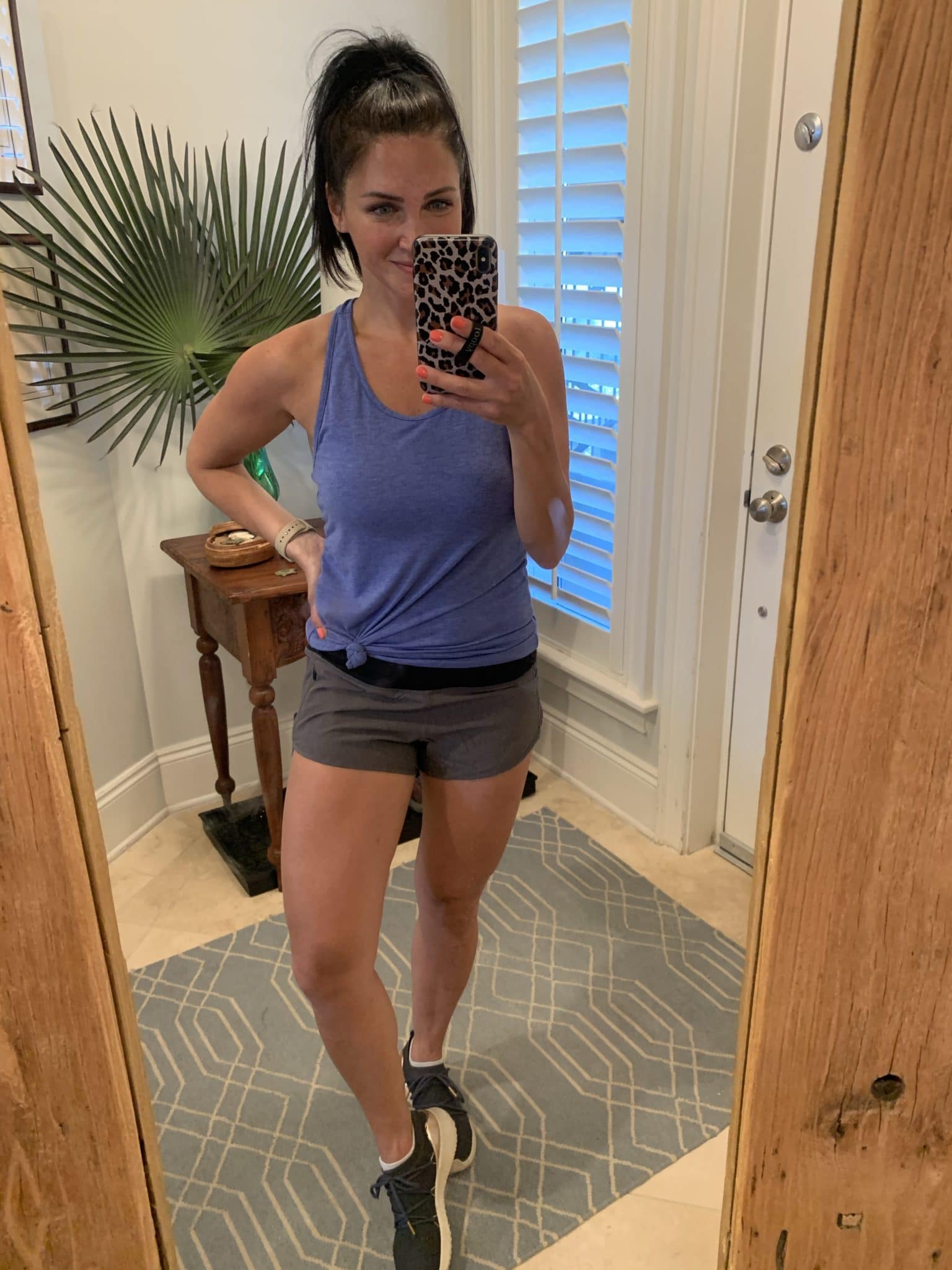 These shorts are a great Lulu dupe! I love these I got last year and wanted to try another pair this year. These are a little shorter and the thick band makes them really comfortable.
Tops
Tank | Slightly Oversized | Small ||  Shorts | TTS | 26  || Sandals | TTS | 7.5
Luke Bryan is one of my fave country singers, so I couldn't resist this tank! Now I just need everything to be better by summer to enjoy wearing it!
These shorts are from my last month Amazon haul, but I HAVE to share them again. I have worn them like crazy and they've quickly become my favorite shorts!
Y'all asked for sandals, so I got these cute espadrille wedges. They are just a slight wedge with a platform, come in a few colors and are very comfortable.
Ruffle Tank | Slightly Oversized | Small
Love the pink color of this one! It has an open back (but still bra friendly) and is longer length. It comes in other colors, too, and makes for a great layering piece until it's warmer. It also comes in a short sleeve version!
This one is so fun! I would love to wear this one with white jeans on date night…one day! It's lined, ties in the front and has a small slit opening in the front and back.
I LOVE this tank! It is an actual tank top, with the shoulder ruffles attached separately. It makes me feel like a quintessential southern gal. You northern girls are welcome to wear it too. 🙂
This one actually makes me really sad, seeing that the boys won't be playing spring ball like normal. I got this one because I got several requests for baseball mom gear and I love wearing tees like this! The good news is, this is just a season and you can wear this one for a backyard baseball game, too!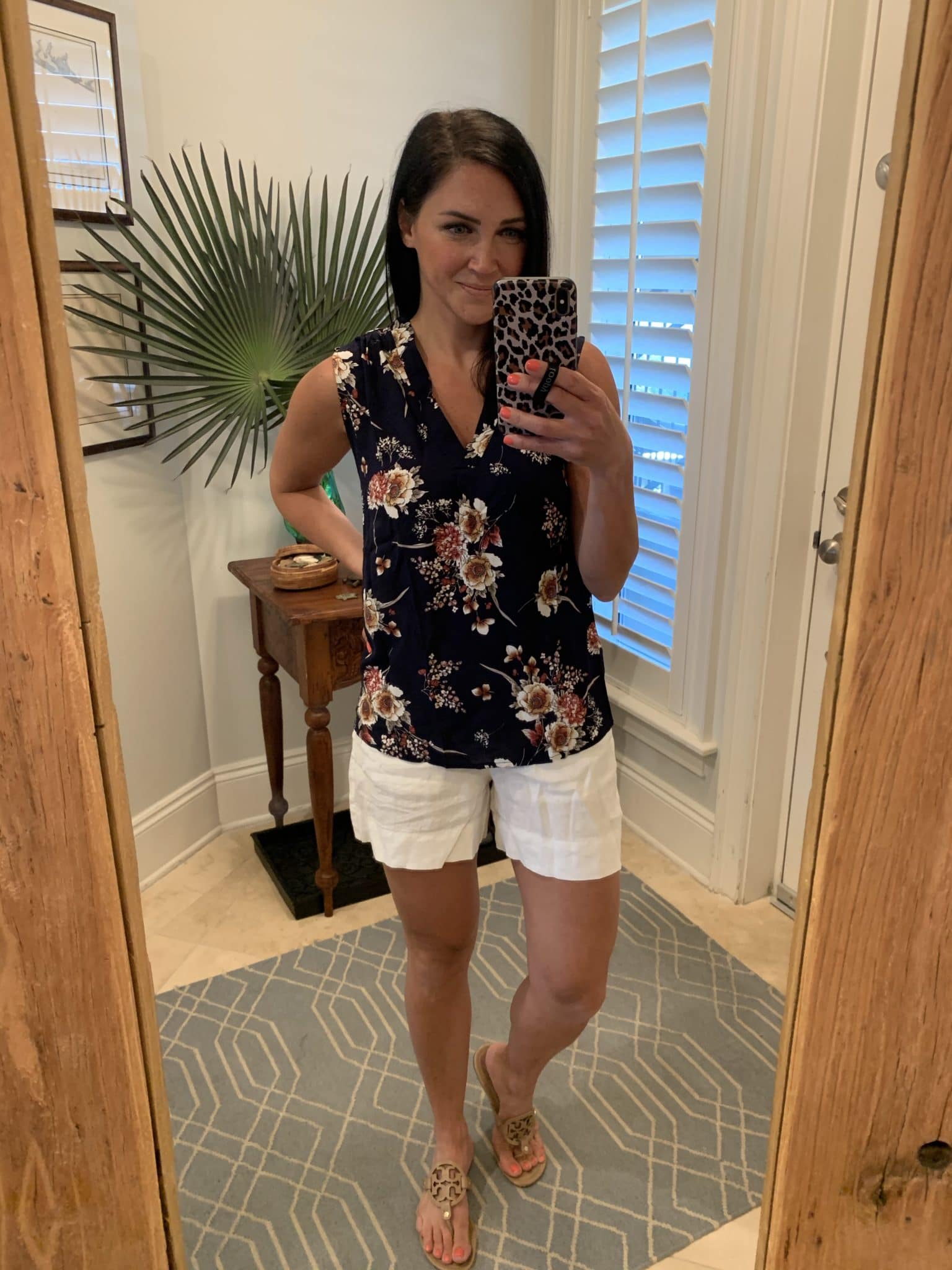 This is a dressier blouse, with pleated shoulders and a v-neck. This is a great one for date night, work, or even church. It comes in a few patterns and solids, too.
Shorts
Ruffle Shorts | TTS | Small || Bodysuit | TTS | Small
I wanted some cute ruffle shorts and these fit the bill perfectly! They're not very long, so they can't be worn high waisted very easily, but I love how these work with this bodysuit I got last month!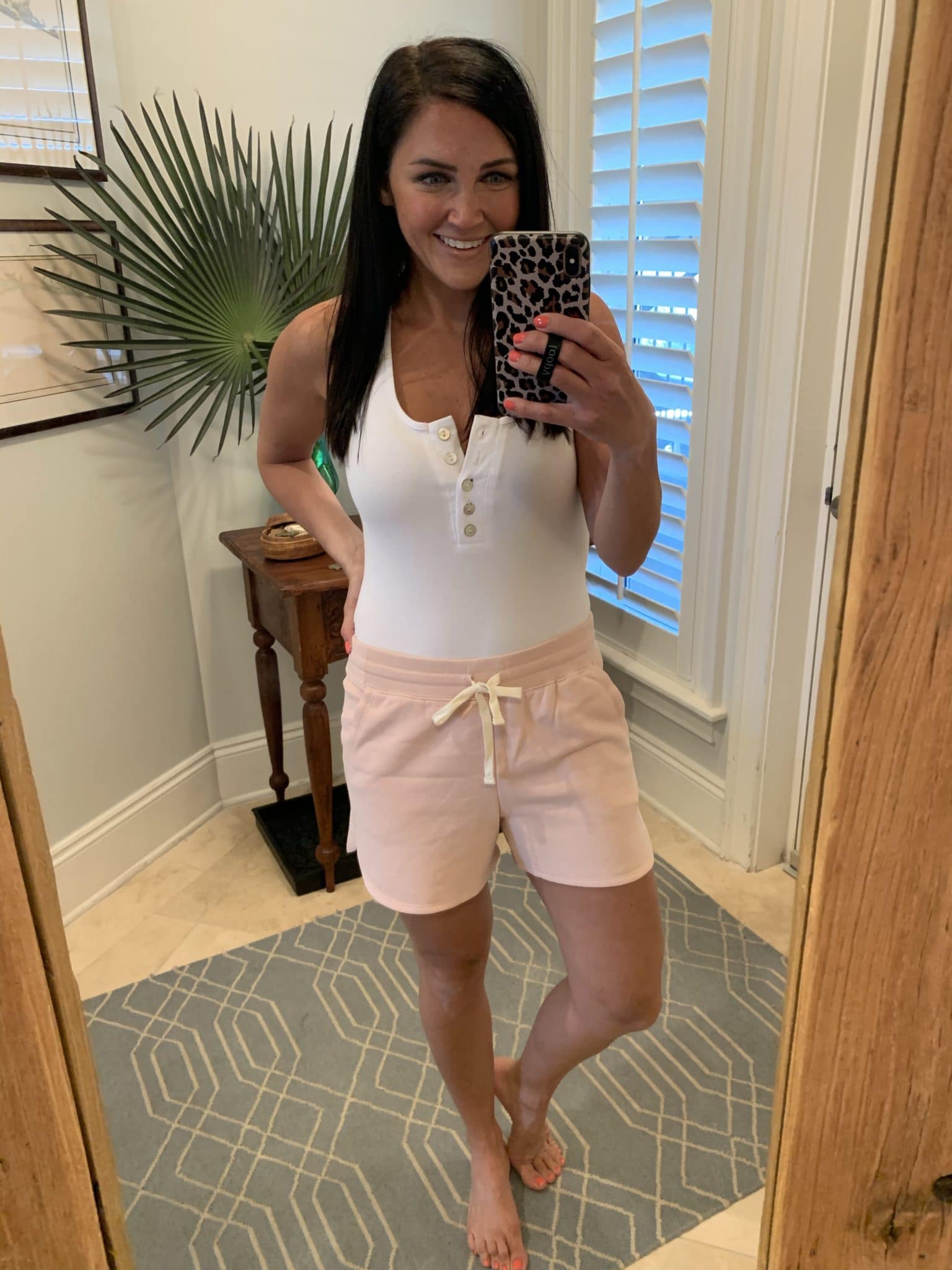 I could have gone XS for these for sure. But man are the comfortable! They're perfect for endless lounge around the house days and come in several colors. They are longer length and were $12 when I got them!
The cutest little sweater I ever saw! I love the bow detail on 1 shoulder. It is great to dress up or down and is fitted enough to tuck in, but not so fitted that you can't wear it alone.
I paired the sweater with these cute white linen shorts. They have a flat front and elastic back, pockets and longer inseam. The white is slightly sheer, so I suggest nude undergarments, but they also come in several other colors.
Love this comfy romper. It is short sleeve and has a v-neck and pockets. It's the perfect length of not too long or short and comes in a bunch of colors, too. It has a touch of stretch and is super soft inside. The tie is functional, so you can make it fit on your waistline at different levels. I'm wearing the navy.
Dresses
Hold the phone with this one! So insanely comfortable, with ties on the sleeves and side slits, this one is a total winner. It comes in several other colors and I think it will make me feel good on days I want to "dress up" at home, but be comfy!
Tye Dye was a request from y'all this month, so I was happy to snag this one! I have it in a solid and love it so much, that it was a no brainer. This one has pockets and can be tied up on the front because of the side slits that go about to my knee.
I feel like this looks cotton-y in the picture and it isn't! It's a slickier fabric, with a side zipper and fits very well. Even though it's a billowing bottom, this dress is super flattering! This color is my favorite of them, but there are other colors as well!
Another one I'm crushing on! I wasn't sure about this mock neck, but decided to give it a shot. I am so pleasantly surprised! I like this one tied up on the front, but you can wear it down, with a denim jacket, with a sandal or a heel. It's a jersey knit and is very comfortable, while not being too fitted.
This may be my favorite of all! I love the pattern and the length is perfect for shorter girls. This one has pockets, adjustable shoulder straps that tie at the back and the waist is a functional tie as well. The material is thick enough to not be see through at all.
I got this one in leopard a few months back and wanted a springier version. This one is so cute! It's grey, pink a little shimmer and a main stone, with a magnetic back
I am so impressed with this set of earrings! For about $20, you get 9 pairs of spring/summer earrings and a bracelet! (This is actually the same one I got a couple months ago that I mentioned above.) There is a mix of bamboo, acrylics, leopard and palm prints that add a ton to your accessory stash without spending much!
Keep in mind that everything is taking a bit longer to ship right now, so be patient if you don't see it in your normal 2 days!