Last weekend, we took a little overnight trip to Atlanta to visit the Georgia Aquarium. I was born in Atlanta and my family still lives in Georgia, but I'd never been before. It's only a 4 hour drive from Charlotte, so we loaded up after school on Friday and took off. We stayed at the Hilton Garden Inn, which is right across the street from the Aquarium and very close to downtown. The hotel was gorgeous and Cooper even cried when we left. He wanted to live there. (If you go, grab the breakfast buffet at The City View room. It was amazing and worth every single calorie in the plates plate I ate.)


Saturday morning, we went to the Aquarium and all 4 of us enjoyed our time.


There was so much to see, read and learn. I was impressed that it really did entertain all of us, not just the kids.


There were several tanks that you could touch things in. Lots of coral, small rays and really cool looking anemones.


You can climb up into tubes to be right next to the penguins. Callan wouldn't take his eyes off of them long enough for a picture!


One of my favorite things, was the tunnel underneath the large fish tank. This tank had the whale sharks and huge rays.


Later in the day, we went on a behind the scenes tour and got to see the tank from the top. The fish were so close to us!


We also got to see the top of the tropical fish tank. It had tons of artificial light and a huge skylight to make it feel like they were in their natural environment. Every 2 minutes, water dumps into the tank. From up top, its a huge gush of water. From below, the music is set to the water, the lights go darker and it makes for a very dramatic event. So fun to watch!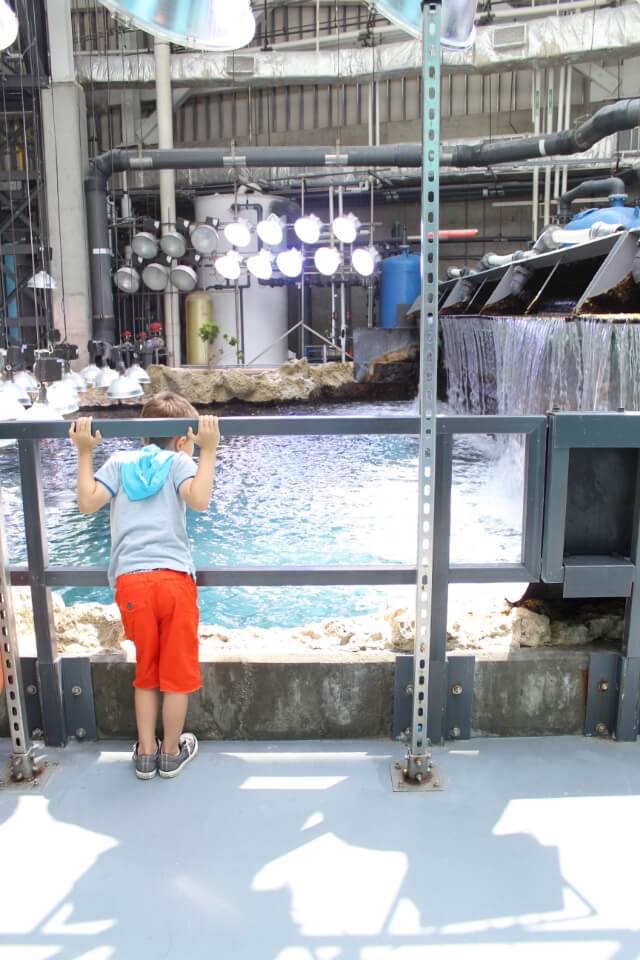 There were some things behind the scenes that weren't quite ready for the crowds, yet. Like these starfish and little baby penguins who were just learning to swim.



Not included in these pictures, is a really fun 3D show that the boys loved. It had them reaching out trying to grab things in front of them, air blowing, water spraying and more. My favorite of the day, was the Dolphin show. It was a show with people and dolphins doing incredible stunts. It was very impressive and had my little guys attention for the full 30 minutes!


Since Atlanta is such a central southern city, it makes it really easy for a lot of people to get there. There is so much to do right around the Aquarium as well. If you're looking for a good trip this summer, consider the Georgia Aquarium! They have a Southern Hospitality Discount that runs through June 13th. Residents of Georgia, North Carolina, South Carolina, Tennessee, Alabama and Florida can receive discounted admission of $29.95 + tax when they show a valid ID verifying residency at the ticket window only. I know most of these states, kids are already out of school. Take them for a little vacation, entertainment and education all in one! You can check out more ticket details here!


Thanks to the Georgia Aquarium for providing this trip for my family. All opinions are my own.