Last week, The Hubs and I got to go away for a few kid free days. We spent a weekend in Charleston with The Hubs work team on a trip to celebrate a great year they had in 2017. Luckily, he works with some really great people, so we were able to have lots of fun with friends and some good quality time with just each other.
Wednesday
We left for our quick drive to Charleston and had our first taste of being seated through a whole meal at good ole Chipotle. Not sure that The Hubs was digging my 90's style, but I'm hooked on this belt bag situation. Look ma! No hands!
Jeans | Bodysuit | Beltbag | Leopard Flats: old, very similar here
We checked into The Beach Club at the Charleston Harbor Resort and it was absolutely gorgeous. We had 1 balcony that overlooked the pool, Tiki Bar and river, while the other balcony overlooked the USS Yorktown at Patriots Point and the Cooper River Bridge. We went over to Charleston for dinner that night and it was an absolute ghost town from hurricane Florence. Our restaurant was basically empty and we only found 1 open bar afterwards!
Thursday
We had to meet in the lobby for a fishing tour at 7:15, so we ordered breakfast the night before. I'm pretty sure room service is one of my love languages.
I was on the fence about fishing, because I was scared of getting seasick. But we had such a great time and I probably said 27 times how happy I was that we went. I caught 5 fish on my own and beat the boys in the boat! Haha. We got some crabs from a local crabber to use for bait and his dirty boat and rubber overalls were completely picturesque. It's like a completely different way of life for them!
Lunch was at an old local restaurant with a cool boat as a bar. The bar was more appreciated than the food, minus some amazing hush puppies! We spent the entire afternoon at the pool, complete with lots of fruity drinks.
Dress | Sunglasses (use STILETTOSANDDIAPERS for $25 off your purchase)
We ate dinner at The Fish House, which is on the grounds of the Charleston Harbor Resort. They have plenty of local seafood and the best fried green tomatoes with pimento cheese. I snagged a couple of these delicious little desserts before we headed out to an escape room. I never thought that was in my wheelhouse of fun, but I really enjoyed it!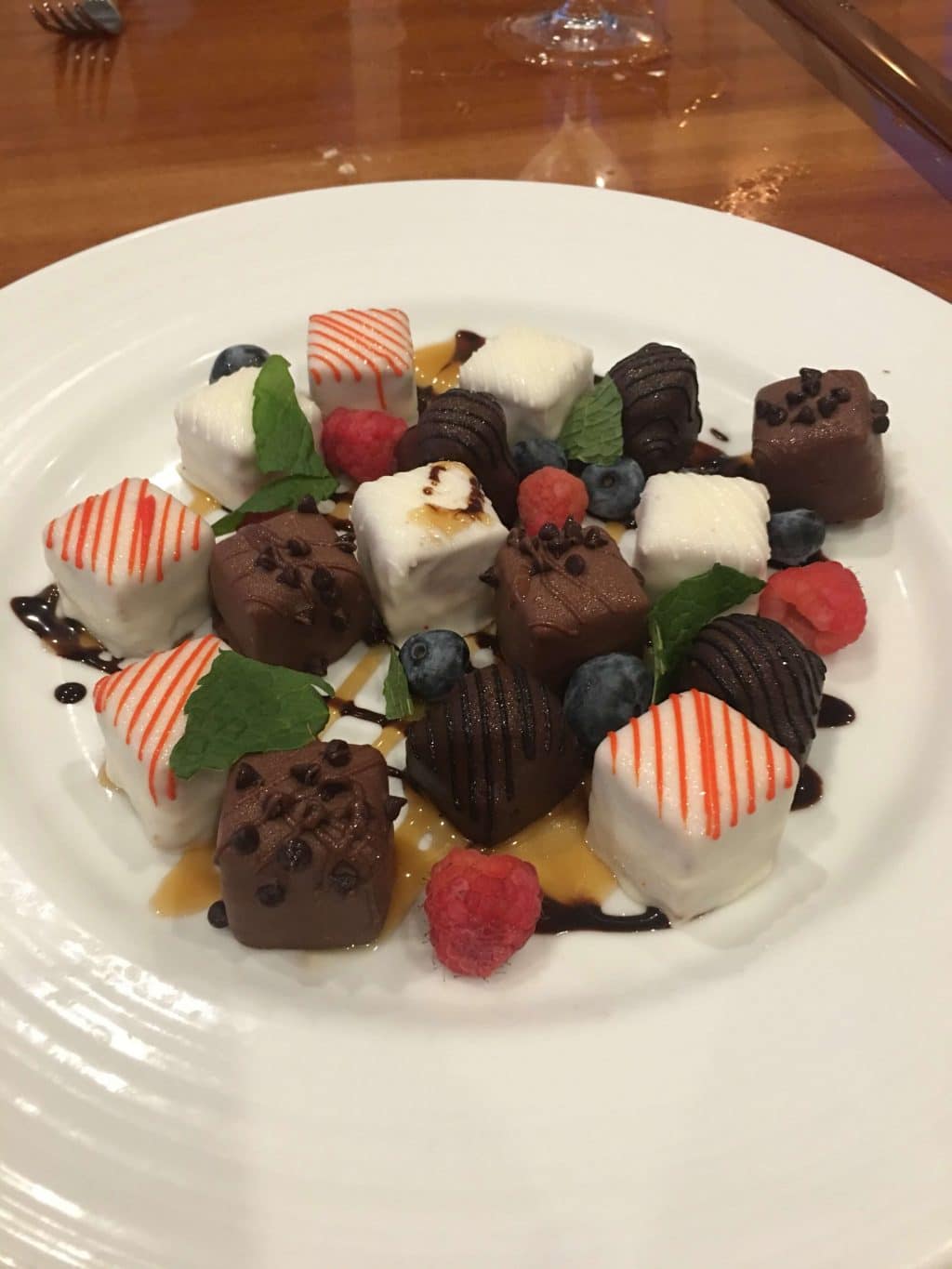 Friday
We slept in a bit, which was amazing. It was hot by the time we got up, but we had been talking about running the bridge over the Cooper River, so we went for it! 6.25 miles and a ton of sweat later, we were back at our hotel. We grabbed some food at The Fish House again and the views were even better during the day! We hit the Tiki Bar afterwards before heading to the spa. We both had a blue eucalyptus massage and it was magical.
During another afternoon at the pool, there was a group of girls across from us. When one of The Hubs coworkers got up to leave, he recognized Naomi from Southern Charm and came over to tell me. He knew I'm a massive fan! I got the nerve to go up to the bar to meet her and ask for a picture. The Hubs boss is almost as big a fan as I am and jumped in the pic with me!
That night, we went to dinner at High Cotton and It was my favorite meal of the trip! I forgot to take a picture of most of my food, but the blackberry cobbler was a win.
We finished off the night at Republic, which was a cool nightclub inside and had live music and a more casual vibe outside in the garden. I did a lot of dancing that night and my whole outfit was under $100!
Dress | Mules | Convertible Bag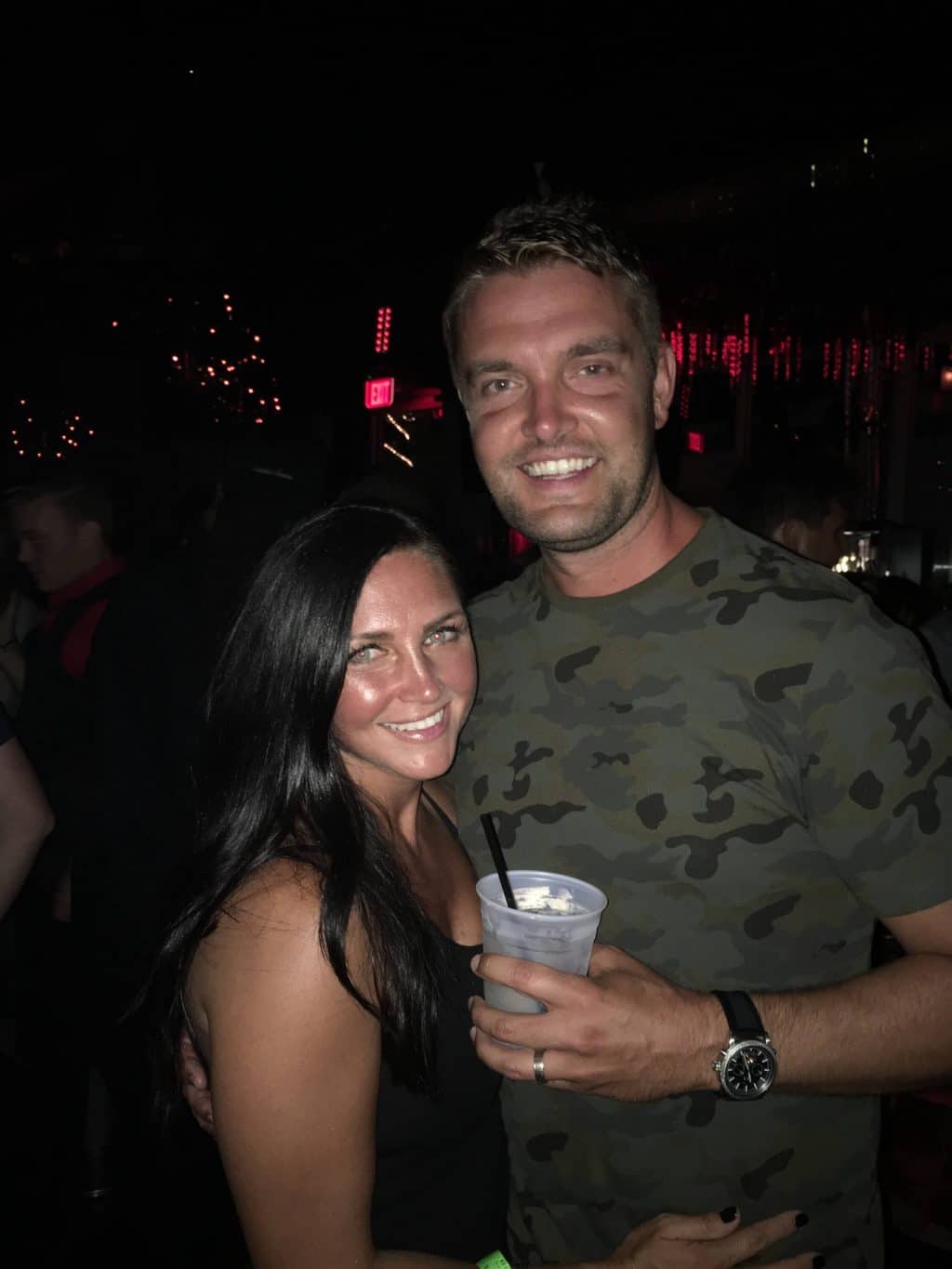 Saturday
We woke up hungry and our order at Mill Street Tavern showed that! The space is so cool and their food was really good. We left full for sure and were happy to head back to our babies!
Shorts | Tie Front Top | Leopard Flats: old, very similar here
This is our second year in a row getting away without the boys and I hope to make it a tradition! We came back very refreshed from a weekend in Charleston and can't recommend a getaway more!