This blog has been slightly neglected lately as I sort through boxes. Oh my word the boxes! I'd say we are 85% done unpacking and I'm getting excited for the decorating portion. Going through things in the house and using the options we chose, makes me very happy with some of the things we added. If you're in the market for building a new house, these are some of my favorite home build custom options that we added!
Plug Behind Master Bathroom Cabinets
Adding an outlet behind the bathroom cabinet cost us $30 and it's such a nice touch. My curling iron and hair dryer stay in the drawer that can close right up after use. Really helps cut down on the clutter!
Closet Game/Art Storage
This closet is in the basement and turned into an amazing storage space! We keep games, toys, books, costumes and art stuff in there. It's more full than this picture now! I love having everything in one area and the ability to keep it all organized.
Whole House Cat 6 Lines with Smurf Tube
This one is a little over my head, but an amazing touch! We ran cat 6 lines to any room we have a tv or computer. The wires then all run to a closet on our main floor so that they can plug directly into the router. AKA – faster internet! The smurf tube runs from behind our living room tv so that we can run any additional wires we need to through it. The beauty of this is that there are no wires hanging down from our tv for speakers, DVD player (which is in this closet, too), etc.

8ft Sliders in Basement
We have plenty of windows in this house to bring in as much natural light as possible. We decided to change the basement slider from a 6ft door to an 8ft one and the light that comes in is a big difference! It doesn't hurt that there is more view of the pretty snow, either.
Lockers with Doors
I love the look of these lockers, but also that each kid has one that can hide all their stuff! It's especially nice with all the winter gear that we need here. Each locker has 2 hooks in the back for coats, then 2 lower hooks on the sides for backpacks or hats.
Laundry Room Sink
This is my first time having a laundry room sink and it's great. It's deep and I've already used it to hand wash a couple sweaters. I know this will be very useful in baseball season for all that soaking and scrubbing!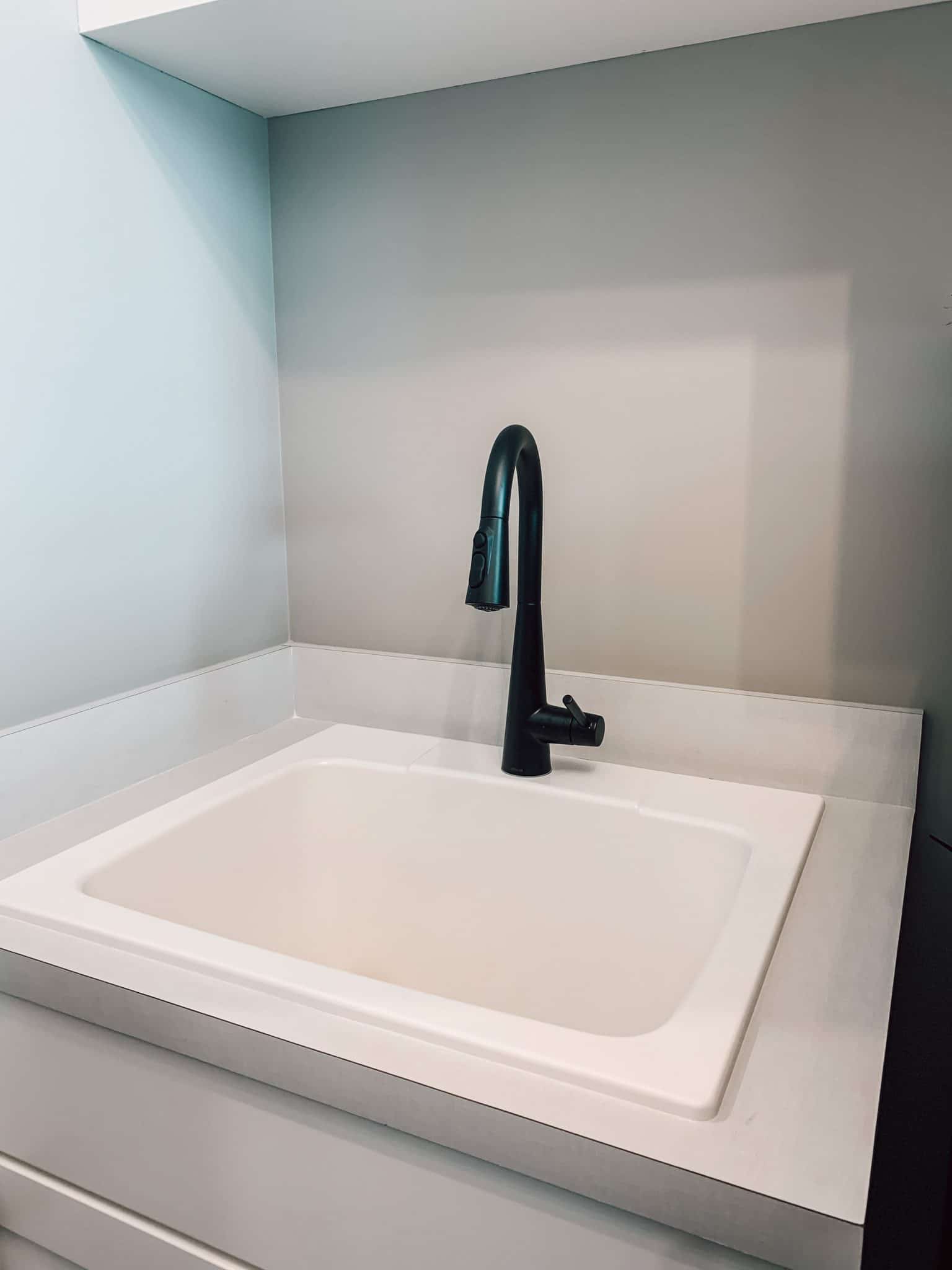 Extra Towel Hook for Robes
There are lots of hooks in this house. It's just easier for the boys and us, for that matter! I love having an extra one there for my robe on the chilly mornings.
As I get more unpacked, I will be giving more details and a tour. We have a couple really fun rooms that I'm itching to finish so I can share with you!