Some more Amazon summer pieces, including a great pair of denim cutoffs, transitional pieces and a bathing suit for your last summer sun adventure!
My brain is so all over the place lately and this post is one to prove it! I recorded all these before we left for the beach…3 weeks ago? And totally forgot to post them. So, here they are! I'm a few shades lighter and my nails are the color they were 3 polishes ago, but the Amazon Summer pieces are still good! As always, you can see my try on videos on Instagram!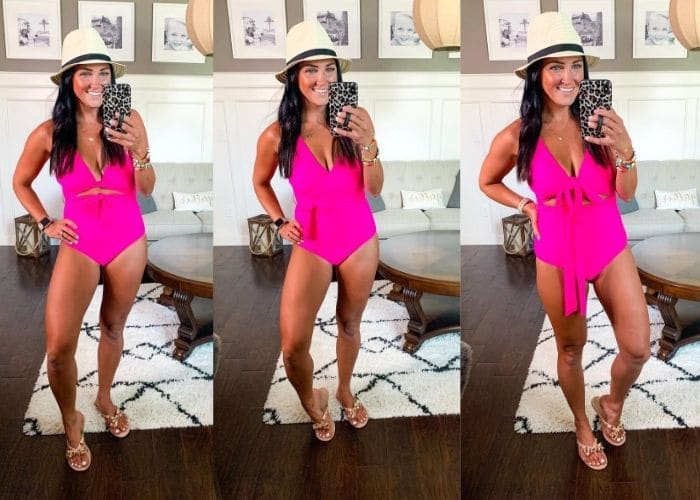 I've had this suit now for a couple months, actually and I really like it. It looks like the Aerie leopard wrap suit that I've seen on a lot of people this summer, but in solids. I have it tied up 3 different ways above, so it's very versatile to work with your body type! It has full booty coverage and comes in 6 different colors.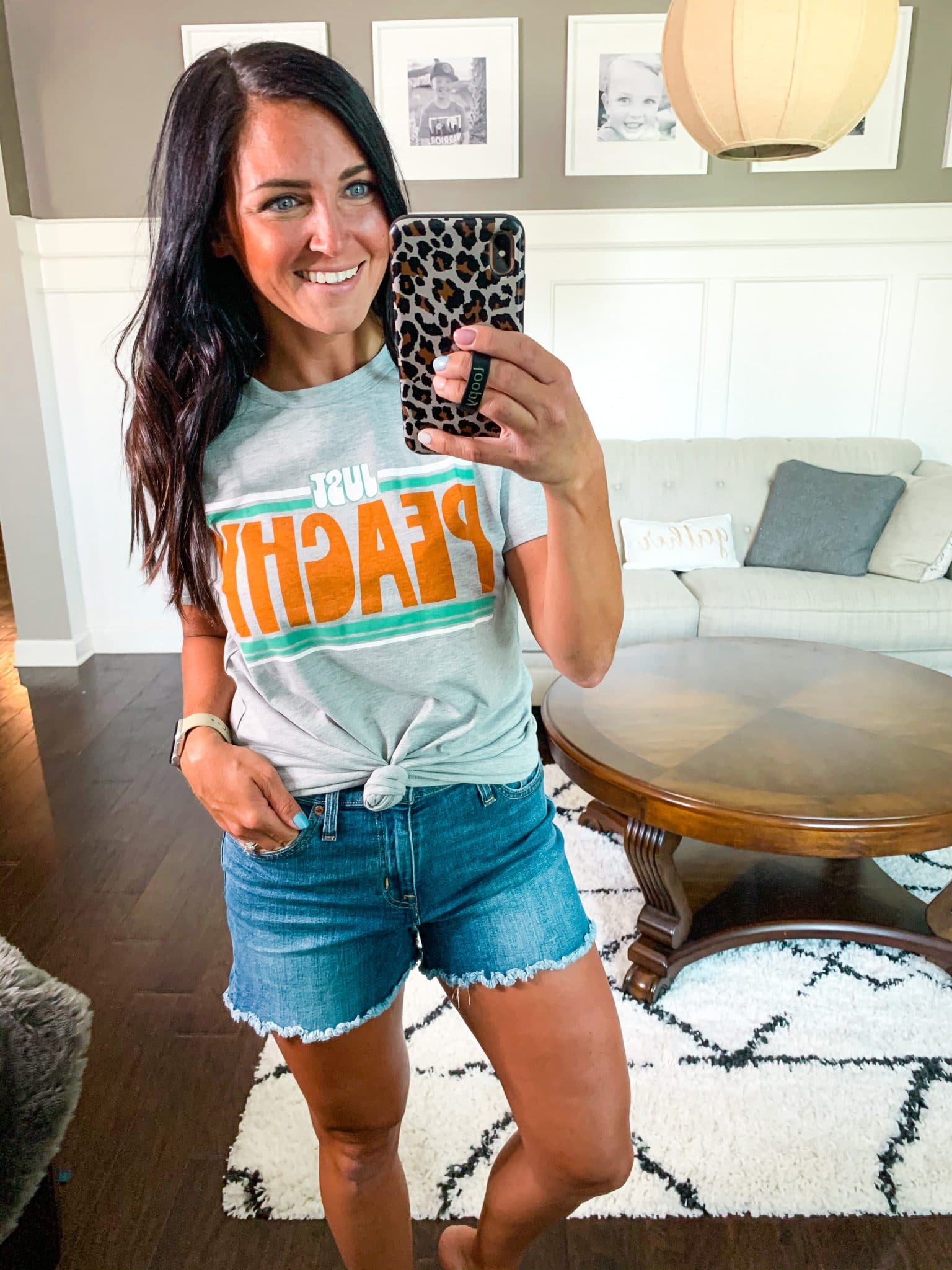 I am a Georgia girl, so I had to get this "just peachy" tee! It comes in different color backgrounds and is just oversized enough to knot up in the front.
Y'all are always wanting denim cutoff options and these are GREAT! They are the same brand as my favorite Amazon jeans and they are very comfortable. They have a 3″ inseam and a mid ride. I wasn't expecting much from them because the photo online doesn't do them justice, but I really do like them!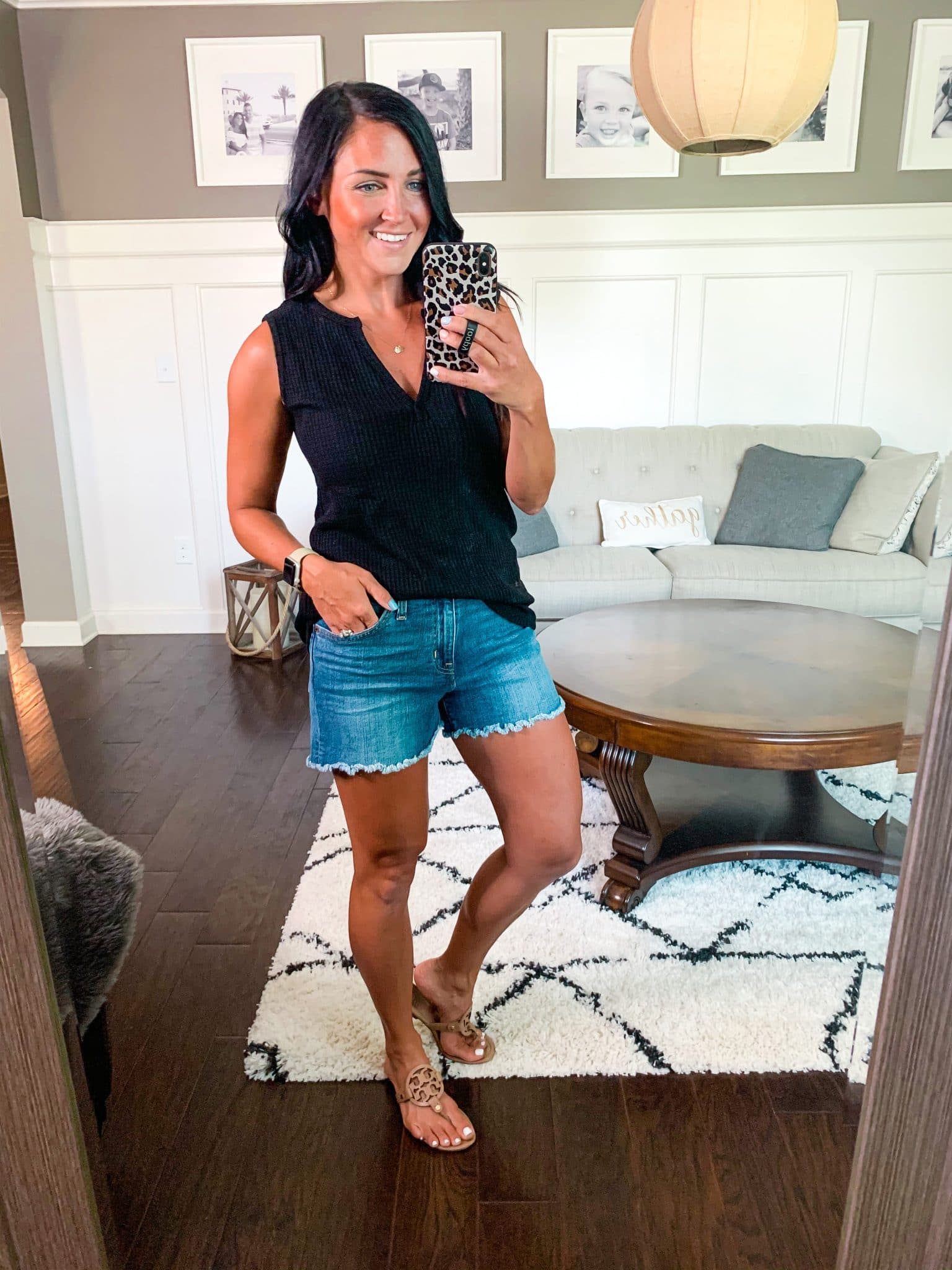 I absolutely see this tank as being one I wear a ton now and into the fall with a cardigan. It comes in lots of solids, some color blocks and even tie dyes! It is pretty oversized, so I recommend sizing down 1.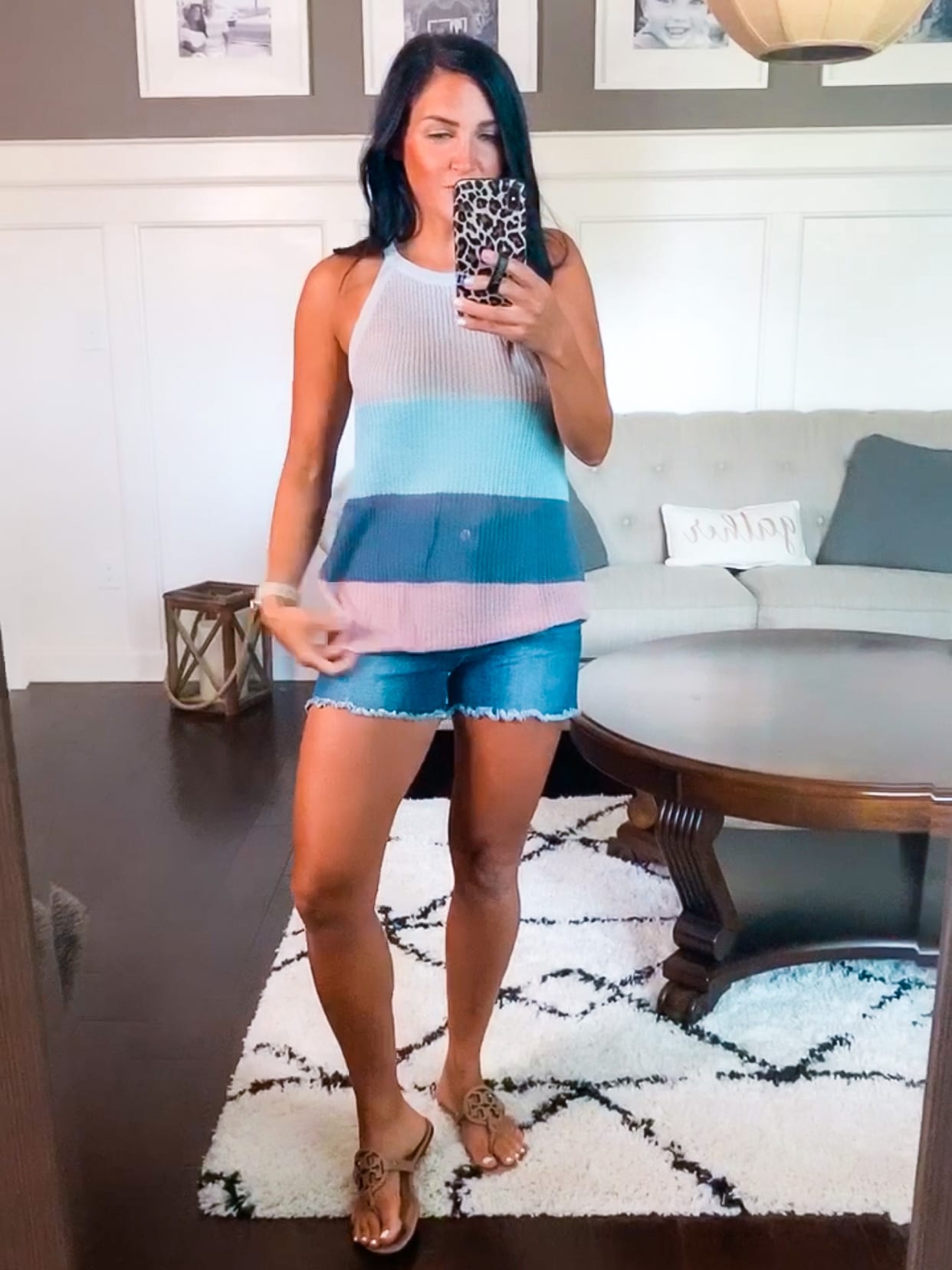 This sweater stayed on my wish list all summer long until it came back in stock! Then I apparently missed a picture, so here's a screenshot of my video! I love the colors, love the neckline, but it is a bit sheer because of the large knit. If you wear a nude bra, it would be fine, but if you prefer more coverage, you would want to add a tank underneath. It also comes in other striped patterns and solids.
I love this dress and it's actually my second one! I have a floral pattern from last year, but I wanted the versatility of the black one. You can see how I styled it at the beach in this picture! It comes in several other colors and patterns and is not too long for me, which is amazing!
If you're shorter like me and have a hard time finding jumpsuits that fit, look no further! I am IN LOVE with this wide leg jumpsuit and it's the softest thing ever. It has pockets and a functional waist tie. I will totally be pairing it with a denim jacket and wearing it straight through fall here in NC! It comes in several colors and I'm eyeing the heather grey as well.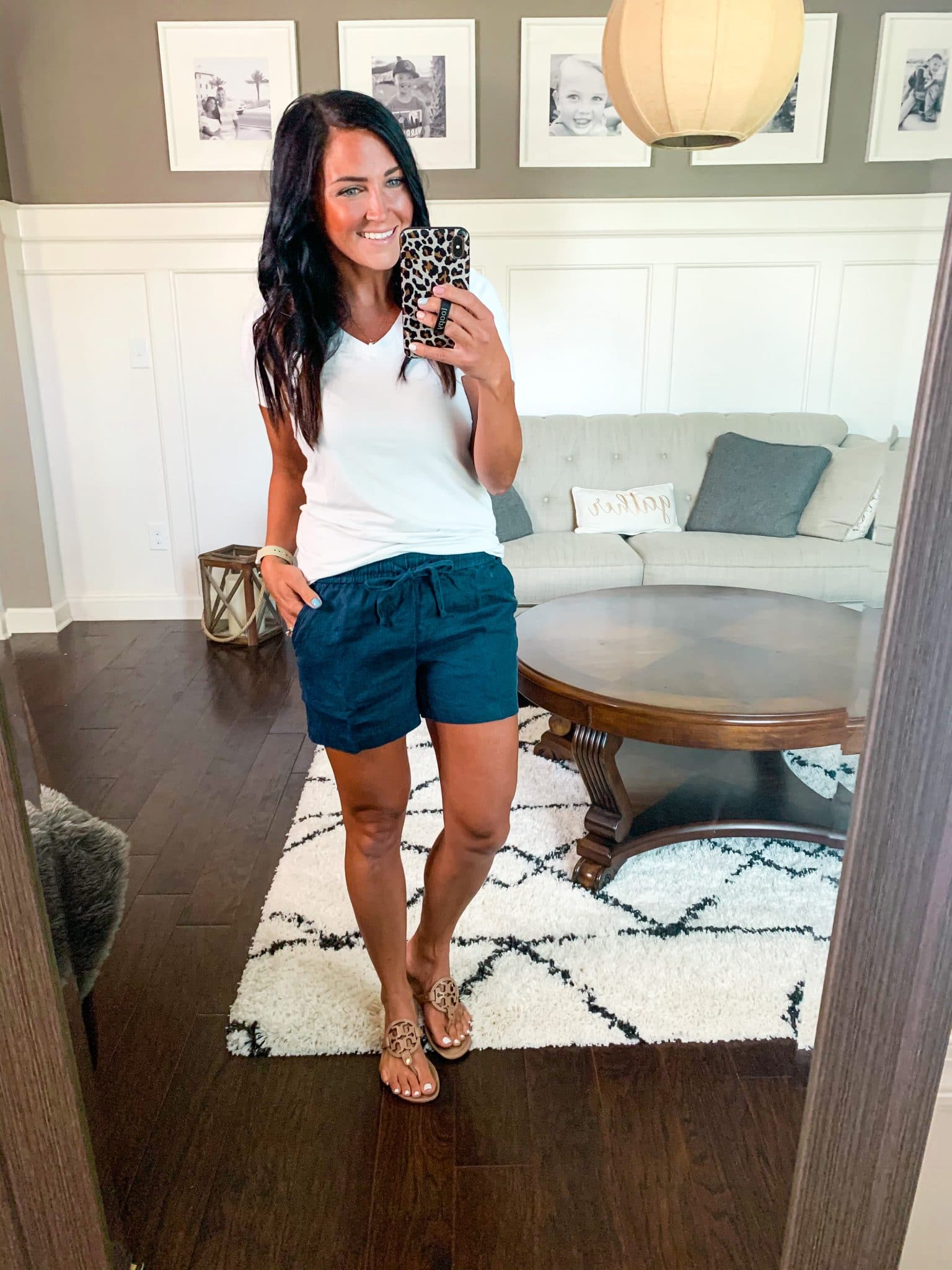 These shorts fit the bill for me. They are comfortable, longer inseam (4″), pockets and elastic/drawstring waist. You really can't go wrong! They come in 6 colors and would be easy to dress up a bit with a blouse, or keep casual like this with a basic tee. (the tee I'm wearing is a 2 pack for under $20 and great quality)
I just thought this was too cute to pass up and I love this brand! They have a few patterns and I'm hoping they come out with solids, because I would snag it up! This one has pockets, elastic waist with a removable and adjustable tie and a comfortable, flattering fit.
I was so excited about the pattern of these cute pjs! They have such cute detail in the shorts and the back of the tank. But, they run very large. I almost couldn't tie the shorts up enough to keep them on. So, get them if you need pjs, but size down for sure!

It is still hot here where I live, but I suppose I should start transitioning to fall pieces! Let me know what you will be looking for!