Hubs had a boys camping

("camping" in a gorgeous log cabin)

trip in upstate NY with some of his friends last weekend. Pretty sure all they did was drink beer, fish and golf the whole time. Oh, boys.
Anyway, since I am supposed to be bed resting, he dropped Cooper and I off at his parents house so they could take care of us. It was so relaxing to have them play with Coop while I really rested without worrying about anything. I knew I wanted to get some apples while I was there because there is nothing like a fresh picked NY apple. The weather was cool and completely perfect for apple picking!
Cooper has been apple picking there for 3 out of his 4 falls. I love traditions!
Picking out the perfect ones with Ma'am.
Plenty of McIntosh apples, aka, Macs.
Total ham
The apple cider donuts that made the drive up TOTALLY worth it.
My little man feeding the goats at the Apple Festival. This outfit makes me realize what a big boy he is!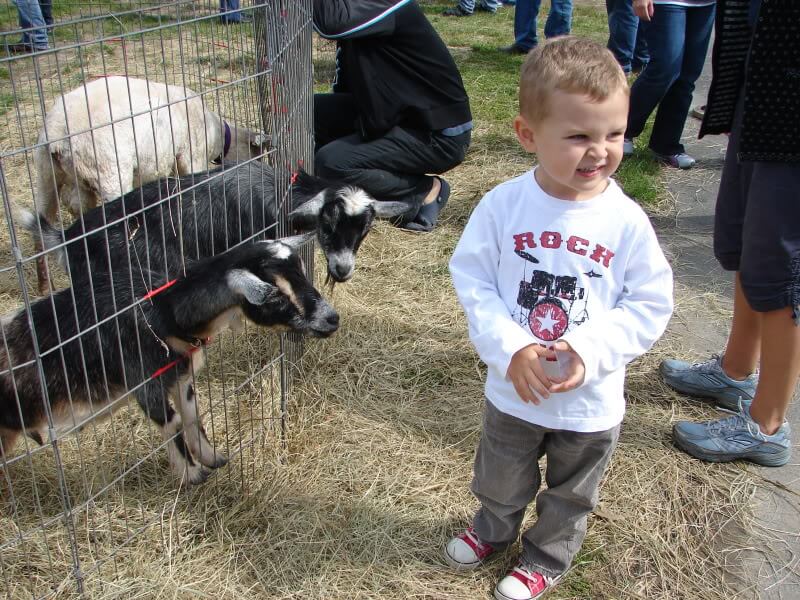 The Amazing Kid Circus they got picked to be in. It was disaster meets hilarious meets my kid is so adorable that you better move your kid out of the camera's way.
And some munching on a fresh carrot from Pa's garden.
It was a wonderful, relaxing trip. Although, after the drive home, I decided there is no way I'm going on any car rides for the rest of the pregnancy. Finding room for my massive belly and my swollen feetsies while cramped into a car is just not my idea of fun. I'll keep myself right here on the couch thankyouverymuch.