This post contains affiliate links
Happy Monday! I shot this January Amazon haul on Friday, but am just getting around to posting it. A couple things to mention before I start…my mirror is dirty, making it look like there is all sorts of stuff in my hair. Also, I realized after I tried on 90% off the outfits that there is still a size tag on my jeans. Haha. It actually takes quite a bit of time to do all the video I post on Instagram, so there was no way I was reshooting it. Just keeping it real!
For size reference: I'm 5'2″ and usually a size 2 in pants and dresses and XS/S in tops. Amazon smallest size is typically a small, so that's what I go for when it's the only option.
January Amazon Haul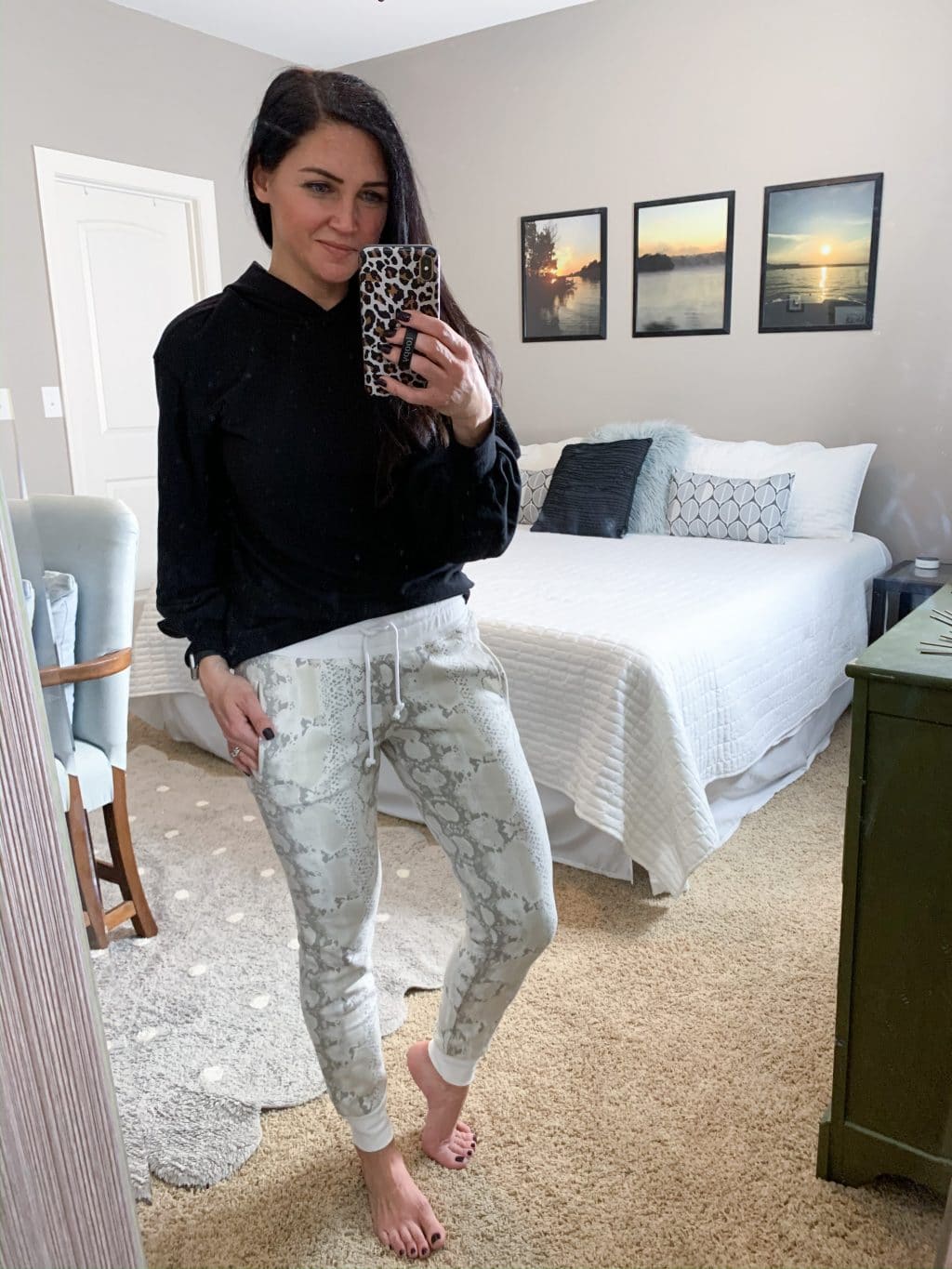 These are the cutest sweatpants! I got the XS and they're not baggy at all, but not too fitted. The hoodie is from a couple months ago, but I relinked it because it's on huge sale! I just ordered another one in the black and white stripe for under $15!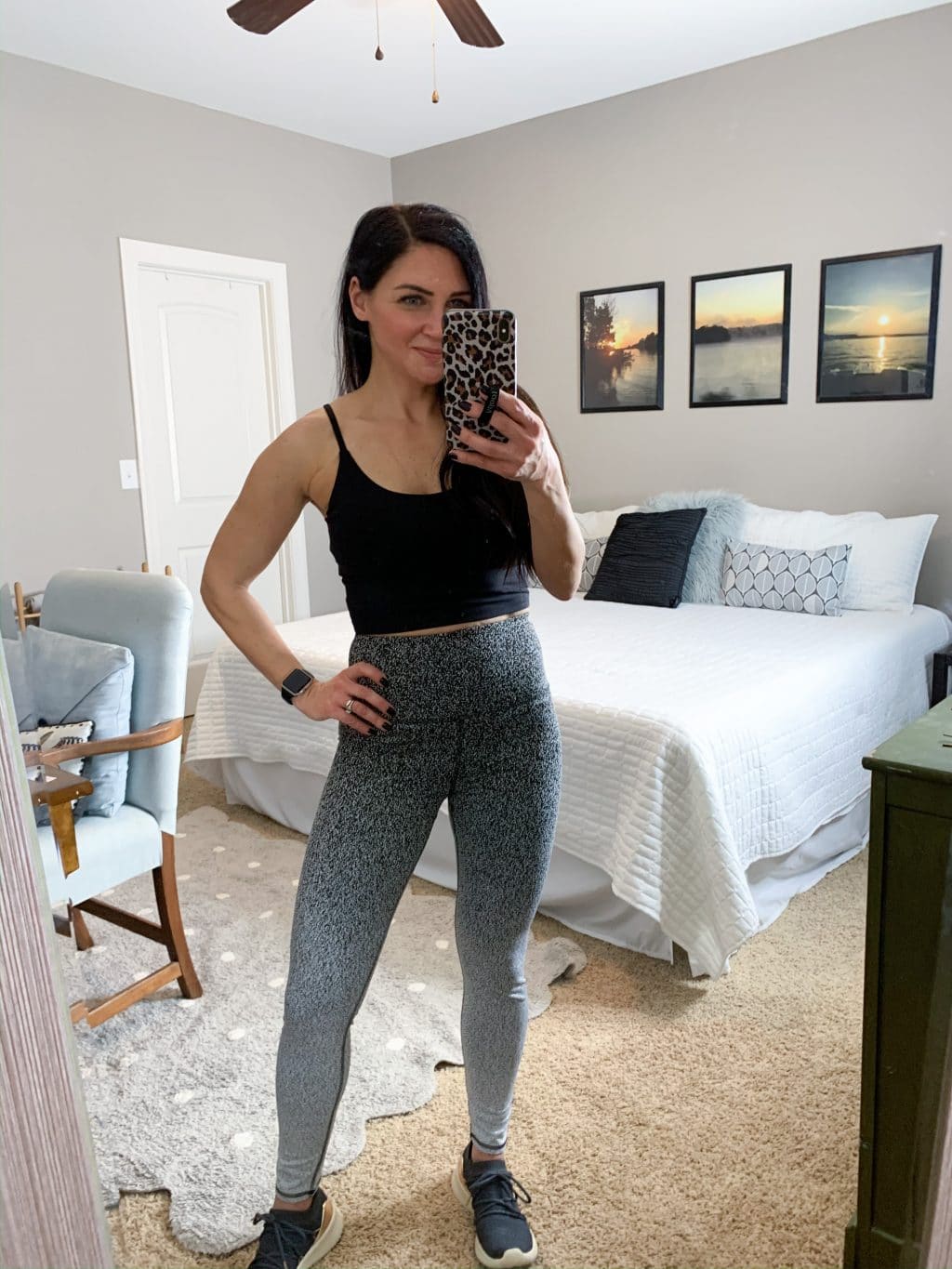 This cute cropped top/sports bra to wear with higher waisted leggings. I ordered the medium to go with my bra size, according to the size chart. It is surprisingly supportive and really cute.
I ordered these tights because they get good reviews and I love the pattern. They fit really well, pass the squat test and are very movable.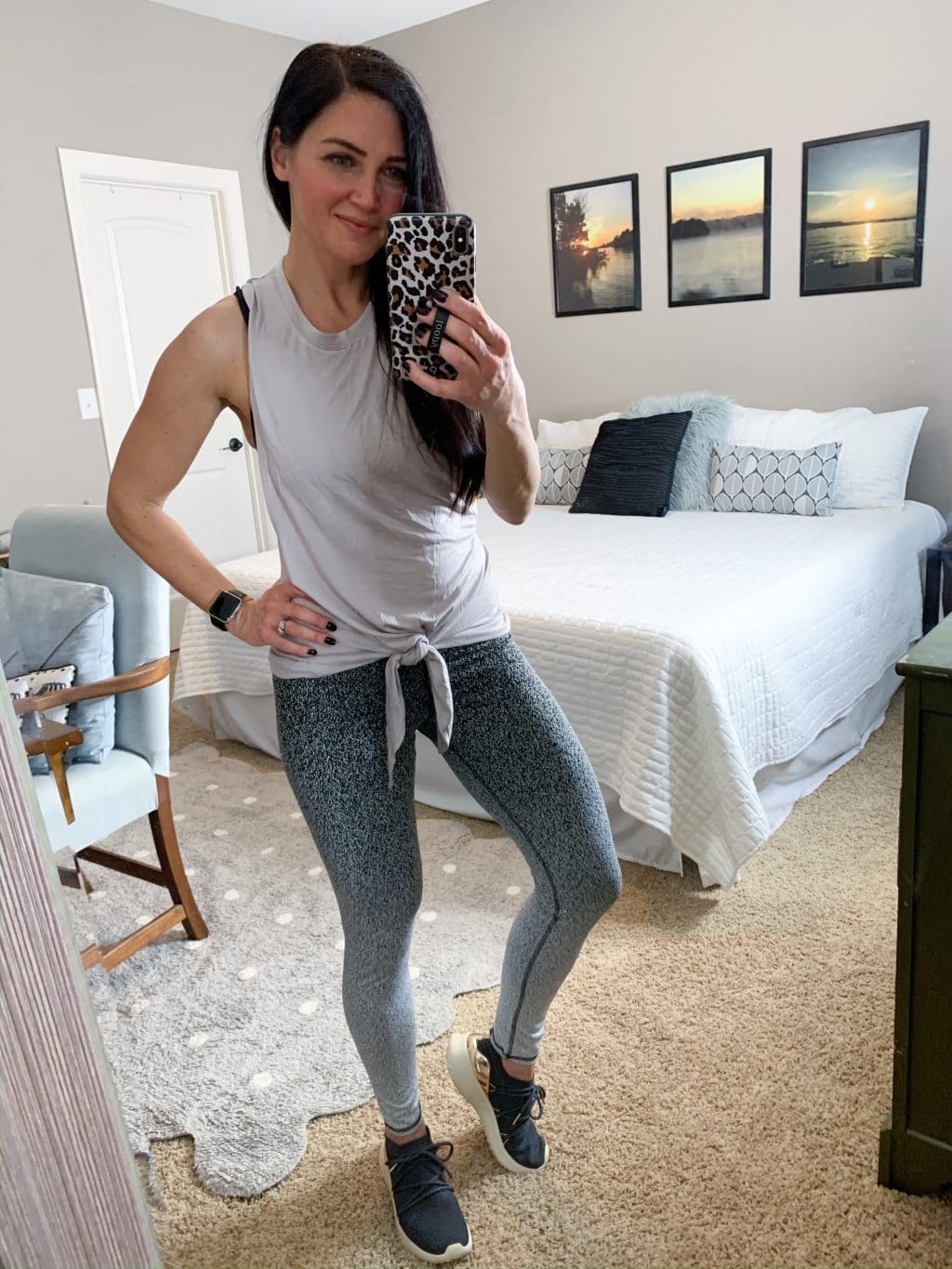 This is a great tank for those really sweaty workouts. It has larger arm openings, so pair it with a cute sports bra! I like the tie tops because they stay in place way better when you're doing burpees or something that turns you upside down. This one is under $20 and comes in several colors.
I love the color of this one so much! It has a keyhole opening in the back, is under $10 and comes in lots of colors.
This sweatshirt is so cute with the twist front. I wouldn't really wear it working out, but more for over a tank, or running errands. I went with the small because I was afraid the twist would make it too fitted in the chest and I like the way it fits.
I grabbed this in a small since the reviews say it runs slightly small and it fits great. It has stretch to it, is under $20 and comes in lots of colors. I am going to wear it to date night this week with over the knee boots!
These are literally the best Golden Goose dupes I've found! I'm between a 7-7.5 and opted for the 7. They fit great and are comfortable. I feel like I'll wear these a lot as we transition to Spring.
I LOVE this versatile top! I have it knotted up in this picture, or you can wear it down for booty coverage. It comes in multiple colors and is under $20.
I'm a big fan of Levis denim and thought these were really cute. They are higher waisted, button fly, distressed with a raw hem. They are slightly long for me to wear with booties, so I cuffed them here, but they would be fine with flats. They're not going to be as cheap as Target or Old Navy jeans, but they're under $50 and I've had all my Levis for years.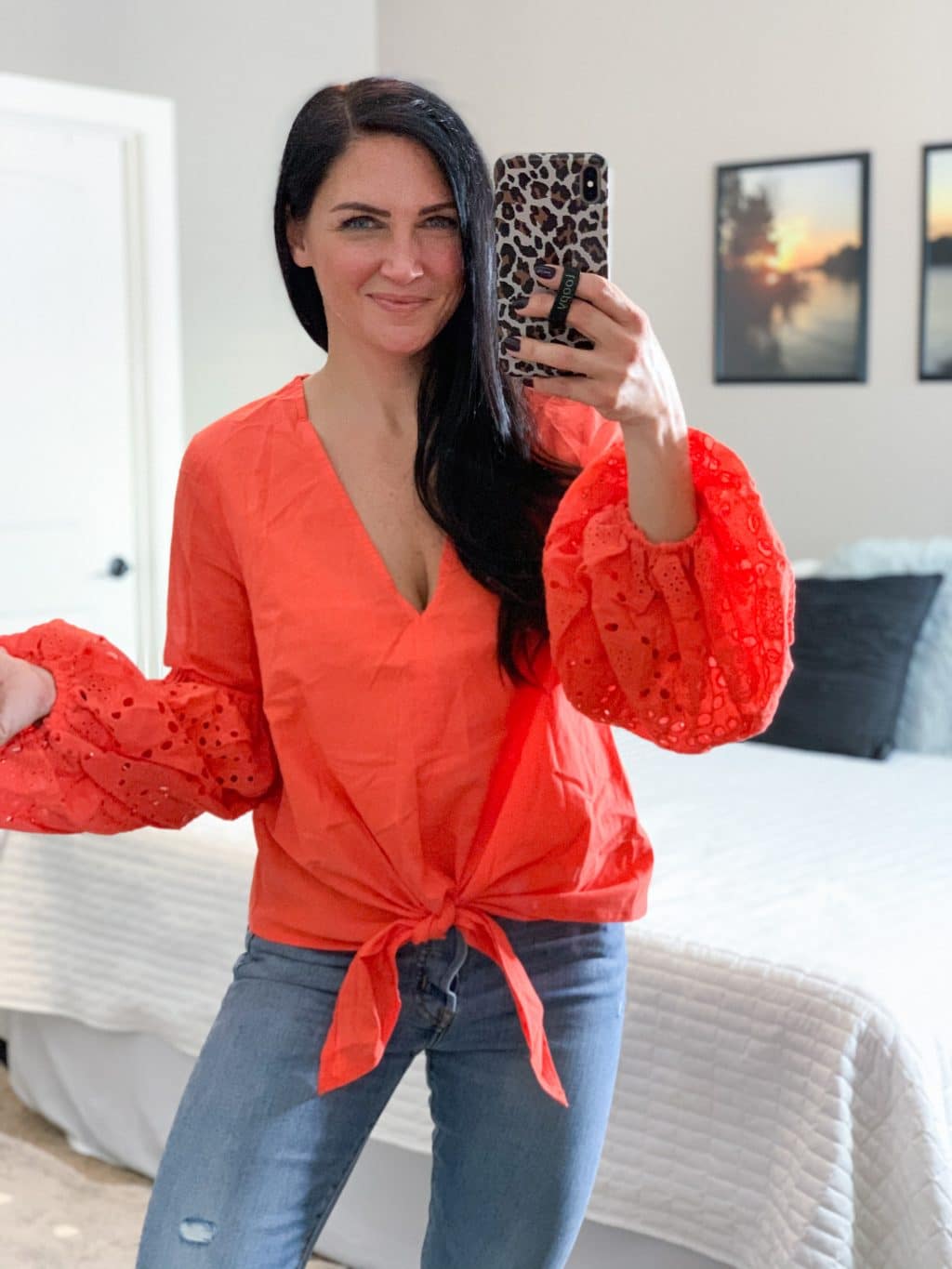 I love the cut of this top and it is so fun for date night. It has puff sleeves that have a cutout pattern from the elbow down and a tie front. It did look more like a burnt orange/umber color online and is definitely more bright in person. I still like the color, it's just not what I expected. It comes in lots of great color options, though!
This is an absolute keeper for me! I saw it on someone (I can't remember who!) and thought it was so cute. It looks like a totally bizarre shape online, but makes for a great fit! It comes in a ribbed or smoother version in several color options.
If you're looking for a good layering piece or booty coverage, this is a great pick! It comes in several colors and a couple animal prints. The hem and top stitching gives me Free People vibes and it would be great under a vest or with leggings.
I jumped on the trend train and grabbed this headband set. I thought they would be way big for my liking, but they're actually darn cute. They come in a 3 pack for under $15 with several different color combos. I had to get the one with this pretty gold color, but the rose or pinks would be so great for Valentine's Day.
The reviews of these things were so good that I had to try them! I wore them to the movies yesterday and they are amazing! So comfortable, don't fall down or ride up and are around $20! They come in lots of solids, camo, plaid a denim look and this leopard. They have back pockets and belt loops, so they look like jeans, but feel like leggings.
Want to see more? Check out my last Amazon haul!
January Amazon Haul