Organized packing. Is there such a thing? Notsomuch.
We are going to NY for Thanksgiving and packing up just for a few days becomes quite the project for 3 people.
(I have no idea how y'all with more kids do it)
I usually throw all my favorites in a suitcase and end up without the basics and with tons of leftovers. This time, I decided to pack outfits.
This way I have everything I need for each day, and will hopefully avoid being packed up to our eyeballs for the entire drive.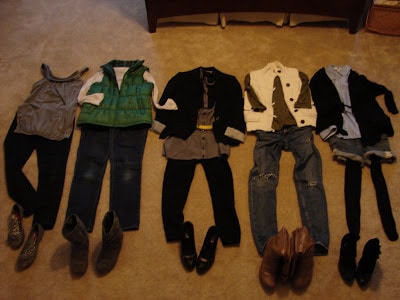 See the shorts and tights? Luuuurve this look. Only thing is, I am scared that I can't pull it off. I guess we'll find out because I didn't bring any backups! Hehehe.

Happy Thanksgiving!