OMG. I've been 28.5 days without sugar. I seriously can't believe it. This has been SO good and I'm So glad we did it! Here are week 1, week 2, and week 3 menus, in case you want to check those out. I will be updating again after we are officially done with the 30 days, but for now, here is week 4's meal plan!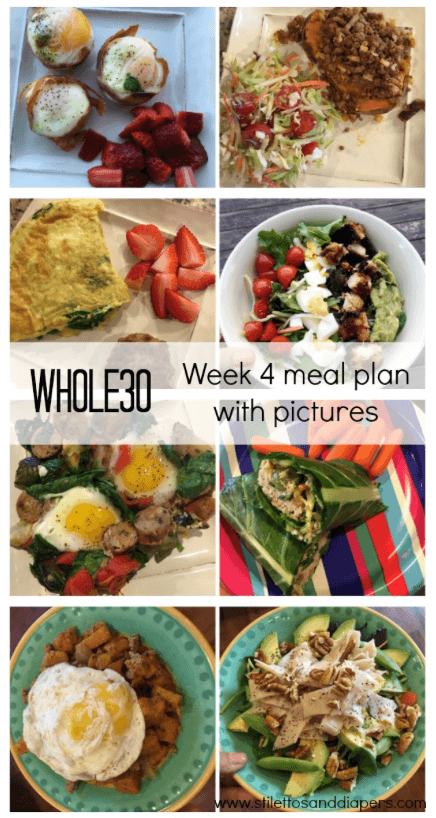 Day 22: This day I felt super bloated, right after a day of feeling really good. I was actually bloated and had a bit of a stomach ache 4 days in a row this week, in the afternoon. I tried to figure out if it was something I was eating, but couldn't pinpoint anything. Without making any changes, it stopped and I've been good since then. I guess it's all part of the cleaning out!
Dinner: Ahi tuna with pineapple salsa, roasted potatoes and green beans
Snack: Pineapple upside down cake Larabar, seltzer
Day 23
Lunch: 1/2 sweet potato stuffed with leftover stuffed pepper filling, coleslaw salad
Dinner: Buffalo chicken bites over salad (tried a new recipe and didn't like it. Will stick to the ones from week 2) homemade tater tots (huge hassle and not worth it, fyi) with dump ranch.
Snack: Apple with almond butter
Day 24
Breakfast: Monkey salad, homemade sausage patty, hard boiled egg
Dinner: Aidell's chicken apple sausage roasted with peppers, onions, zucchini and potatoes. Super easy meal! Everything on the cookie sheet, toss with olive oil and spice, then bake at 400 for 30 minutes
Snack: Pecan Pie Larabar


Day 25: It was St. Patrick's Day and felt weird to not celebrate much! I did make a shake, which I know isn't technically encouraged, but it was mostly spinach, with almond butter, almond milk and a little pineapple. It was too think and not that tasty. Much like you'd imagine drinking spinach would taste like. Haha.
Breakfast: Spinach and almond butter smoothie, boiled egg and homemade sausage patty
Lunch: Chipotle! Salad with guacamole, salsa and carnitas.
Dinner: Buffalo chicken bites over salad
Snack: Leftover coffee and almond milk over ice. It will be a favorite this summer.


Day 26: We left right after lunch this day to go to my parents in Georgia. I brought my almond milk for coffee, Applegate turkey, sweet potato hash seasonings and Larabars. We mapped out a Chipotle on our route and all went well!
Breakfast: A favorite! Leftover chicken apple sausage, peppers and onions, mixed with spinach and 2 sunny side up eggs. I'm not even hungry right now and I want to eat it.
Lunch: Chicken salad, made with homemade mayo, pecans and grapes in a collard wrap.
Dinner: Chipotle salad with carnitas, guacamole, mild and medium green salsa.
Snack: Lemon Bar Larabar


Day 27: My mom was so great and had tons of fresh veggies, fruit, eggs and chicken for us at her house. Made traveling much easier!
Breakfast: Sweet potato hash, egg over easy
Lunch: Salad with avocado, turkey, sugar snap peas, oil and vinegar
Dinner: Grilled chicken, baked sweet potato, 1/2 avocado, raw veggies
Snack: Pecan Pie Larabar
Day 28: We drove 8 hours home from Georgia this day. It was hard to find dinner since we really didn't want Chipotle again, but we did it!
Breakfast: Sautéed mushrooms with 2 eggs and 1/2 avocado
Lunch: My first forgotten picture! My mom made chicken apple sausage with potatoes and onions, much like we ate on day 24.
Dinner: Both bottom pics are actually dinner on the road. A bunless burger from 5 Guys and a classic salad with egg, onion, cucumber, tomato and pecans from Panera. We just asked them to not put the dressing on.
Snack: An apple while on the road.
I didn't do too much planning this week for breakfasts and lunches. I feel like I have a good handle on the foods I need in the house and it's easy to make meals when I have a stocked fridge. Here are my must haves:
Applegate Oven Roasted Turkey (from the deli counter): for lettuce wrap or on salads.
Avocado and guacamole: I add one to almost every breakfast or lunch!
Coleslaw Mix: adds good variety in a salad, or mix with homemade mayo as an easy
side.
Mixed Field Greens: So easy to have a big container of salad you can grab a handful of.
Eggs: The nectar of Whole30.
Spinach: I cook it with eggs and use in wraps and
salads.
Chicken Apple Sausage: Easy and quick protein. Aidell's is compliant and they have it at my Costco, BJ's and Target.
I'm super excited to finish, but we plan to keep the majority of these things implemented when we're eating at home. I do plan to do a little paleo baking this week for Easter. Just adding in some honey to the ingredients we're already eating. I'll be back later this week with our results!