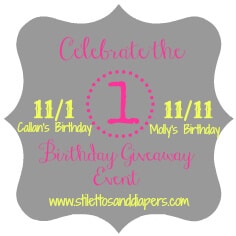 Calling all businesses, store owners and bloggers!
11/1 is Callan's 1st Birthday and 11/11 is my Birthday. To celebrate all the 1's, I'm hosting a "Celebrate the 1" Birthday Giveaway Event here on Stilettos and Diapers!
Want to give something away? Let me know! There will be 11 days of giveaways giving you exposure to all the S&D followers across GFC, Twitter, Facebook, Instagram and Pinterest.
And even more bang for your buck? If you provide a giveaway, you will also get 1 month of advertising space!
So readers, get ready for a fabulous way to kick off November! Spreading the word about the giveaway will give you even more chances to win. See you 11/1!