Yesterday, my bedroom looked like this. I was prepping for a trip to NY for my SIL's bachelorette party and bridal shower. Packing for a family of 4 for 9 days is no joke. Seriously.
I finally got all my stuff in order and the car I thought was so massive, was quickly full. This pic is before we realized the hubs left his golf clubs at home and we turned back to get them.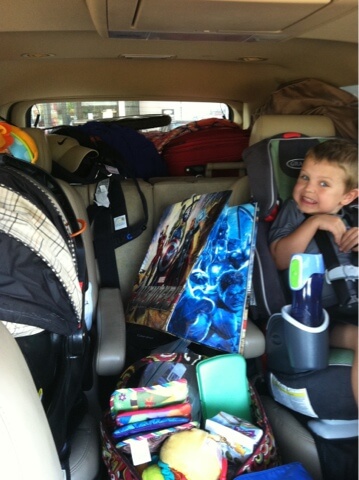 Cooper gave us a false "I have to poop" alarm about 5 minutes down the road that we got to stop for. Then, a
bout 2 hours into the drive, it was more than clear that Callan doesn't like the car seat like his brother always did. After some back breaking twisting around to try to comfort him, I decided to go sit in the back.
Yeah where there is no seat.
We had the back row totally folded up with the massive amounts of crap.
Someone begged and pleaded and turned down many a car because
she
they just HAD to have captains chairs. I mean, how can anyone get in the back without second row captains chairs?!?
Callan finally fell asleep. As did Cooper and I. That was only after I thought I would throw up due to my crazy post kid car sickness exacerbated by loud shushing trying to get little dude to fall asleep. I was literally in a space big enough for the diaper bag, in a fetal position when I woke up numb. But, both the boys were asleep, so I knew it was my motherly duty to stay put, no matter the cost. Even if the hubs was had Jason Mraz and Rufus Wainwright on repeat.
Once the boys decided it was time to quit their ever so peaceful nap, we played the "everybody take turns picking a song" game. Mine were all country sap songs. Hubs were just the artist mentioned above with a splash of Jack Johnson. Cooper's were Kid Rock's It Feels Good To Be Me

(where the only word he sings is damn)

and The Joker. Both of which I heard no less than 27 times on the way here.
Thank God we made it, and in one piece.
The misery of a drive was worth it for the magic I felt when I put Callan down to sleep in the hubs childhood bedroom. I'm sure there will be visits to all his old schools, walks to the ice cream store about a block from his house and runs with the new jogger through his little village. These are memories that will never be forgotten.
Even if I had to listen to the hubs crooning the Hallelujah chorus for an hour straight.