Even though my kids aren't that old, sometimes the new products that come out make me feel like they were born in the stone ages. My newest find that almost has me thinking I could handle another child is the Melzy Baby line of fabulous products.
I think back to those newborn days and the think that sticks out I'm my head the most? The massive poo blowouts. And they always happen when you aren't home, right? It shouldn't be normal to be so nonchalant about poo on your hands, but seriously, it's downright nasty.
That's why I wish I had the Melzy Blowout Blocker. It creates a barrier between the diaper mess and your baby's clothes. This way the mess is contained, you take the Blowout Blocker off and throw it into a wet bag. Your baby's clothes stay clean and you don't have poo everywhere. Brilliant, right? This would be a traveling dream.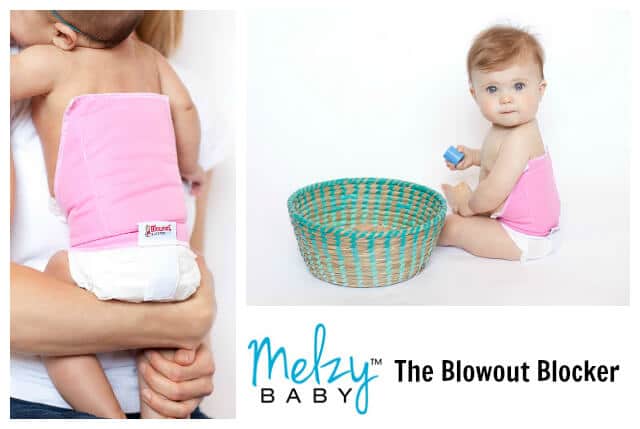 The Blowout Blocker is so amazing, that it was featured as a Mommy-Must have in the March 2013 issue of Pregnancy & Newborn!
Another brilliant products Melzy has, is the Soaker Stopper. It is intended for nighttime use to absorb leaks that wake your baby and you. No one has time to change a baby and the bedding every night. The Soaker Stopper is the solution to all
Both of these amazing products feature soft, stretchy fabric and an adjustable waistband. They also have a waterproof outer layer to keep the leaks contained. They are reusable, washable and eco-friendly!
Interested in Melzy Baby products for your wee one? Check out their site to find a retailer, as well as their Facebook and Twitter pages for promotions.
Melzy Baby is giving away 2 different prize packs to Stilettos and Diapers readers! Enter the first widget to win a Blowout Blocker and Wetbag, and the second one for a Soaker Stopper and Wetbag. Good luck!
As a sponsor of Stilettos and Diapers, Melzy Baby is hosting this giveaway. I was in no other way compensated.