If you follow me on Instagram, you know that we spend a TON of time at the baseball field. I'm my boys biggest fan and I love being on the sidelines cheering them on. But just because I love it, doesn't mean it's easy. If you're cheering while trying to keep a toddler entertained on the sidelines like I am, you know a day at the ball field is anything but relaxing. I've had requests for surviving baseball season with a toddler and while I'm not proud of all my methods, they work.
Since this is my 5th year of being a baseball mom (with a husband who always coaches, so I have no help) and the second child I've had the joy of wrangling on the sidelines, I'll share my tried and true tips that help keep me sane. Okay, semi sane. I'm not really sane at all. 🙂
Popup Tent – I get questions about this popup tent every single time I post a picture of it. I just got it this year and it's been an absolute game changer for me. It folds up like a lawn chair and is super easy to set up. I got this particular pop-up tent at Costco but I found the same one for a little more here and a very similar one here if you don't have a membership. I love the "porch" that comes out of ours to keep it a bit cleaner inside. You can also fold it up and make it more like a cage room if it isn't too hot. It gets stuffy in there if its really warm!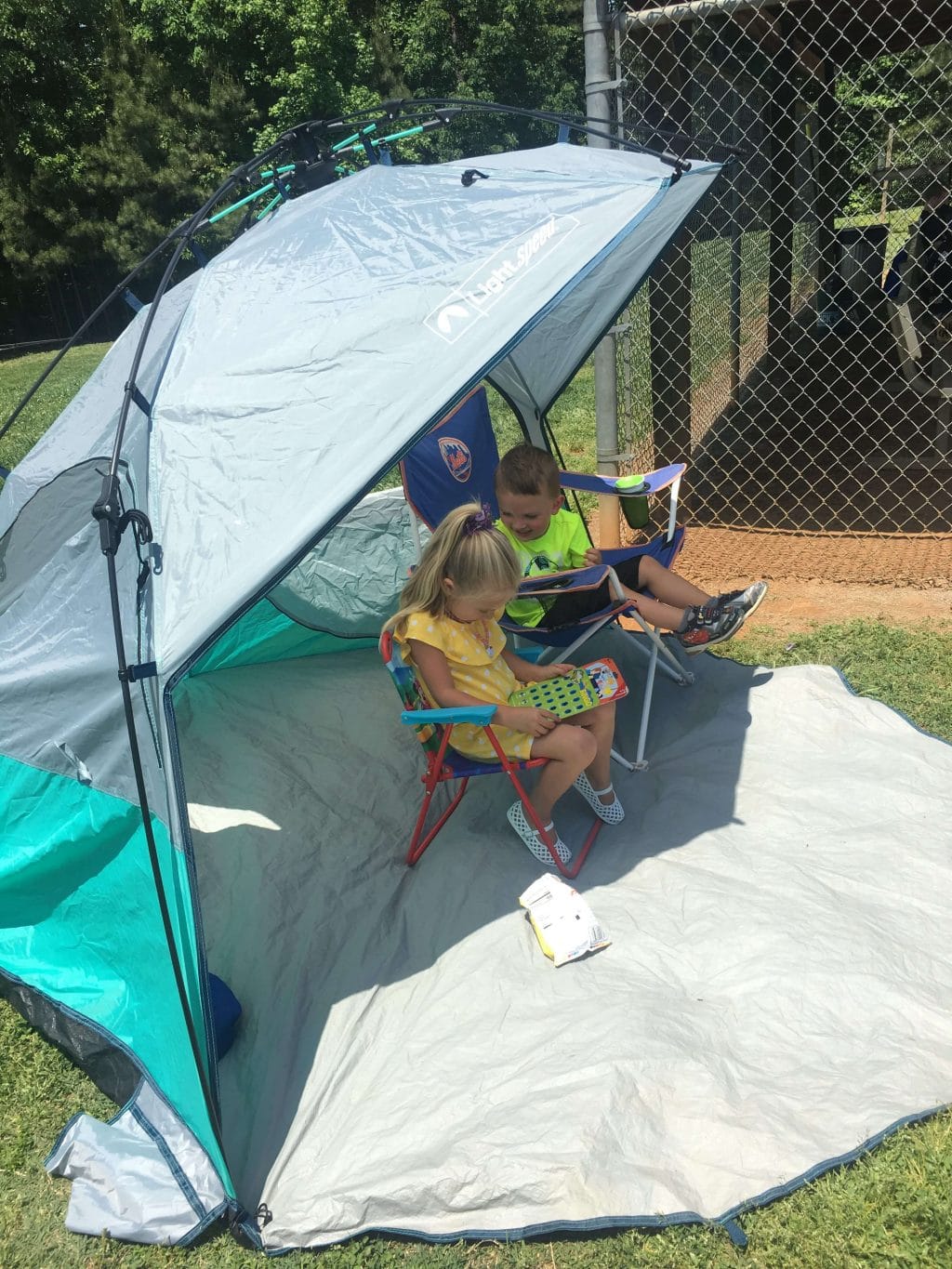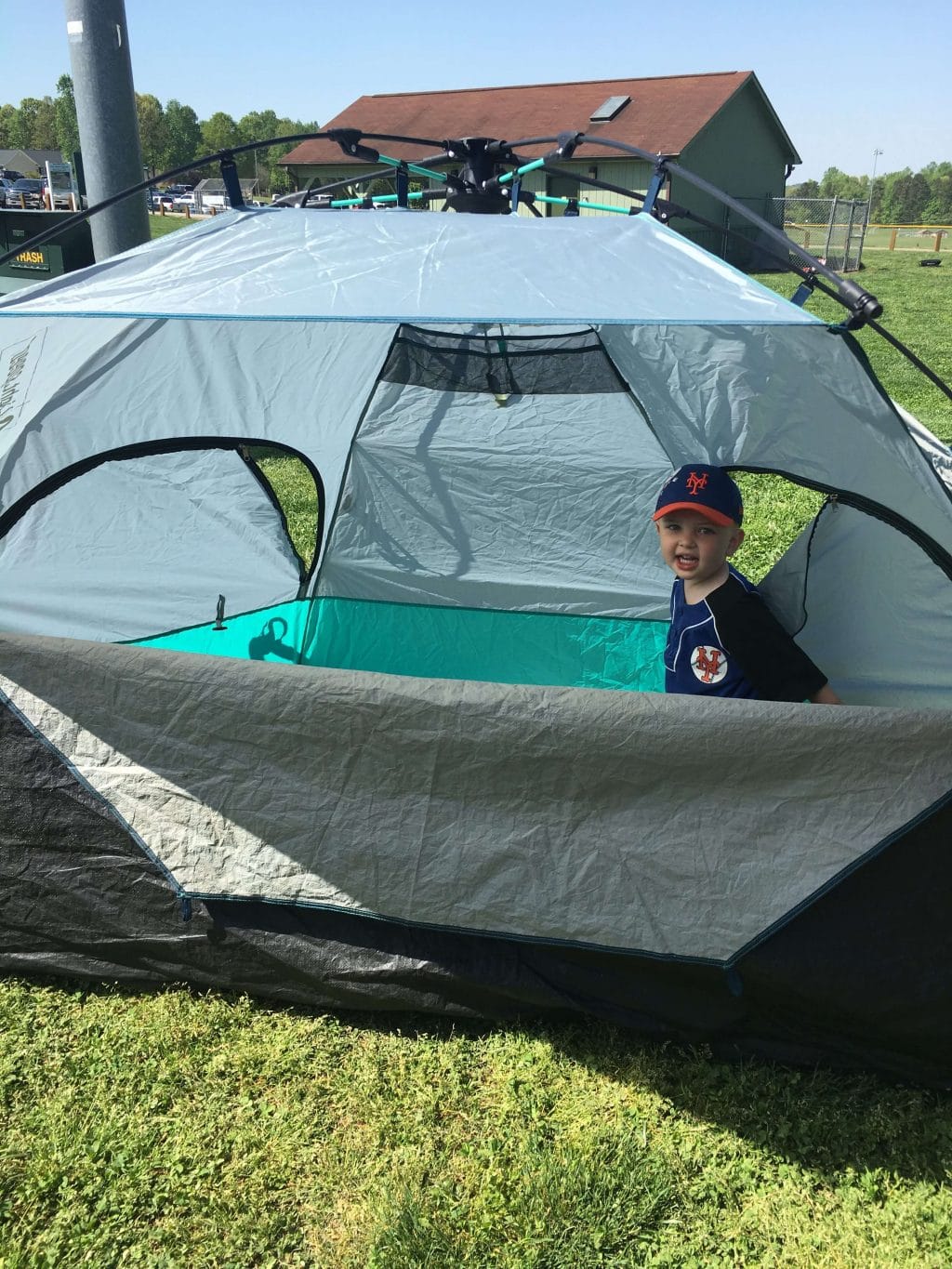 Tablet – I don't love entertaining a ton with the tablet, but desperate times call for desperate measures. And Mickey Mouse literally taught all my kids their ABC's, so we're good. I have this tablet and this amazing-you must buy it-case. Honestly, I'm not too crazy about the tablet, but it gets the job done for way less than an iPad. I also use these cool stroller straps with the case that I have no idea where I got them, but I found some similar straps on Etsy. I use them to hook the case to the stroller, to a chair or on the handle bar of the boat, so he can watch and not hold it. It also solves the wild 2 year old, "throw everything I can get my hands on" issue.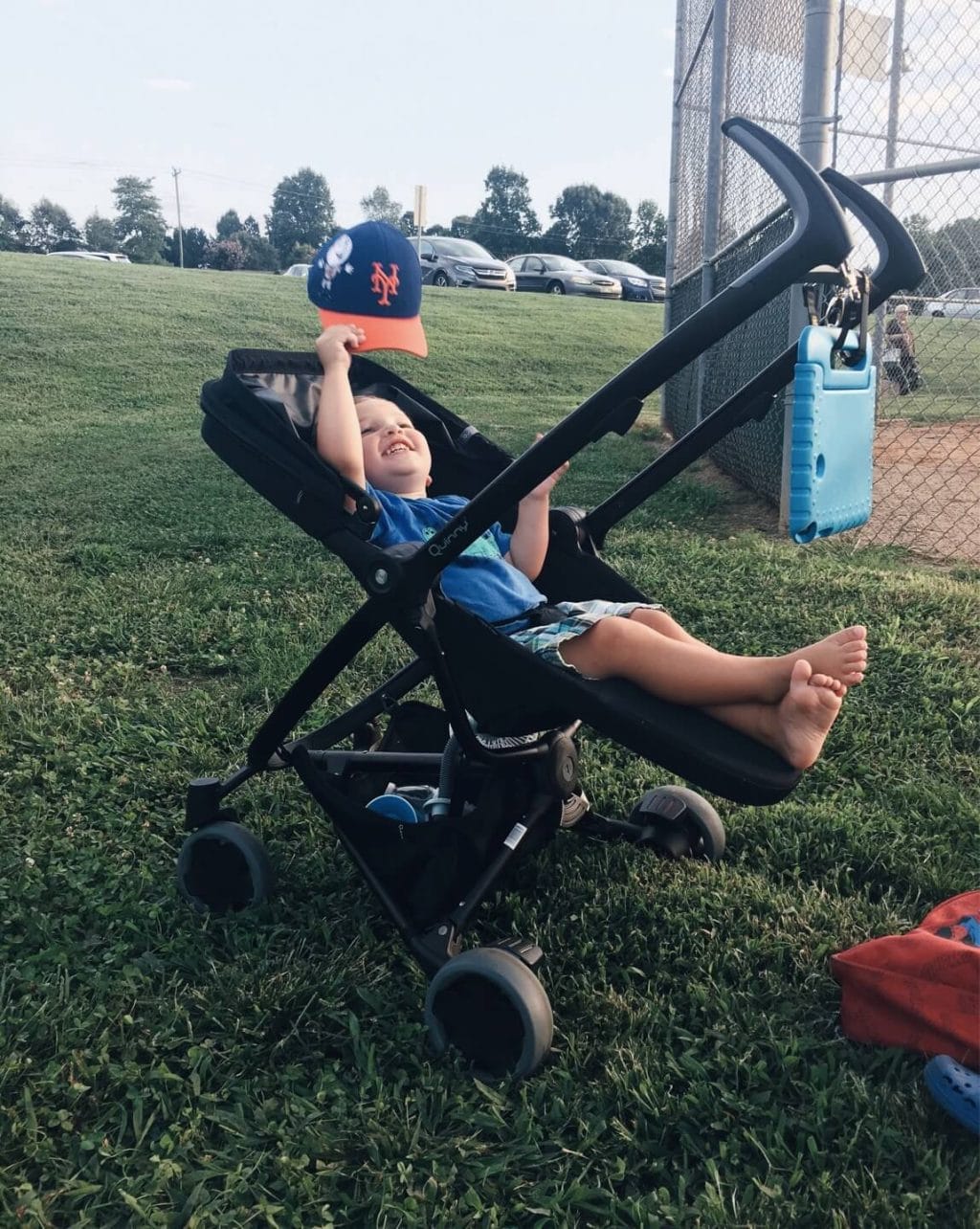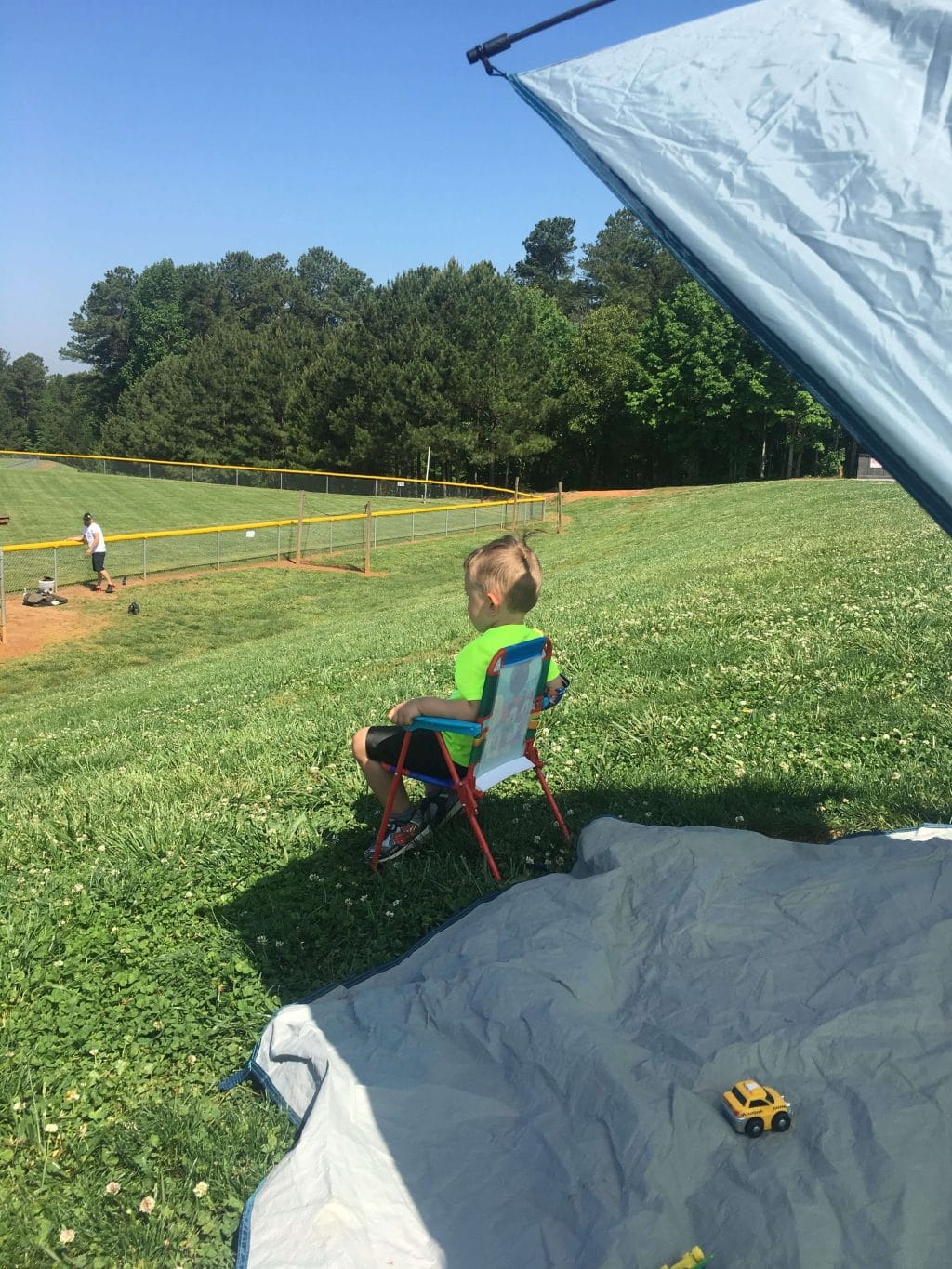 Character Shoes – Listen. Before you completely write me off as a "fashion" blogger, this is something that I've had to gracefully eat my words with. I swore we wouldn't do character shoes. But let me tell you. These "baseball shoes" are completely perfect for us. Lincoln is thrilled to wear them and I could care less if they get covered in dirt (which they do). Right now, he's proudly rocking light up Lightening McQueen shoes.
Snacks – Specifically all the snacks in all the land. If it's a morning game, I usually bring breakfast. Often times, I end up bringing breakfast and lunch, plus a bunch of snacks. If my little one has a meal to eat, it takes a good while and means I get at least 20 minutes of actual game watching. Since both boys usually play back to back, I bring a cooler that is fully stocked with cold drinks and snacks other than chips and crackers. I'm a fan of Uncrustables because they do great in the cooler and 2/3 of my boys like them. I'll throw in squeeze yogurts and cheese sticks, so it isn't all packaged junk, too. I also like to bring some things that the big boys have, like a sports drink. (PS. If you have a BJs, their brand of sports drink has no artificial color or sugar!) I think he feels like a big kid standing there drinking his drink!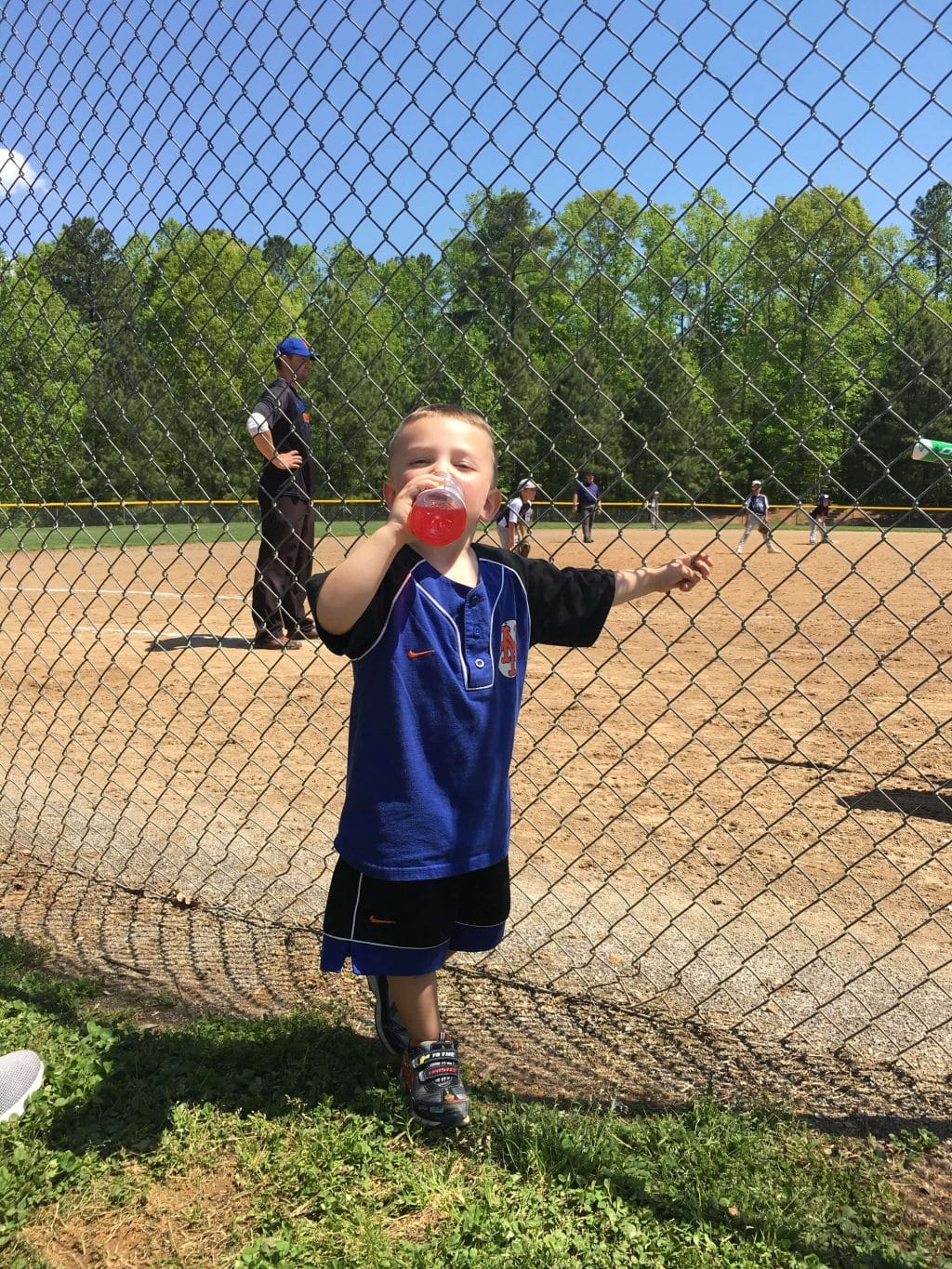 One other thing that I do, is to stay in the car with him until game time. We get there about 30 minutes before the game, usually, and I just can't do that extra time! So we stay in the car until just before time, then go get setup.
Surviving baseball season with a toddler isn't easy. It's exhausting and draining and you feel torn between recording hits and making sure your little one doesn't leave with another family. I hope this helps some of y'all who are in the same baseball mom boat that I am right now!