Office Depot sponsored this post, but all thoughts and opinions are my own.
This is the first year that I'm shopping for school for all 3 boys! Cooper is going into 6th grade, Callan is in 2nd and Lincoln is starting Preschool. I have to admit that I was in quite a bit of shock with 3 pretty long supply lists. I'm so thankful for the teachers and love getting everything I can to help, but man. There are a lot of things needed! If you're a parent, you know shopping with your kids can be quite the chaotic experience. With my kids there are a lot of things randomly thrown in the cart, a lot of begging for things and a lot of "If you're good I'll get you whatever you waaaaant!" This year actually went pretty darn smoothly. For you new back to school shoppers, or those that might want some tips, here are my suggestions for an easy shopping trip!
Tips For Back To School Shopping
Consolidate the List
Every different class and enhancement had needs within the main list. I jotted, at the top of each boys' paper, the total number of something, i.e., 3 packages of Sharpies, 4 plastic folders. That helped me not have to repeat sections and kept my eyes from crossing, trying to mark everything off the lists! They could still keep things on "their side" of the cart, so nothing got mixed up.
Go to Office Depot or OfficeMax
We kicked off the supply shopping this year at Office Depot. I was very pleasantly surprised at the deals they had and the selection that wasn't picked over or difficult to navigate. Since we have a middle schooler now, we had to venture into other areas that we haven't shopped in before: Calculators, laptop friendly backpacks and locker gear. It was so nice to be in a store that was organized and not sheer chaos. Been there, done that, don't want to again! Office Depot made for a much more pleasant experience and they had everything we needed.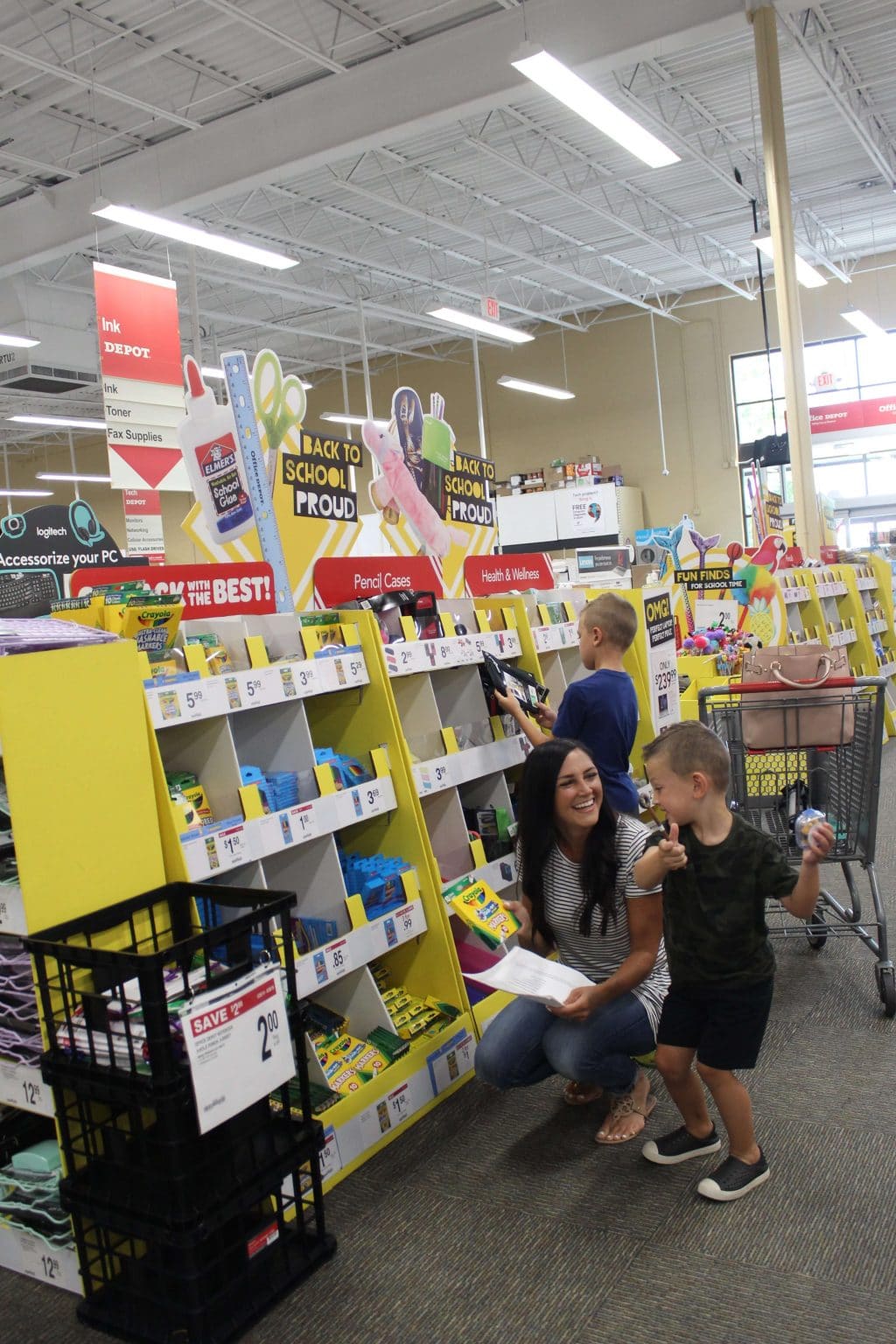 Office Depot offered me some other things you wouldn't normally find in a school stockpile trip. We found these great STEAM project kits from Juku and Scholastic, that are exclusively for Office Depot. I wanted to do something fun with the boys to end the summer, but also something that kicked them into school mode. Cooper picked out the Juku LED Light Show Coding Kit and Callan picked out the Scholastic Maker Electronics Kit. These are great STEAM activities that we can do all together!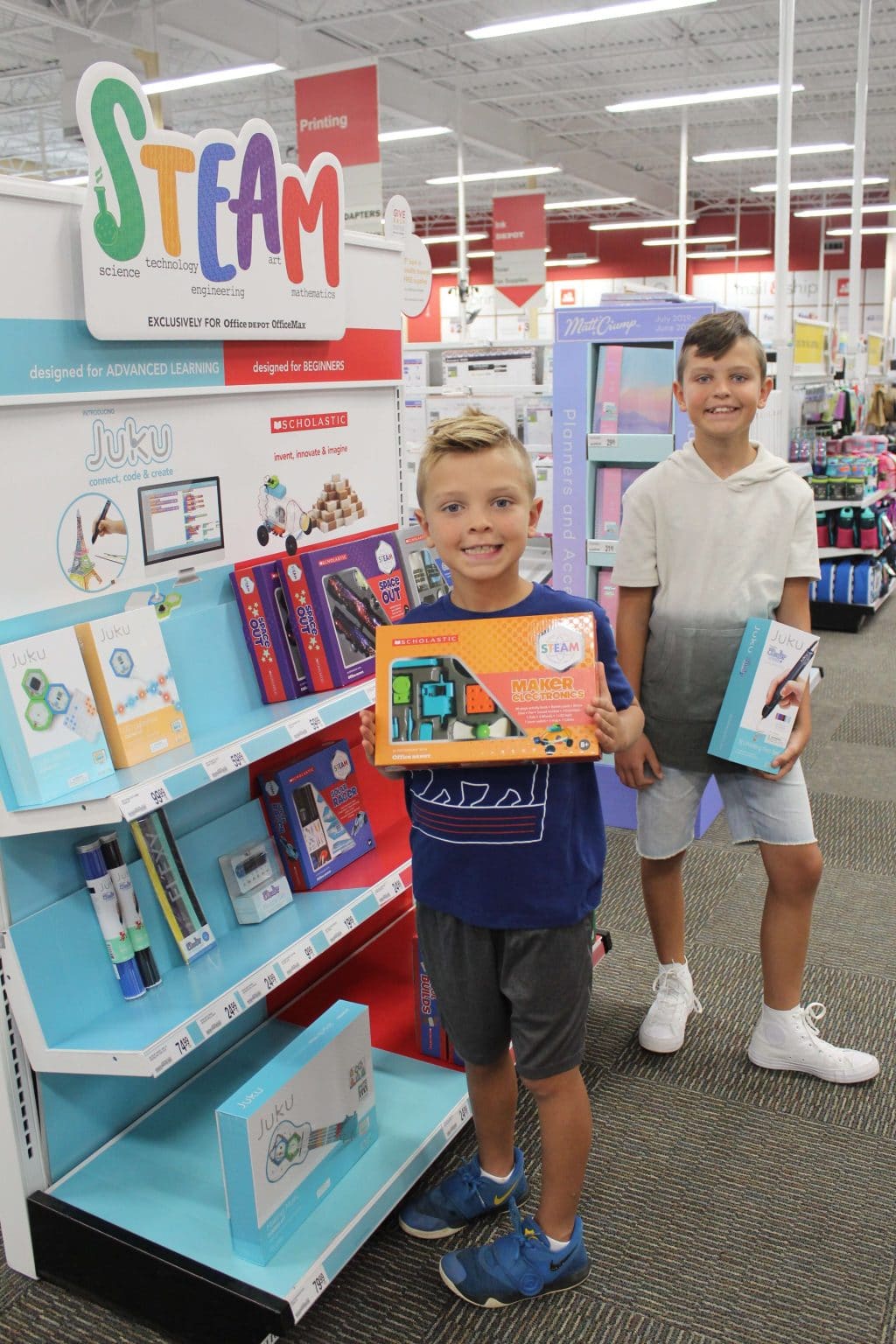 Use the Trip to Teach
I like to teach the boys the importance of money saving, looking at the price per item in a multi-pack and investing in quality pieces like a good backpack. It gets their rusty math skills a little workout and keeps them involved on more than choosing a color.
Don't Sweat the Small Stuff
Did we get the essentials? Yes. You want that pencil pouch with a character that I don't know you to like at all? Donut pen for preschool? Fine. It's not the end of the world. Back to School shopping doesn't have to be stressful but can actually be a fun adventure. One I bribed for good behavior throughout with a fast food lunch, but that's beside the point!
Skip it Altogether
No. For real. Don't have time? Don't feel like it? This is me giving you permission! You can grab a whole School Supply Kit, or search for your school and in a click, shop the entire supply list. It's literally parent magic.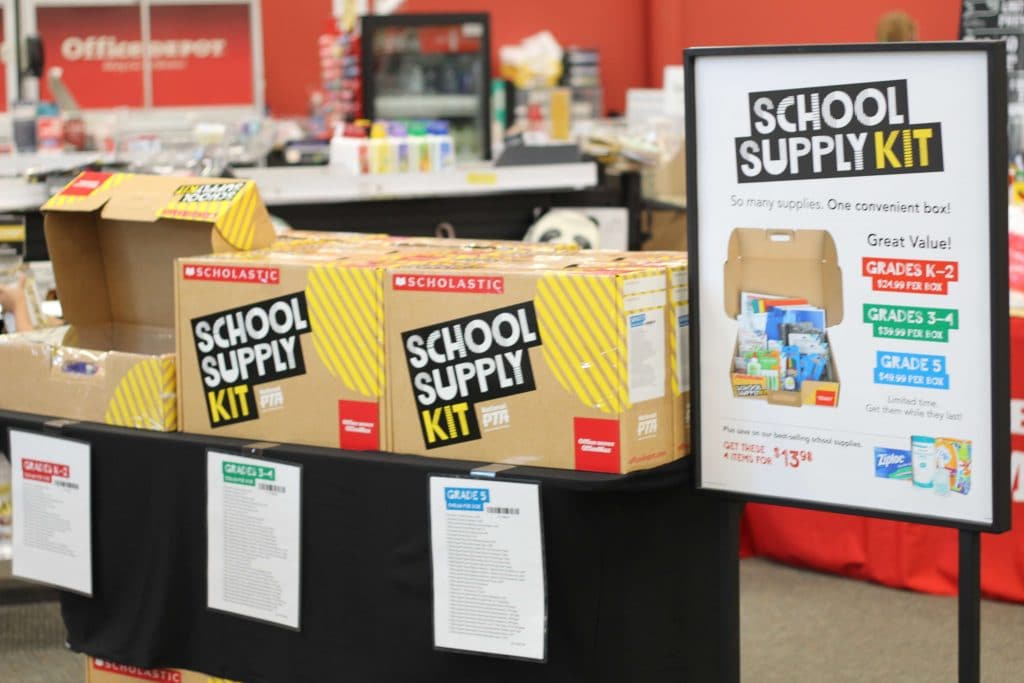 We've had a short summer this year as they changed our calendar, so it's been a tough reality for me that school is starting back so soon. All the more reason to make it fun and enjoyable family time while we're doing our shopping!
Office Depot sponsored this post, but all thoughts and opinions are my own.