My Cooperman,


I never thought it would be this hard to send you to school. To trust someone else to take care of you. You've spent nearly every day of your life with me and I really don't want it any other way.


In my mind, you're still the snuggly little baby that I carried for nearly 10 months, labored 36 hours for and brought home from the hospital. Today, I have no choice but to realize that you aren't that baby anymore. That I can't open every wrapper for you, button your pants every time you get dressed or scoop you up every time you fall down.


Your excitement the past few days has shown me just how grown up you really are. You've asked lots of questions. You've picked right up on how to open your own yogurt and wipe your own butt. I'm sure you've been able to do this for quite some time, but I finally let you be a big boy. And I'm so proud of you.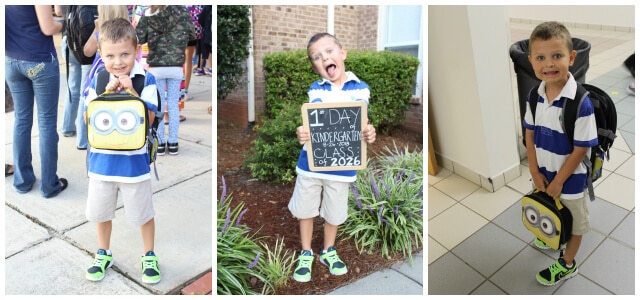 I didn't keep it together for very long after we dropped you off this morning and our eyes are glistening in every picture. You hugged us both and yelled "don't be a stranger!" as we left. Thanks for making me laugh like you always do.
Right now, you just left lunch and are headed to math. I know it because I have your class schedule on my desk. I told daddy that I wanted to sit in the parking lot and watch you on the playground. As I said it, I realized people would probably call the police on me, so I came home instead. I am looking forward to spending some time with your brother, just like the solo time I got to spend with you. Although, he's currently napping and there's not much I wouldn't give to hear you talking my ears off right now.

I can't wait to see how much you learn and how much you grow over this school year. You soak up information like a sponge, so I know I'm going to be completely blown away by you. You're going to make your teacher laugh and teach your friends some serious dance moves. I don't know how I could be more proud, but I think it will happen.


I love you, Cooper. My baby, who isn't quite a baby anymore. Go be a big boy. Mommy will be thinking of you every second.