I love my mascara and eye liner, but I have never been one to make my face up on a daily basis. Often, in the summer especially, I don't wear anything outside of my eye makeup. Well, 31 looks a bit different than 21 did on my face, so I've been trying to spend an extra couple minutes lately to actually put my makeup on. I will never admit to being a beauty expert, or having that elusive porcelain looking complexion, but I do love some easy products. Especially when they're reasonably priced ones.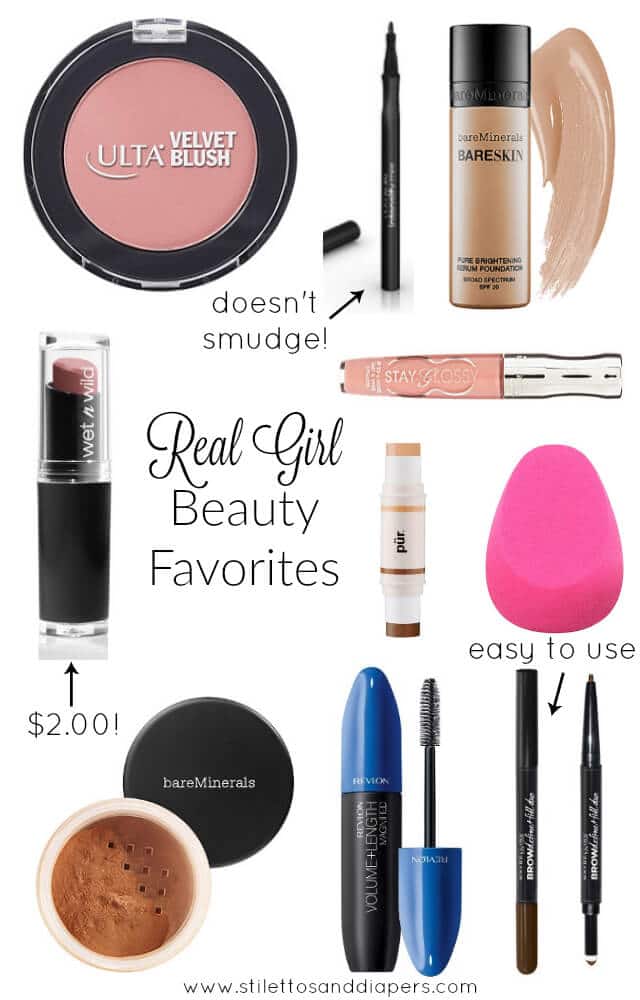 Blush – This blush is one I've had forever. It stays on well, even if I use it without a foundation. The color is Bella and it's a pretty, non shimmery pink.


Liquid Eyeliner – I got this eyeliner for a review at some point, I think. I liked it so much that it's all I've bought since then. You can turn it different directions for a thick or thin line and it doesn't smudge!


Foundation – I have gone through 2 bottles of this in the past 3 years or so. A little bit goes a long way. While it's more than drugstore makeup ($29), I think it's totally worth it.


Lipstick – I bought this lipstick in Bare It All after a recommendation from some YouTube video I was watching while nursing a few months back. I LOVE the color and it lasts! It's a dupe of the popular Mac Velvet Teddy.


Lipgloss – I just saw Cara Loren recommend this on Snapchat the other day and went right out to buy it. The color is Nonstop Glamour. I've worn it by itself as well as over the Bare it All lipstick and love both ways.


Contour Stick – Now, this isn't an essential for me. I basically wear it when we're doing photos for the blog, or if I'm doing something fancy. It's really easy and has step by step instructions in the package. Which is the only way I could ever do a contour. Haha. One side is highlighting and one contouring, so it's a 1 stop shop!


Blending Sponge – The contour stick above comes with a great sponge, but this one is good, too. I couldn't believe how great these are for applying anything liquid and for blending. They make a big difference!


Bronzer – This is another one of those items that is a little bit more, but worth it. I have the color Warmth and use it more like a contouring under my cheekbones and around my forehead.
Mascara – If you want long and thick lashes, this is a great mascara. I apply 1 coat, wait until it dries and add another.


Brow Filler – This is another blog review item turned favorite. It is pretty much fool proof, with one end being a pencil and the other a fill power with a little sponge.


What are your favorite beauty buys?


Anything I should try, or tips for my amateur self?