Today is my second post in a fun Back To School series collaboration with CVS. Make sure you check out the first one here!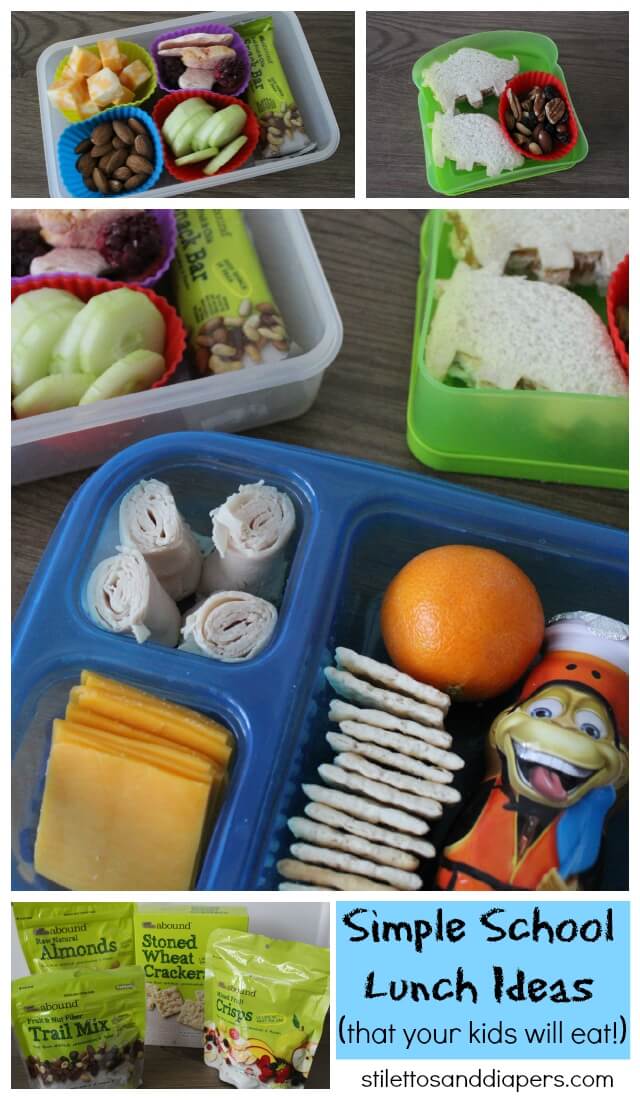 I have a picky eater. He doesn't like melted cheese, sandwich crust, anything touching something else, most deli meat, 95% of the granola bars he's tasted, and much more. He does, however, like almost all fruits and vegetables and is a pretty healthy eater. The struggle here, is making school lunches that don't take an hour to get together. I posted about my Pick Your Own School Lunches, which are great for us. Sometimes, when I don't have the baskets ready, I want to make him a lunch, or we just don't have time for him to be picking, I have some staples that I go to. Here are some examples I packed the first week of school.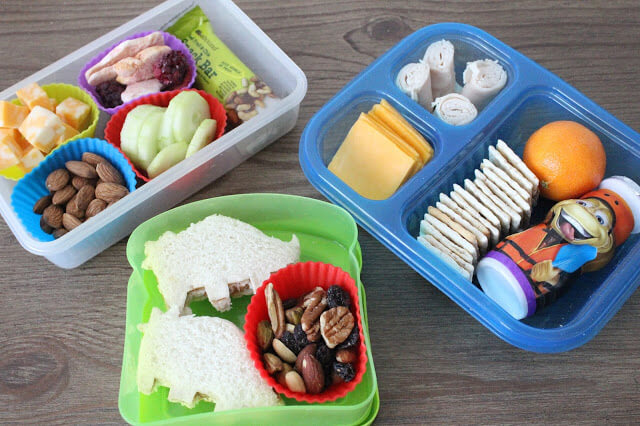 DIY Lunchables:


The turkey, cheese and cracker ones are easy to put together and easy to replicate. I add in some veggies or fruit and a little drink yogurt to boost the protein. My kids only like thin sliced turkey, (honey maple Applegate to be exact) so it's easier to roll it instead of cutting.




Sandwiches Shapes:


No, I don't have time for food art, but a good sandwich cutter is sometimes the difference in eating or not. It takes less time than to cut the crust off, which is the only way most kids I know will eat a sandwich, and for some reason, a dinosaur tastes better than a square.


Picnic Lunch:


In the summer, we often sit outside with a big variety of fruits, veggies, cheese cubes, nuts and crackers and eat up. This makes a great school lunch as well and I use silicone muffin cups to keep everything separated.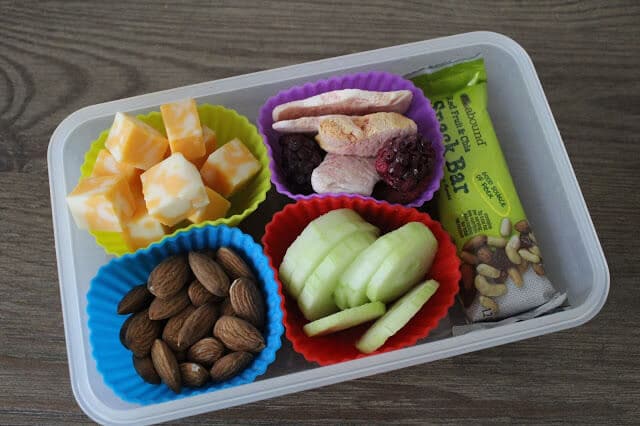 Thermos Meals:


This one is new to us last year, but worked great, especially in the winter. Soup, mac-n-cheese and leftover taco meat to eat with tortilla chips all work great in a thermos.
I used all these Gold Emblem Abound products in last week's school lunches. I love that I can trust that the line is made from simple ingredients, with no artificial preservatives or flavors. It's also great that I can grab them quickly from CVS and that my really kids love them! A favorite is the mixed fruit crisps, which are not just great for lunches, but snacking or satisfying a sweet tooth. I'm so glad my kids will eat the raw almonds since they're such a great source of protein. I love keeping this handy resealable bag in the car, too, since there is always someone who is hungry. Including me!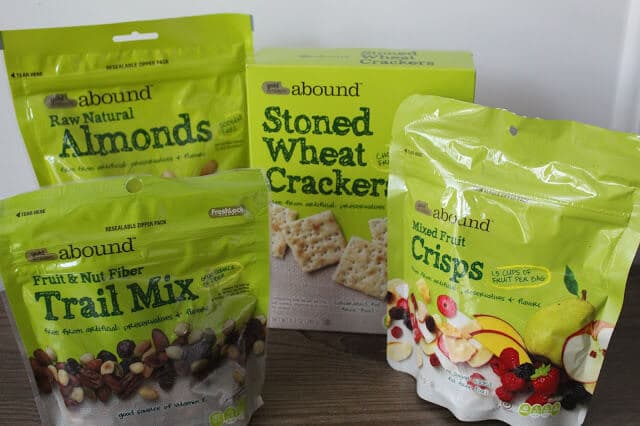 Lunch packing essentials:


Sometimes, lunch packing is more about presentation than anything else. My 2nd grader refuses sandwiches, but if it's a fluffer nutter cut into a dinosaur, it gets eaten for some reason. Here are some of my favorite things to use for lunches.


Toothpicks: The ones with the colorful ends are especially fun. Try making little kabobs, sticking through turkey and cheese, or veggies for added interest.


Silicone Muffin Cups: These add color and keep everything separated. Just make sure to tell your kids that they aren't disposable!


Sandwich Cutters: These come in all sorts of shapes and sizes and usually make one sandwich into 2 shapes.


Fun Boxes: These don't have to be fancy. The blue one seen above was $1 and has Avengers on the lid.


Hope these tips help you with the ever daunting task of school lunch packing and that you get to CVS to try some products from the fantastic Gold Emblem Abound line!



Disclosure: I'm proud to partner with CVS/pharmacy for the Back to School Healthy Essentials campaign. I am being sponsored by CVS/pharmacy for my posts and activities, but all opinions expressed are my own, and all product claims or program details shared should
be verified at CVS.com or with the appropriate manufacturers.