It's Summertime and I've been shopping for the best finds I can get my hands on from Amazon! Hope this try on helps you pick some new Summer faves!
Summer Amazon Haul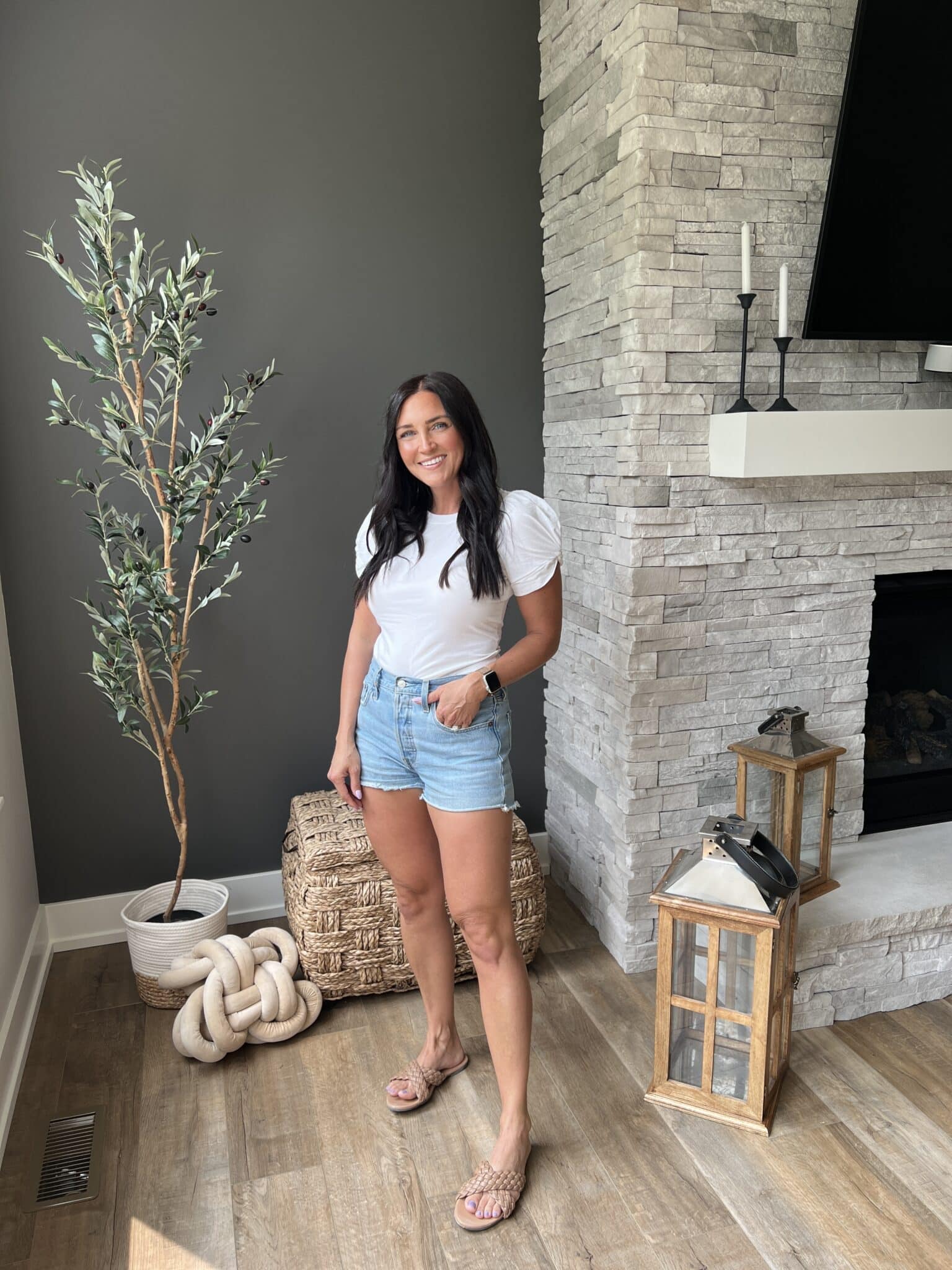 I sing the praises of these denim shorts! I have this pair, Luxor Baked as well as a new pair, Sansome Straggler. They fit great and are really good quality. I've worn these 2 years and they're holding up perfectly. My tee is a basic with a puff sleeve twist! It's affordable and comes in several colors. Lastly here, I've had these braided slides for 2 years and they're a go to. The listing also includes a 2 straight across strap option and a single wider strap option. All are so pretty and under $25.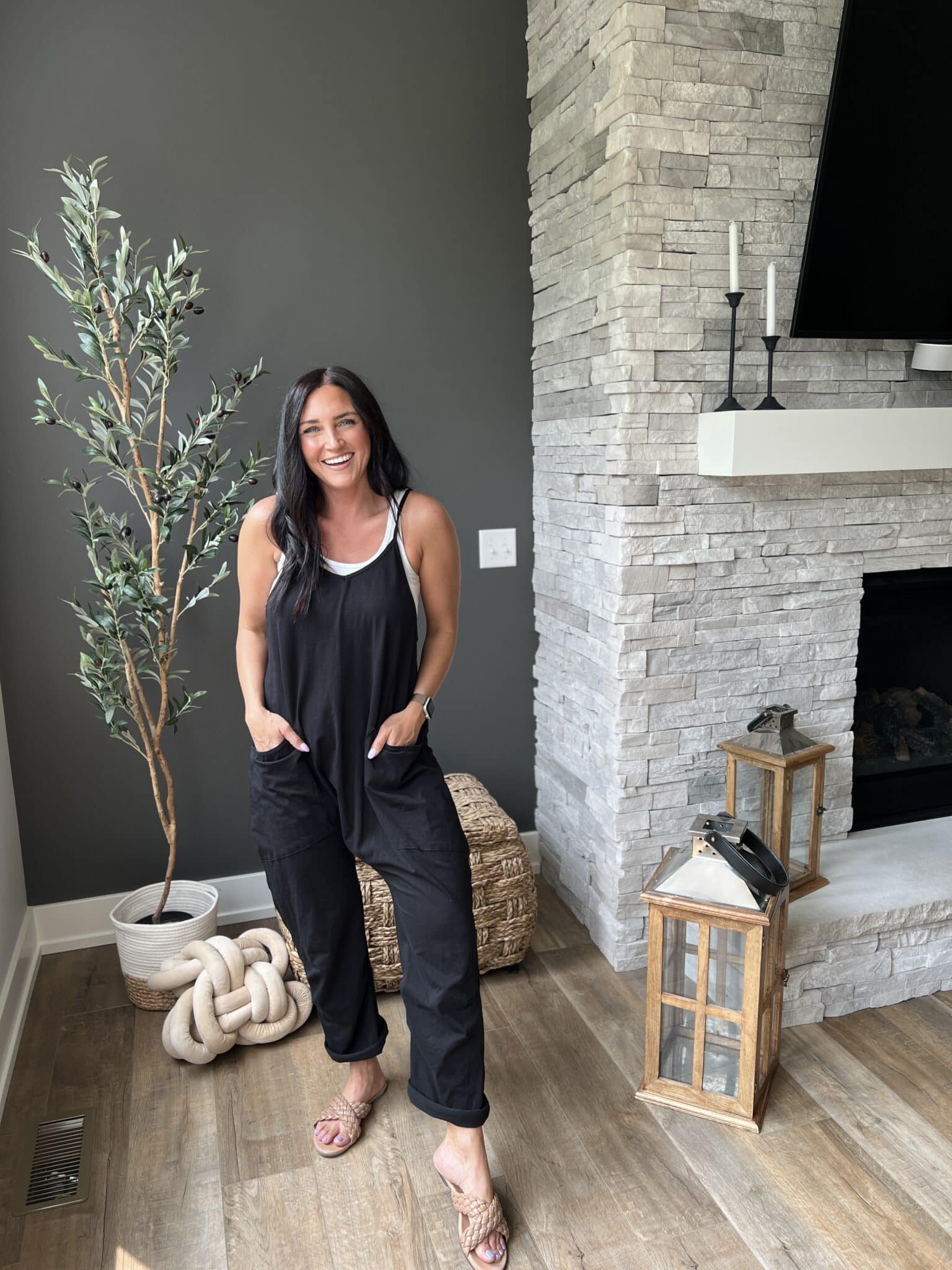 I've worn this jumpsuit more than I want to admit! It's insanely comfortable and a great look alike for the $70 hot shot onesie. It has the upper back zipper pocket and 2 large front pockets. It comes in lots of colors and is under $30! These tanks come in a 2 pack and are just great classics for your wardrobe. They come in lots of different color combos from 2 white to prints and stripes.
Y'all, this romper is SO comfy and soft! It comes in tons of solid colors and is a perfect piece to throw on in the summer. There are no hooks or buttons, just a bit of stretch and a ton of comfort.
It only looks like a dress, but it's a romper! Love the ruffle shoulders, the stretchy bodice and that it has pockets! This one comes in other colors and some really cute patterns. These studded sandals are under $20 and come in 3 different colors. A fantastic, easy on for Summer!
This dress is really pretty and versatile for your body type. The bodice is all stretchy and the straps are adjustable. I love that it makes the length a bit better for us shorter girls! It comes in tons of colors and currently has a 5% clickable coupon.
If you love a 2 piece set, grab this one! It's adorable, classy and fits great. It has front pleats, a side zipper on the shorts and elastic back. The top is cropped slightly with a square neck. I have the color light brown and it is really more of a peach. I actually really like the color, even though it wasn't quite what I thought.
This romper is similar to the pink one above, but is linen and feels like it could be dressed up a tad more. It comes in several colors and in case you're wondering with the linen, it's not see through!
These shorts are lightweight and comfortable, with a drawstring tie. They come in several neutral colors and fit great. I love how the fluttered waistband hides the belly! These have no pockets and lay nice and flat. I've had this bodysuit for a couple seasons and it continues to be a favorite of mine. It has a racerback, button front and comes in a host of colors.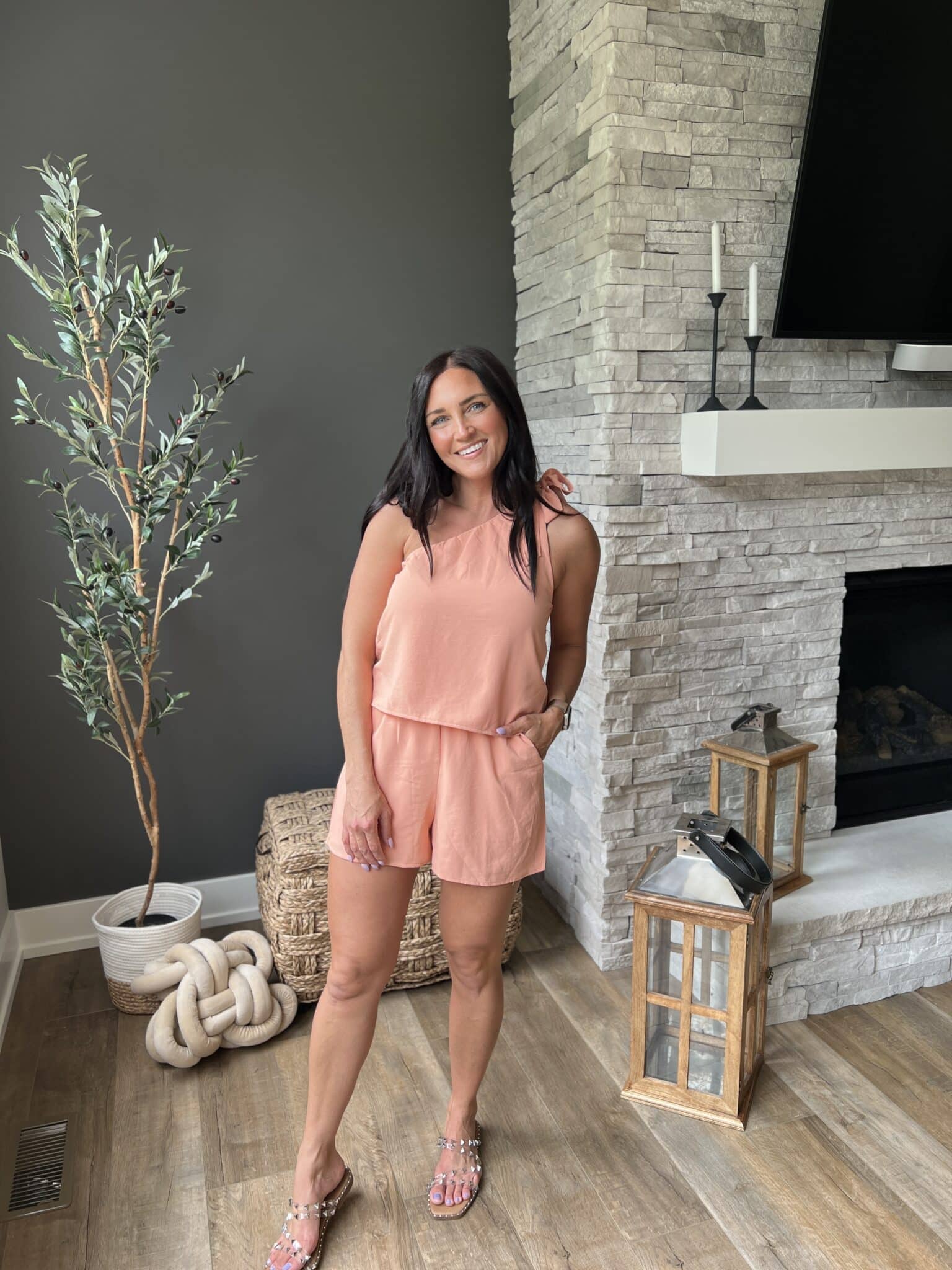 This romper only looks like a 2 piece, but it's attached with a hidden elastic waist. The one shoulder is adjustable with the functional tie and this makes it fit any height very well! It comes in lots of colors and could be easily dressed up.
These shorts have a functional drawstring, frayed bottom, pockets and are light and comfortable. The listing has this fray bottom as well as ruffle bottoms and they come in lots of solids and patterns.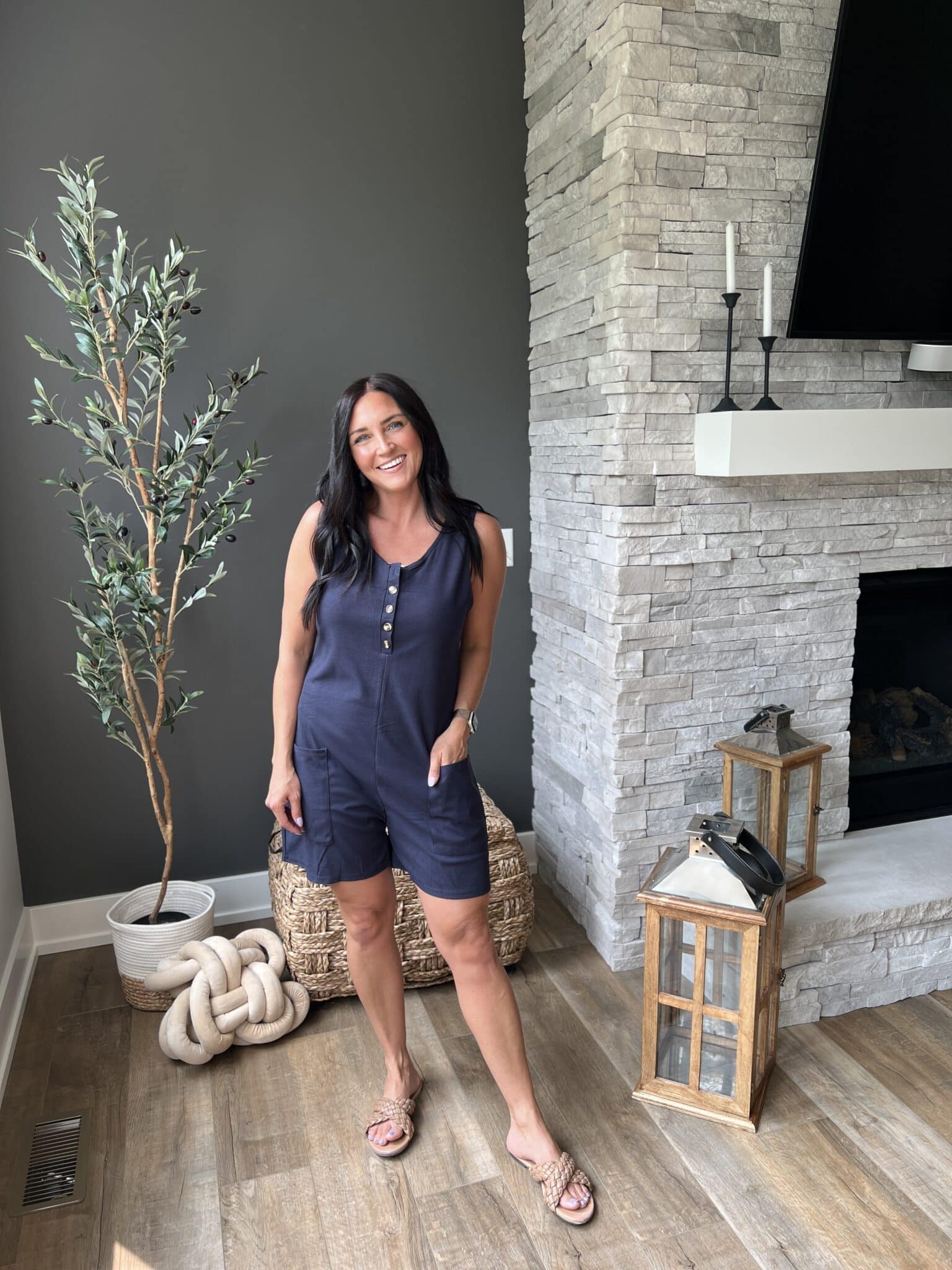 If you're looking for a romper that doesn't require an undershirt, this is it! I did get a small and I returned for an x-small because it's pretty oversized. If you're taller, or prefer a longer short length, this is also a great option for you. It comes in several colors and is really cute.
This one piece is SO fun! I will say it's a big long for my torso, but the mesh panels allows that fact to be pretty hidden. If you have a longer torso, definitely try this! The back has a criss cross tie that makes the fit so good. The back has good booty coverage too.
One of my most worn coverups is this adjustable, OSFM skirt. It comes in lots of colors and can be worn anywhere on your hips/waist that you want to tie it.
The ribbing on this suit is so pretty and looks so much more expensive than it is. The one shoulder tie is super adjustable for a really good fit. It also comes in a black and white version.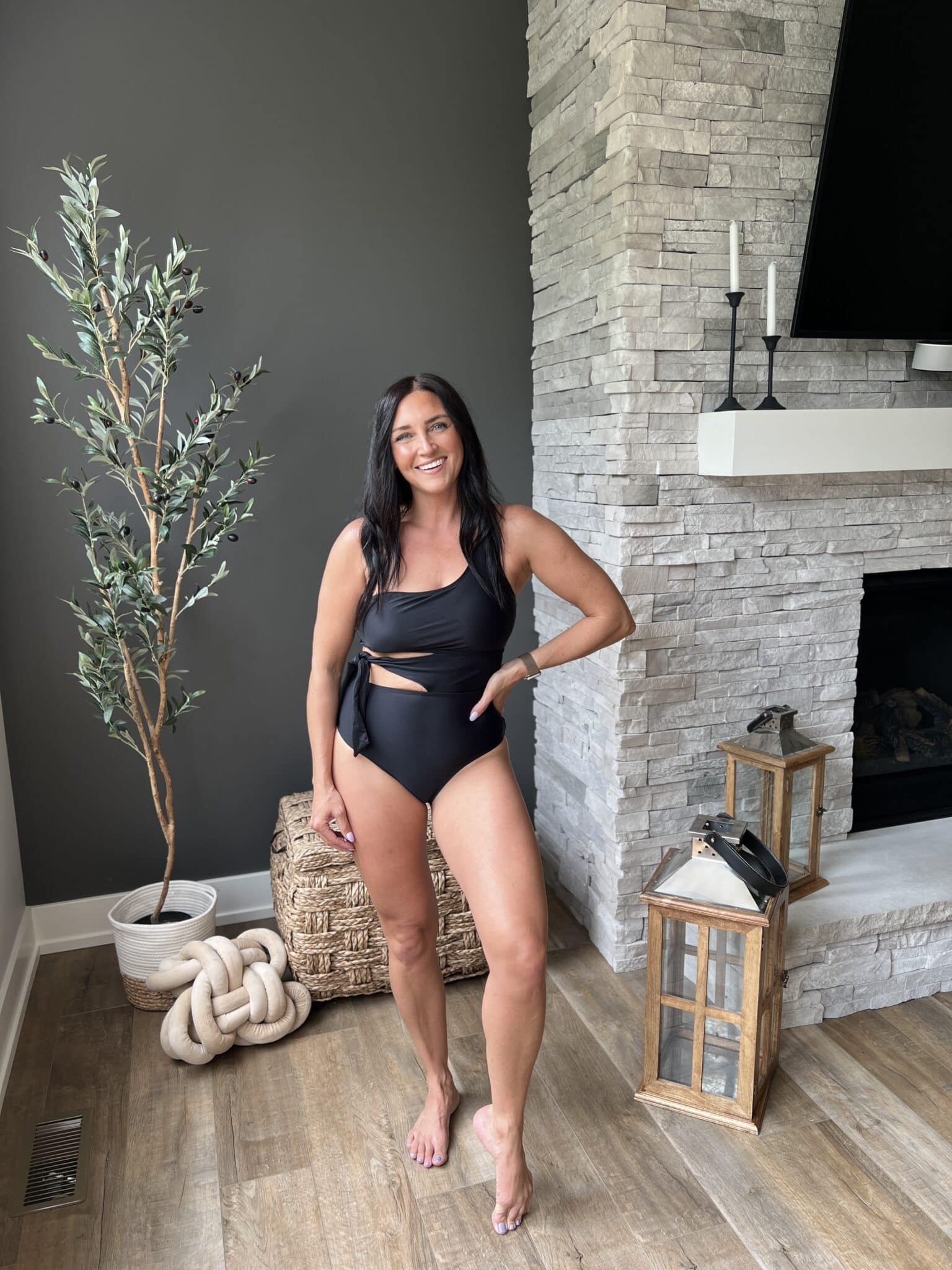 I wanted a classy black one piece and this one fits the bill! It comes in other colors, has an adjustable side tie and full booty coverage.
A versatile coverup that comes in lots of colors and is under $25. It has a v-neck and side slits for a great fit.