My sweet baby sis (who I delivered, btw, and remind her of it on a regular basis) turned 12 yesterday. I look at her and see myself. I seriously double take sometimes because the way she moves, her bubble butt, and even her fingernails look just like me.
I'm honored and terrified that she is going to be just like me when she grows up. Ha!
And to continue the similarities, she lurvvves Fashion Friday, so I asked her to be today's star.
I call this country chic.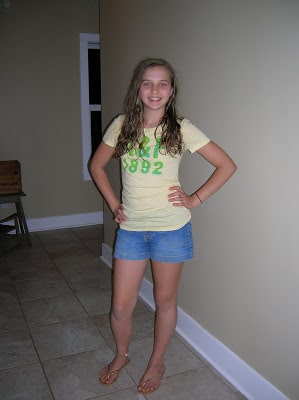 I'm talking pedicure on my toes, toes.
Love you Shelby! Happy Birthday!
Sooo, the floors. Ya know, closing is in 1 week. 1 week! And my pretty, pretty hardwood floors are buck naked.
Or is it butt naked?
This is what mama really wants, but I'm getting vetoed like whoa.
So I might give in to one of these
Via Lowes
Watcha think?
Do I hold my ground since the wife is always right? Or pick one of the others? Note that I also picked out the other two, so I like them. Just not as much as the zebra…oh the zebra.
Happy Friday!
Do you follow my review blog? Well, cause I have sweet giveaways. Like ones from Juliethefish. And CSN is fab enough to hook me up with a great review coming up. It involves loosing the baby cribs and moving up in the world. You should come check it out. For reals.
Fashion Friday is brought to you by the fab, Summer.