Our winner is: Amber W! Congrats, Amber!
Estrea is a European skincare company that has recently brought its amazing products to the US. I'm happy to be working with them on a 12 blog giveaway event!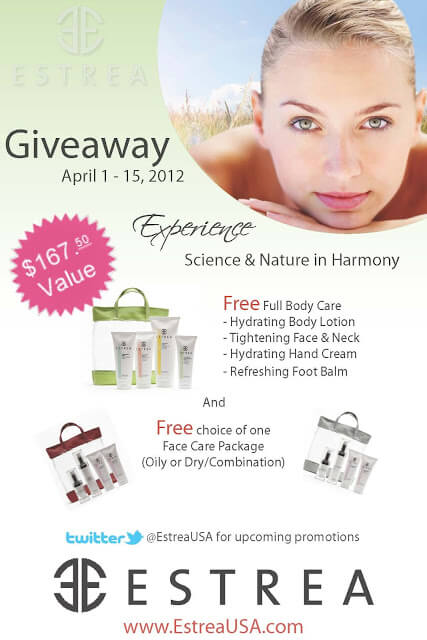 Let me first tell you a bit about the products.
I was sent this body care kit that comes with a cute tote bag about 6 weeks ago.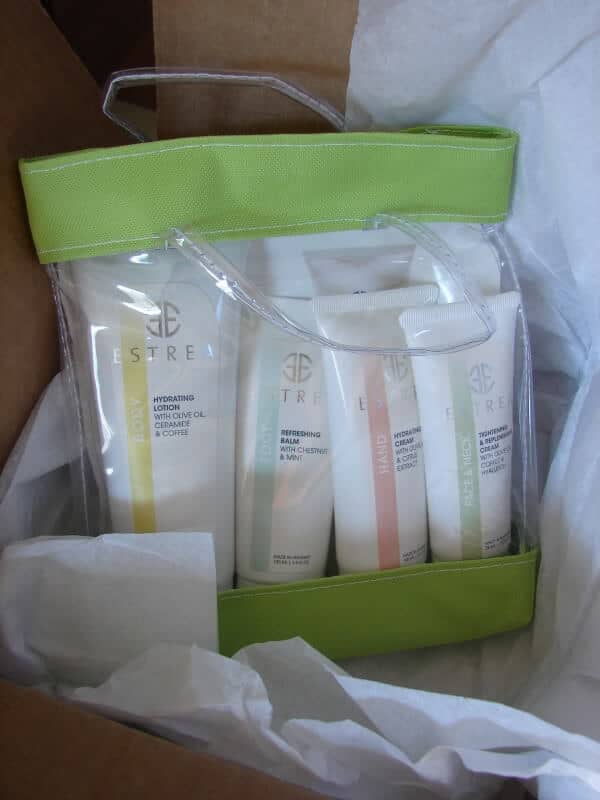 Hydrating Body Lotion with Olive Oil, Ceramide & Coffee
A thick,

(but not greasy)

formula with a light neutral fragrance. Has worked wonders on my ashy knees. And whoever thought of adding coffee, my most beloved consumable, to a lotion is brilliant.
Tightening & Replenishing Face & Neck Cream with Olive Oil, Coffee & Hyaluron
This has become my go-to, every night face cream. It is thick as well, so I was pretty concerned about breaking out. But nothing. Nada. 6 weeks of use on my hormonal, post baby skin is major.
Hydrating Hand Cream with Olive Oil & Citrus Extract
This stuff is my favorite. A top seller for Estrea, as well. It has a slight citrus smell and I put it on every night before bed. I even have been putting it on my 3 year old's chapped hands and its the only lotion that doesn't burn and make him scream like a banshee.
Refreshing Foot Balm with Chestnut and Mint
Having a minty foot cream isn't out of the ordinary. But this one has a heartier (does that even make sense?…describing smells is tricky business) scent with the addition of the chestnut. I have nasty dry feet that are looking pretty freakin good right now. Hello, sandals. I also slathered it on after my half marathon last month and it was heavenly. The chestnut actually helps reduce swelling.
I never thought I needed eye cream. I have 2 kids and "tired eyes", but I'm only 27. I thought eye creams were more for wrinkles. Well, I was wrong. I started using the light, fast absorbing cream and couldn't believe how different my eyes started to look. I have been skipping eyeliner these days…anyone who knows me knows that is a big deal!
Here is some more information about the company.
Since its proven success in the mid 90s, Estrea's Skin Care System has been the number one choice of European women. Now, for the first time, the Estrea product line is available to the U.S. market, so that American women can experience the benefits of Estrea's unique European Skin Care System.
Estrea's twelve cleansing and moisturizing products for the face, hands, body and feet, bring together modern science and the restorative properties of nature to create a rejuvenating skin care regimen.
The line's most popular products, the fast-absorbing hand lotions and creams, have been proven to promote fingernail growth.
The natural ingredients in Estrea include aloe vera, collagen, coffee, olive oil, citrus extracts, chestnut and Vitamins A, C, E and F.
Now that you're sold on how awesomesauce this stuff is, who wants to WIN?!

Estrea is giving a Body Care Package ($65) AND a Face Care Package for oily or dry/combination skin

($74.50-$76)

to 1 of you readers!
If you can't wait, (and I can't blame you!) go but some products for yourself and get free shipping on all orders!