This March Amazon is full of goodies for Spring weddings, Easter and Spring and Summer vacay! 
This is a great month for Amazon shopping! I found some fab pieces and also some misses, that I'll also share. To get a full look at the try on, watch my Instastories to see the pieces in real life! If you have a Spring wedding to attend, or are looking for a classy Easter dress, these first few are great for you!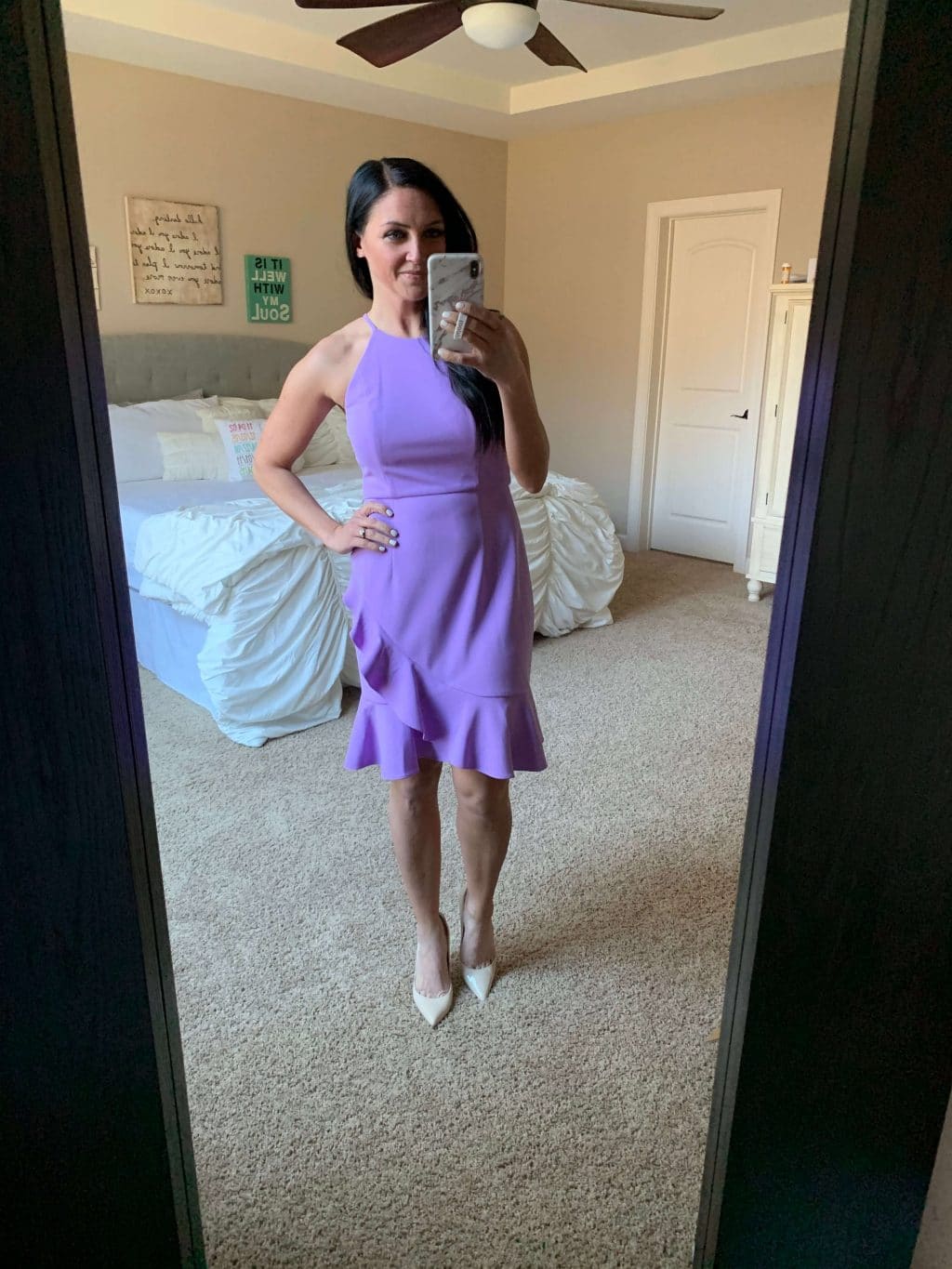 This is the prettiest dress! The wrap on the front is faux, so it won't come open. I ordered the size 2 and it fits me perfectly. It comes in 2 different colors.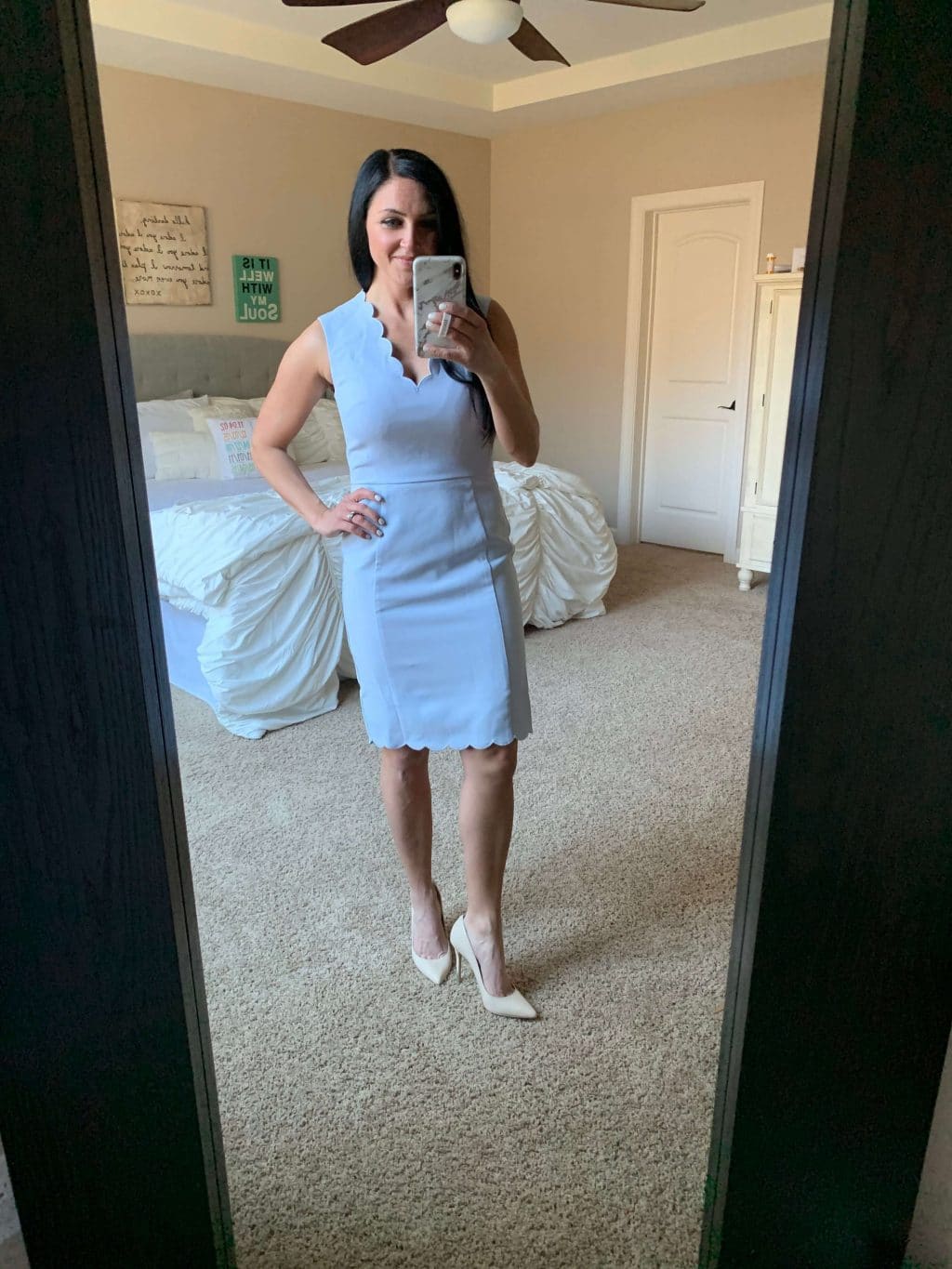 This is one of my favorites! I love the color, the scallops and the fit. There are tons of different styles and colors in the listing, but I have the saltwater blue scallops in a size 4. I'm normally a 2, so I would say to size up one.
Oh how I wanted to love this dress! I love the color, the cut and the look, but the length just doesn't do it for me. Since I'm short, I don't think the midi is that flattering. But if you're a little taller, I say it's a total win! I'm wearing the color pink sherbet in a size 4. I would say to size up one.
This dress is a Spring/Summer must have! It comes in 19 colors/prints and is super affordable. It's soft, has a little stretch and has pockets!
This dress is classy, versatile and super comfy. It fits true to size and has a side slit for easy walking. I tied it up on the front to show that it can be worn in different ways and is so cute!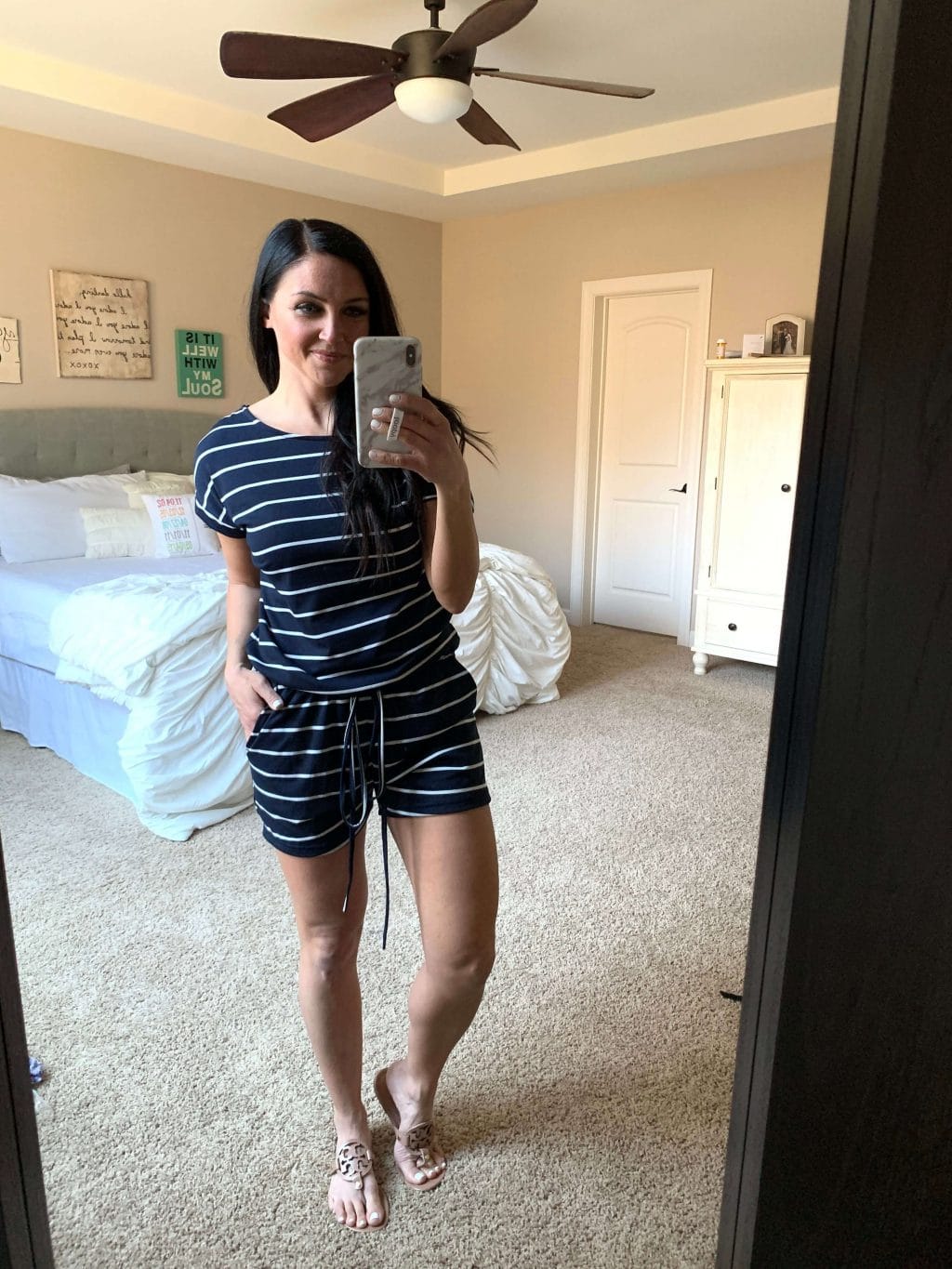 One of my top favorites from this month! This one piece is so comfortable and absolutely something that I will wear all Spring and Summer. I got the navy stripe in a small, but this comes in 17 different colors and some of them are off the shoulder versions. A total must buy for the price!
Remember my good vibes tank from last year? Well this one with the pineapple made me think of it and I had to have it! Perfect for Spring break or summer beach trips. I ordered one size up to have it roomy enough for a front knot or tuck.
Sometimes, I like wearing flip flops that are a little more "dressy" than my $2 ones from Old Navy. These do the trick! They're very comfortable, look like leather and come in 13 colors. They only come in whole sizes, so I went up 1/2 a size.
This has to be one of my favorite Amazon pieces ever. I was floored by how much I love this jumpsuit! It has an elastic back, so it fits great, plus has the front tie, so you can adjust how it fits over the chest. I ordered the small and it fits true to size.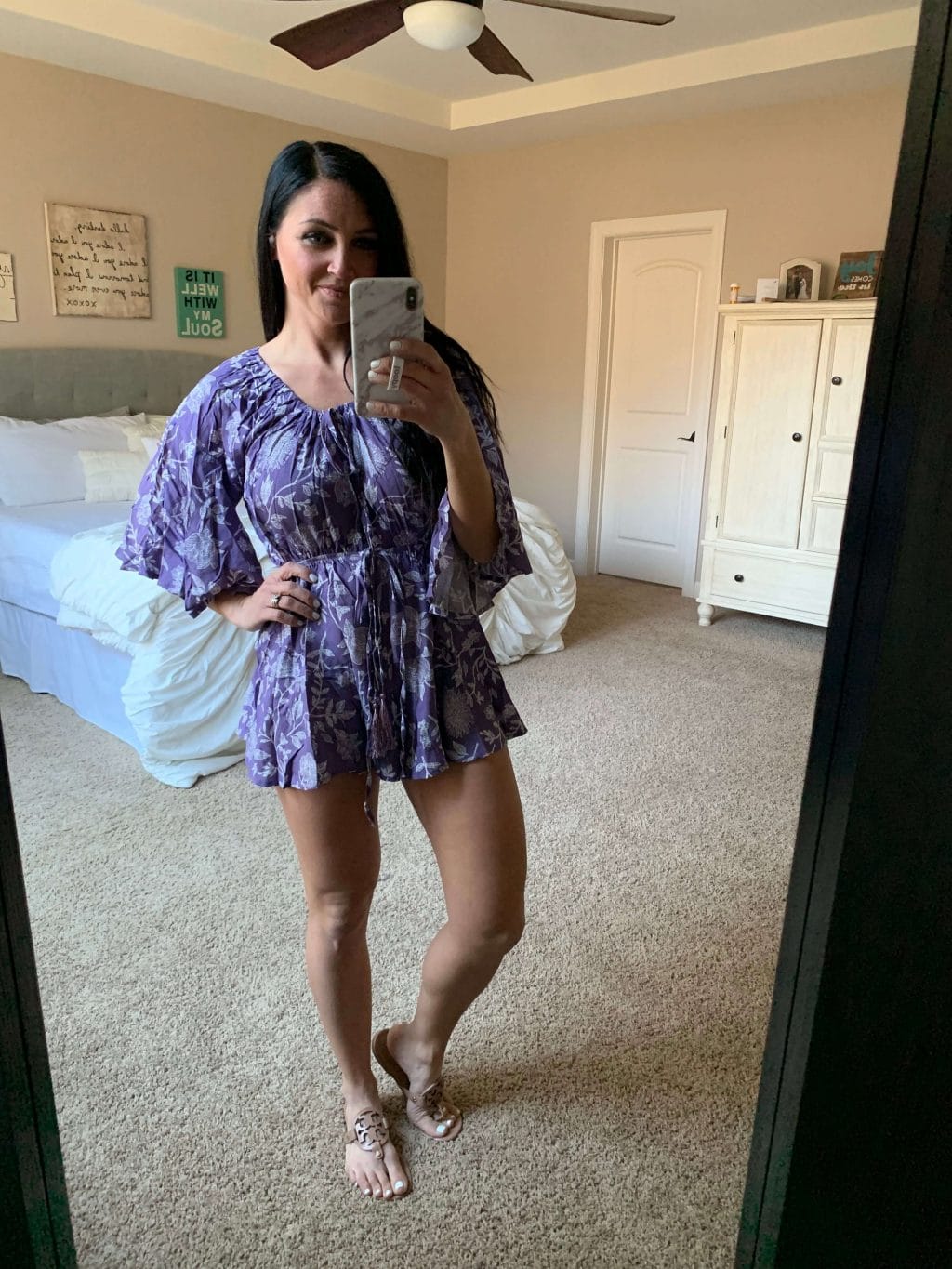 This is a miss for me, y'all. It's pretty short and the big reason, is that it's open all the way down the front. The ties keep it together, but it's too risque for a mom chasing kids! I do, however, think it would be an adorable bathing suit coverup!
I realized I don't have many blouses in my Spring wardrobe. It's mostly tees and tanks, so I wanted to try for some more! I like the print on this one and really like the lace insets. They are sheer, so if you want to add a tank underneath, that would make it more modest. I think it would be adorable paired with white jeans or for Memorial/July 4th!
I love the paper bag trend bottom trend and these shorts are no exception. They're a little more of a modest length, have an elastic waistband and sit about belly button height. They come in several colors and are a mix between a cotton and a linen feel. They're made to be loose, so I ordered a 4 and they fit well, with a little extra room.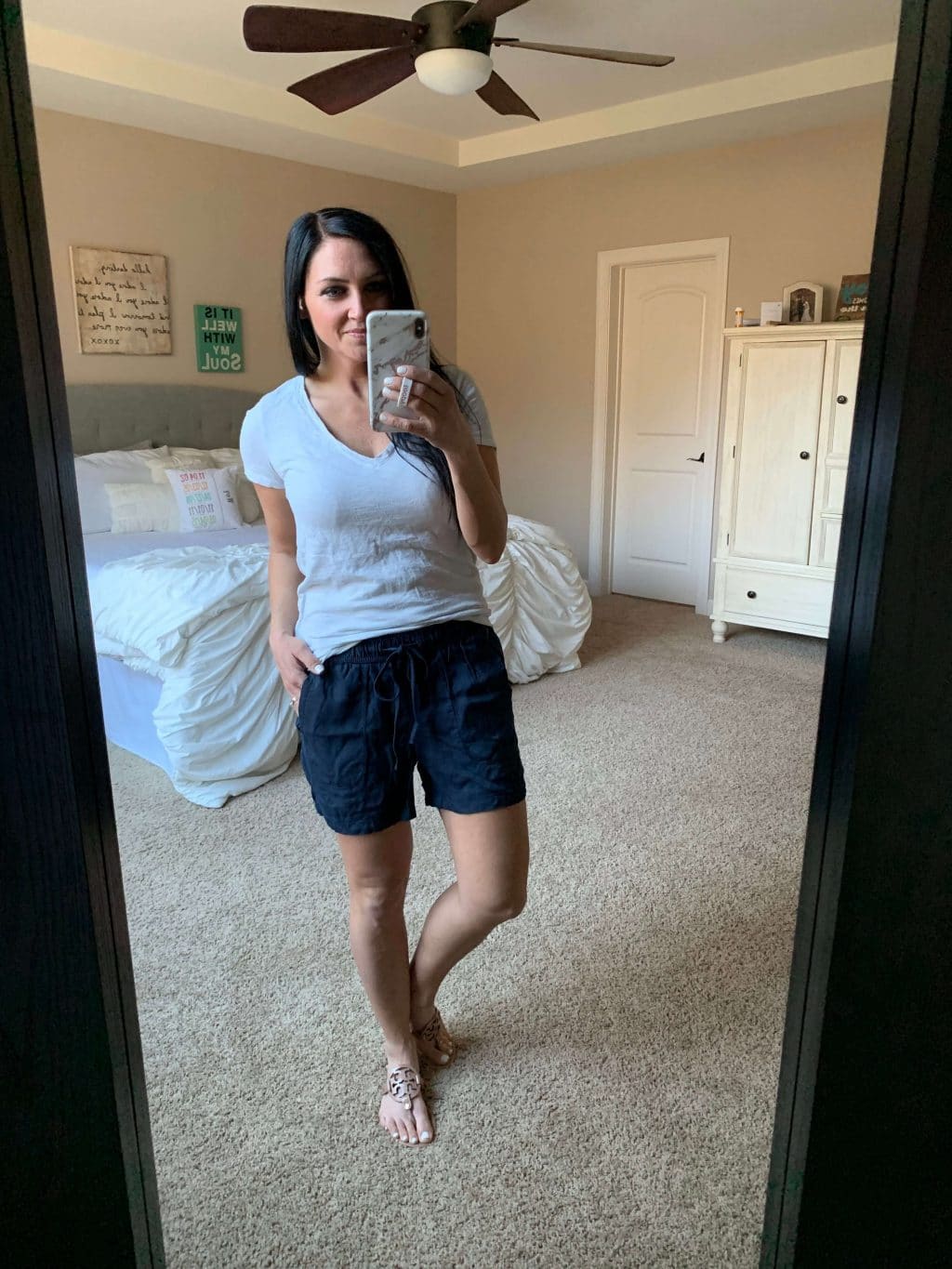 These are a great, comfy pair of shorts if you're looking for something a little longer/more modest. The description says they run small, so I ordered a 4, but I think a 2 would have been totally fine. They come in 6 colors.
Hope you enjoyed this March Amazon Haul. Coming up soon is the Amazon swimsuit edition!