Last weekend, we hosted a Cozy Christmas party at our house. We told guests to be comfortable and encouraged them to wear slippers. I'll be the first one to sign up for a fancy night out, but since there are a lot of events to dress up for this time of year, we wanted to give people's feet a break from the heels! I decided to keep it relatively simple on myself and went with one dish: The Ultimate Charcuterie Board.
If you've ever been to a party at my house, or even a random night hanging out, you've probably had a plate of cheese set in front of you. I love creating a pretty charcuterie board and almost always have cheeses on hand. I knew this one needed to be out of the box and different, so I set out with a vision and went for it.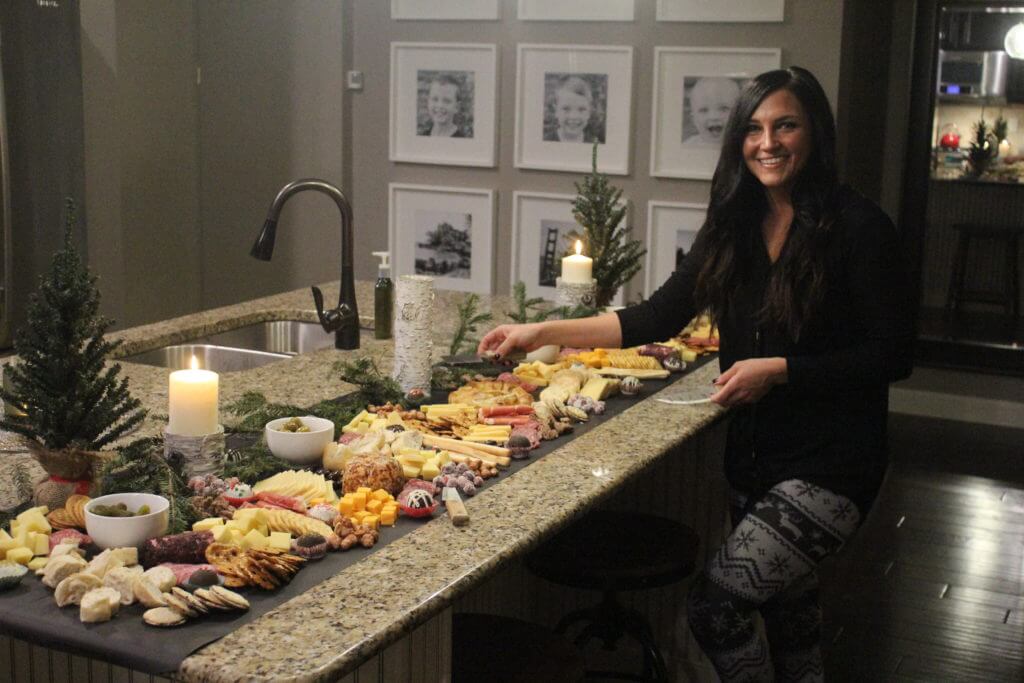 The best thing about this, is that the cleanup was a total breeze. I used a roll of chalkboard paper, stretched it out 2 times wide and taped it under the edge of the counter. After the party, we rolled the scraps up and threw it in the trash. We woke up the next morning to nothing more than some abandoned wine glasses on the counter and some cracker crumbs on the floor. No dishes for the win!
Here is what I used for my ultimate Charcuterie Board:
Cheeses:
Irish cheddar, Jarlsberg wiss, cranberry goat cheese, baked brie, smoked gouda, prosciutto wrapped manchego, cheddar cubes, cheese ball.
Meat:
Prosciutto, salami, capicola, chorizo. I actually bought a package of 4 different, pre-sliced meats to make it easy.
Crackers:
Sliced baguette, breadsticks, cracker assortment, snowflake Ritz crackers, pretzel thins.
Sweets:
Chocolate covered almonds, cinnamon pecans, toffee peanuts, sugared cranberries, Oreo balls, Brussels Pepperidge Farms cookies.
Extras:
Mini pickles, blue cheese stuffed olives.
Decoration:
Candles, greenery, small Christmas trees.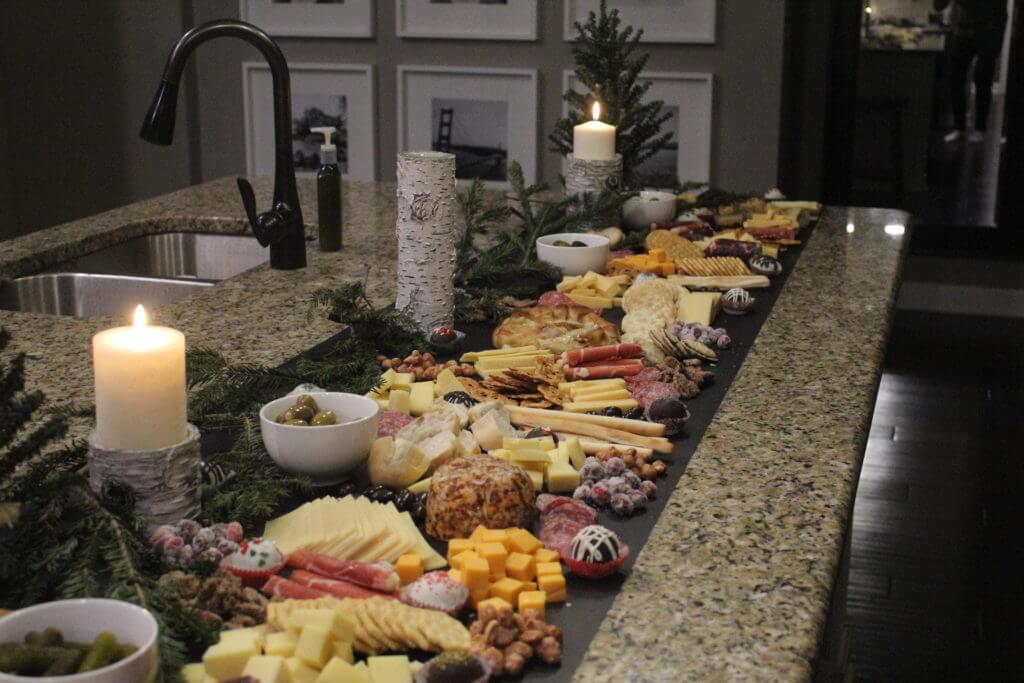 The key to creating this charcuterie board, is cutting up all your cheeses first. (I saved some time by buying the cheddar cubes precut) Set your bowls of pickles/olives and decor out first and make sure to leave room if you have a larger baked cheese. I had my baked brie in the center of the counter. You're going to want to put each item in 3-4 places across the counter, depending on length. Lay out some cheese, then lay crackers near it. Continue randomly placing all the cheese and crackers out, then fill in the gaps with your sweets. It's really that simple!
Here's the only other spaces we set up for the party, with a full bar and a simple cranberry mule punch.
What looked very visually impressive, really didn't take that long to setup. It also wasn't much more cheese or crackers than I would normally serve on a regular cheese board! If you're hosting a Christmas or New Year's party, I highly recommend creating an ultimate charcuterie board!