I am a new Auntie! My sister-in-law (husband's sister) had a beautiful baby girl, Gianna Rose on Friday. She was a little peanut at 6lb 15oz. My little man was never that small! We got to come down here to Florida to see her when she was just a couple hours old. Even though the flight was probably the worst in all humanity, we made it, got to sleep at 3:30am and woke up to go see her at 7:30am. It is totally worth it, though. She is perfect! We will be here a few days, so I am going to be distracted from blogging, while snuggling on the couch with this little angel.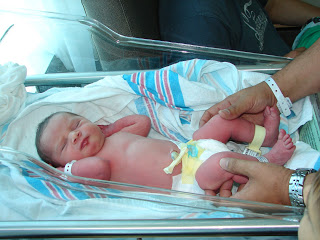 The cousins
This Orlando area is brutally hot, but nice. We are very close to the Villages which makes me want to retire ASAP and drive around in a high end golf cart. What a life. Do you think I could get away with having a car seat in one of those things? The hubs is determined to get in on a game of bocce for men over 65 while we are here, too.
On another note, after seeing the roads covered with loud motorcycles, we realized there is a bike fest going on here this weekend. Never have I in all my life seen so many tattooed biker chicks in bikinis. Wowzers. It is practically impossible for the kids to sleep in the car from the noise on the streets, or get into any restaurant in a reasonable time frame. Apparently, last year there were over 125,000 people, so good luck us getting up to the hospital today!