Last weekend, we took a family trip to Atlanta, Georgia with Discover Atlanta. I was born there, but lived in the city less than a year, before we moved to Alabama. Because of that and spending many more years in other parts of Georgia, it's where I call home. When we had the opportunity to head to Atlanta for the weekend, I was all over it. I was especially excited to bring my kids to Stone Mountain, where I remember going many times as a child. It's also where my sister lost her imaginary friend. Hehe.
We arrived on Friday afternoon, checked into our hotel in Buckhead and took off for Stone Mountain. It's been awhile since I've been, but it had way more stuff than I remembered! We spent some time on the ropes courses at Camp Highland Outpost, with the boys all about 30 feet in the air! Lincoln splashed in the creek below and kept pointing up to them. There were several different levels as well as some ground level courses for smaller kids.
We took the Skyride 825 feet up to the top of the mountain, went on the land to water attraction, Ride The Ducks, and stayed up way after bedtime for the great Lasershow. My only regret in this stop is that we didn't have more time. You could literally fill up a whole day with really fun stuff here! 
On Saturday, we woke up and headed to the College Football Hall of Fame. We are really into baseball and professional football, but don't follow college as much. But we do have 3 boys and sports are our lives so off we went! It was incredibly interactive and had just tons of stuff to do and learn. The boys said it was their favorite! After touring the actual hall of fame, you can go downstairs for a little football training of your own. I even got in there and made a couple embarrassing attempts!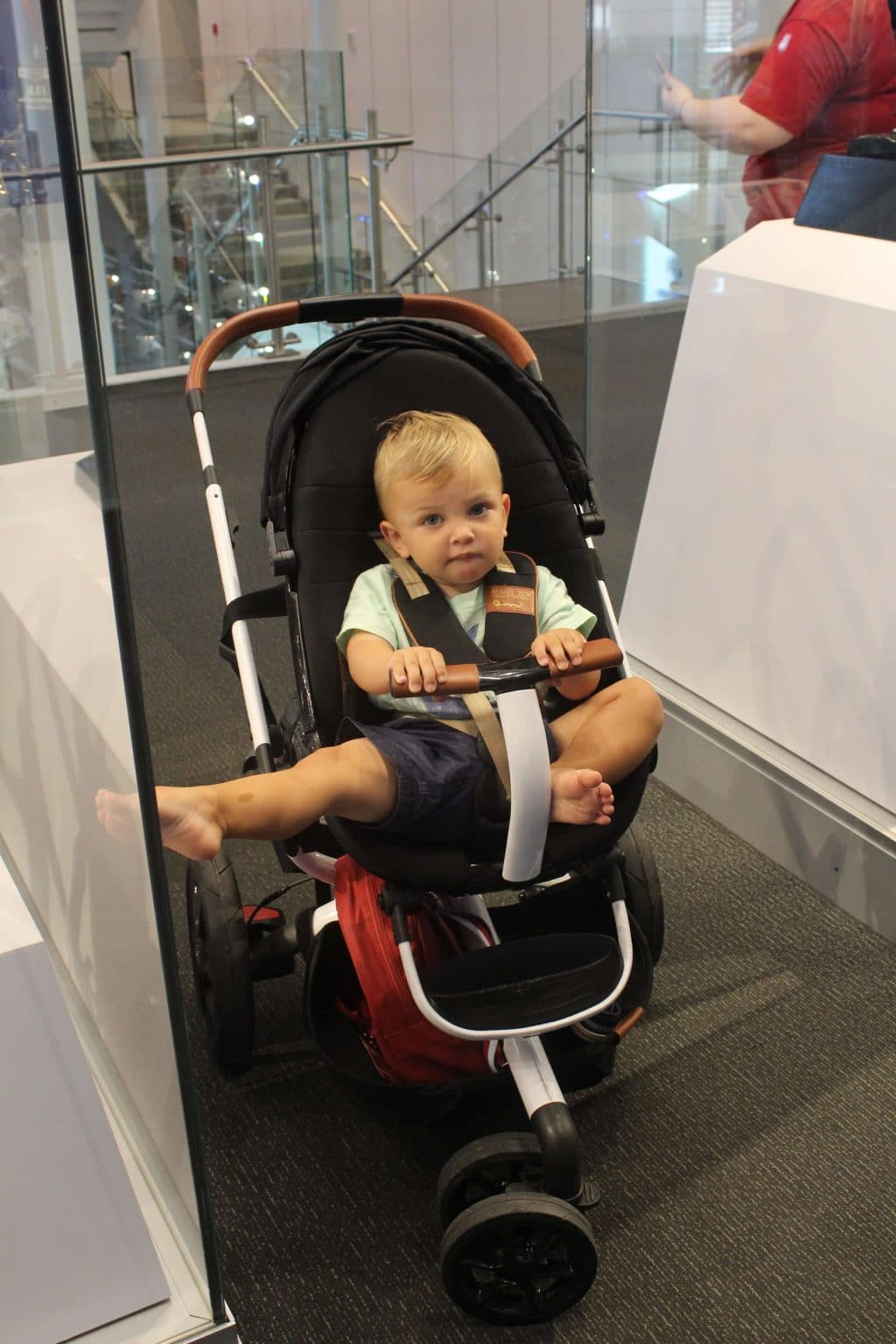 We followed that up with a stop at Googie Burger, right in the heart of Centennial Park. I give the burgers a 6 out of 10, but the waffle fries a 10! It's a cool spot with a great view and location.
That night, we headed out to Lawrenceville to Medieval Times. I've never been to one and didn't really know what to expect. One thing that shocked me is that there are no utensils! The Hubs is a germaphobe and he was pretty freaked out by that! But despite Lincoln being pretty cranky from not napping, it was a fun experience and the big boys loved it!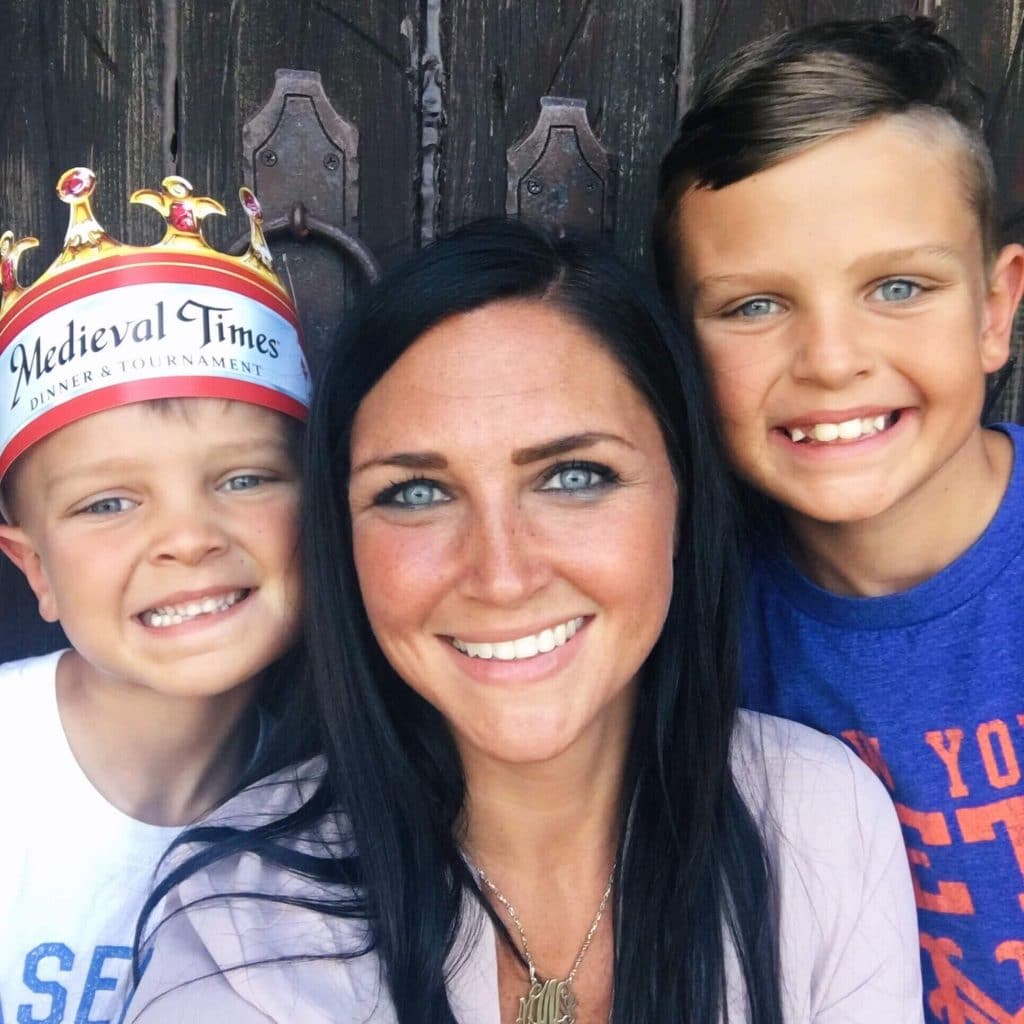 Sunday morning, it was off to Piedmont Park! This park is MASSIVE and has great views of the Atlanta skyline, playgrounds, ponds and plenty of wide open space to let the kids run around.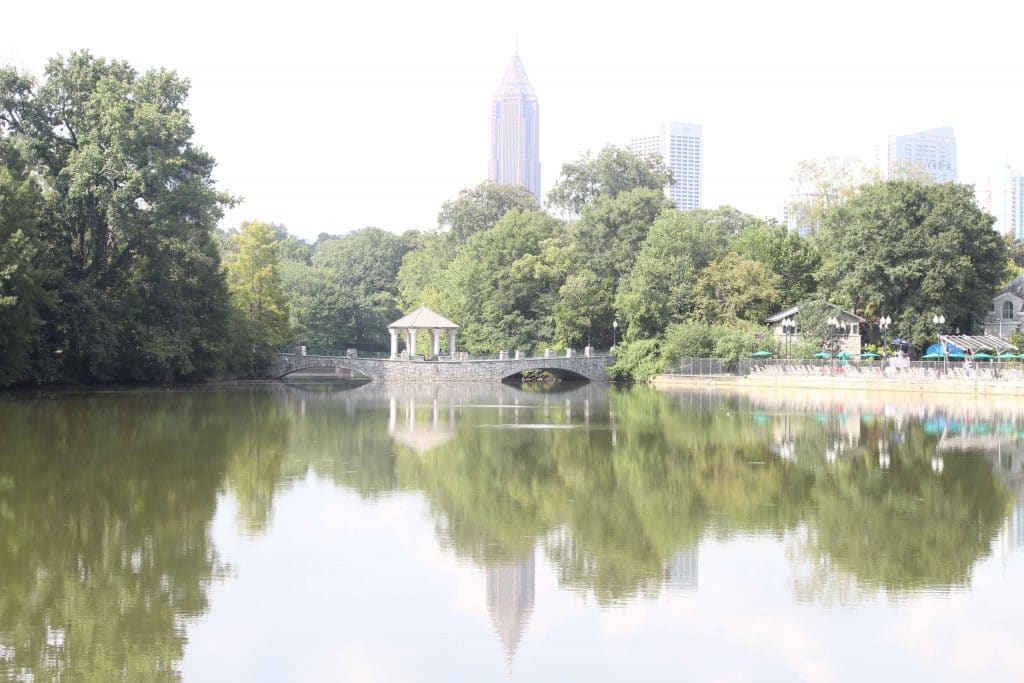 We wanted them to get some energy out before we went to the Georgia Aquarium! We were here about 3 years ago with the 2 big boys, but it was so fun to go again. It's a great aquarium and is very well laid out.
Because we got CityPASS, we were able to get into several places for the cost of the 1 booklet. One of those was the Center for Civil and Human Rights. It was honestly eye opening to see how real the inequality is in today's day and age. My boys were taking it all in and it really brought up some good conversation with them about loving everyone. 
Also in the CityPASS and right across the street, was the World of Coca-Cola. You go on a tour, learning lots of history, then end up in a sample room with every different soda they make across the world. We aren't big soda drinkers and my boys get it for treats, so they were SO EXCITED to sample everything! 
We packed a ton of stuff into 1 weekend and it was so much fun. If you've never been to Atlanta, I highly recommend it as a great place to take the family! One place we drove by but didn't have time to actually visit, is the new Braves Stadium, SunTrust Park. We are already planning a trip back next spring when baseball starts again!
Thais trip was sponsored by Discover Atlanta. All thoughts and opinions are my own.