Happy week! I was so excited to try on some new Amazon finds this month, but man. Unpacking, then catching some kind of cold that knocked me out for a few days got me behind. But I'm better and ready to get this house finished and some January Amazon finds shared with y'all!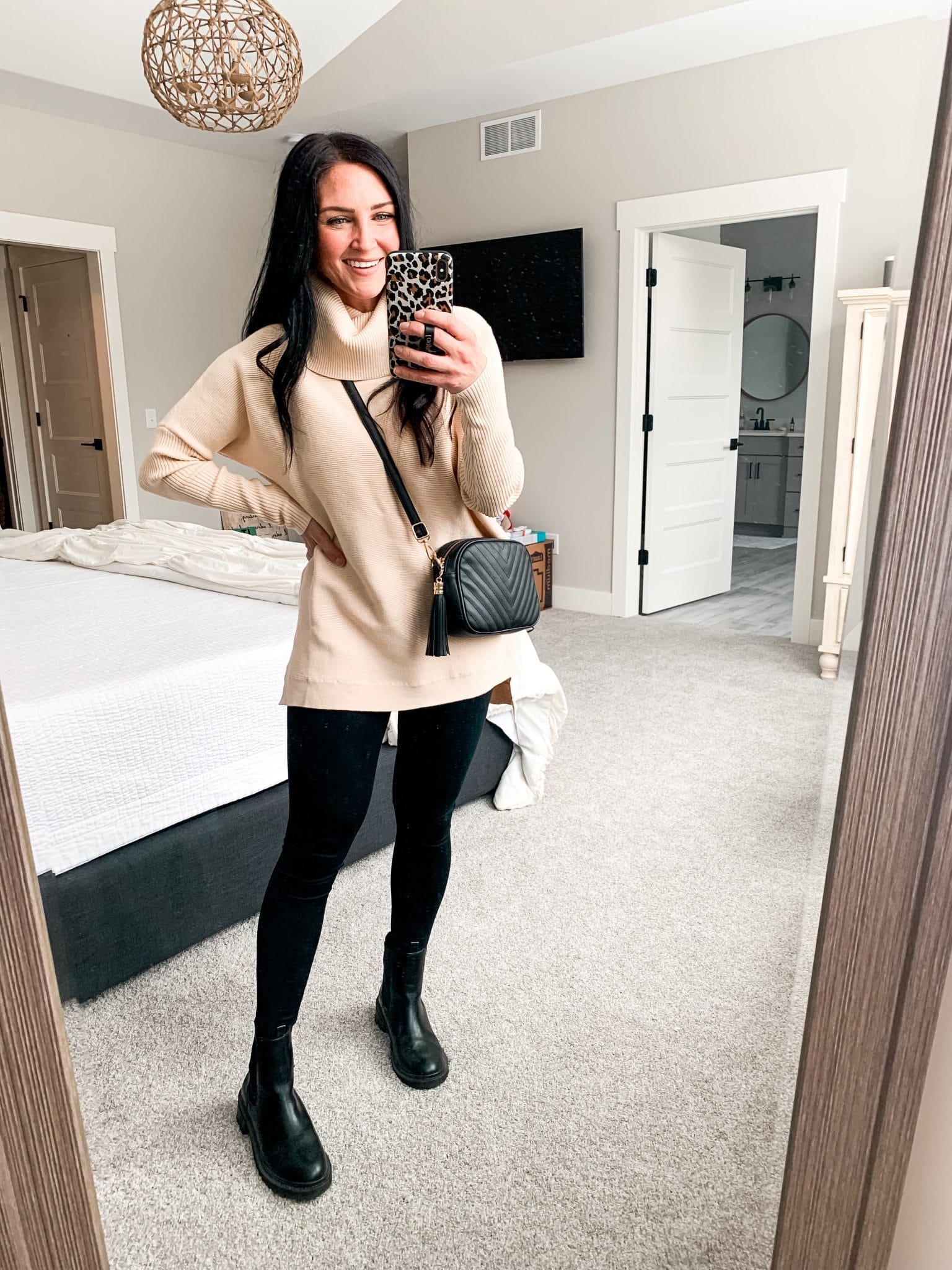 I knew the second I put this sweater on that I had to keep it! It's the same brand and quality of my favorite turtleneck sweaters and I might love this one even more. It has splits on the side and is longer in the back. It comes in lots of colors, just like the leggings! My new favorite comfy ones that are super affordable.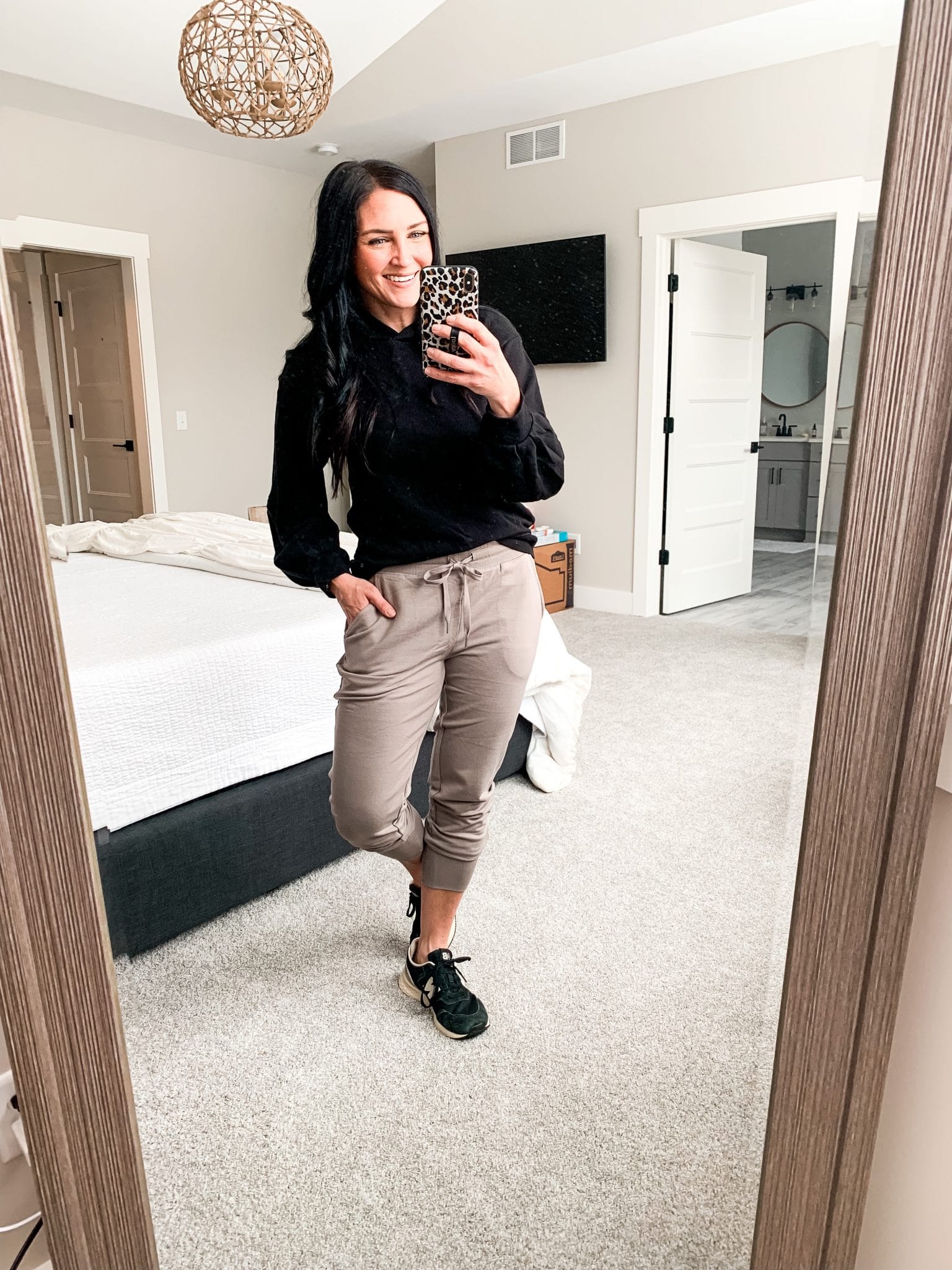 Hoodie | Oversized | XS || Joggers | Oversized | Small || Sneakers
I have a couple colors in this hoodie and they're great. It has puffed sleeves, a banded bottom and hood. It's a cotton and modal blend which gives it some stretch and makes it not fade in the wash! This black one is actually over a year old and still looks great through many washes!
The joggers are new this month and area actually the same cotton modal blend as the sweatshirt. They hold their shape well and are so soft. They are oversized and I should have ordered the XS for a more fitted look. I ordered the color smokey grey and it's a pretty taupe color.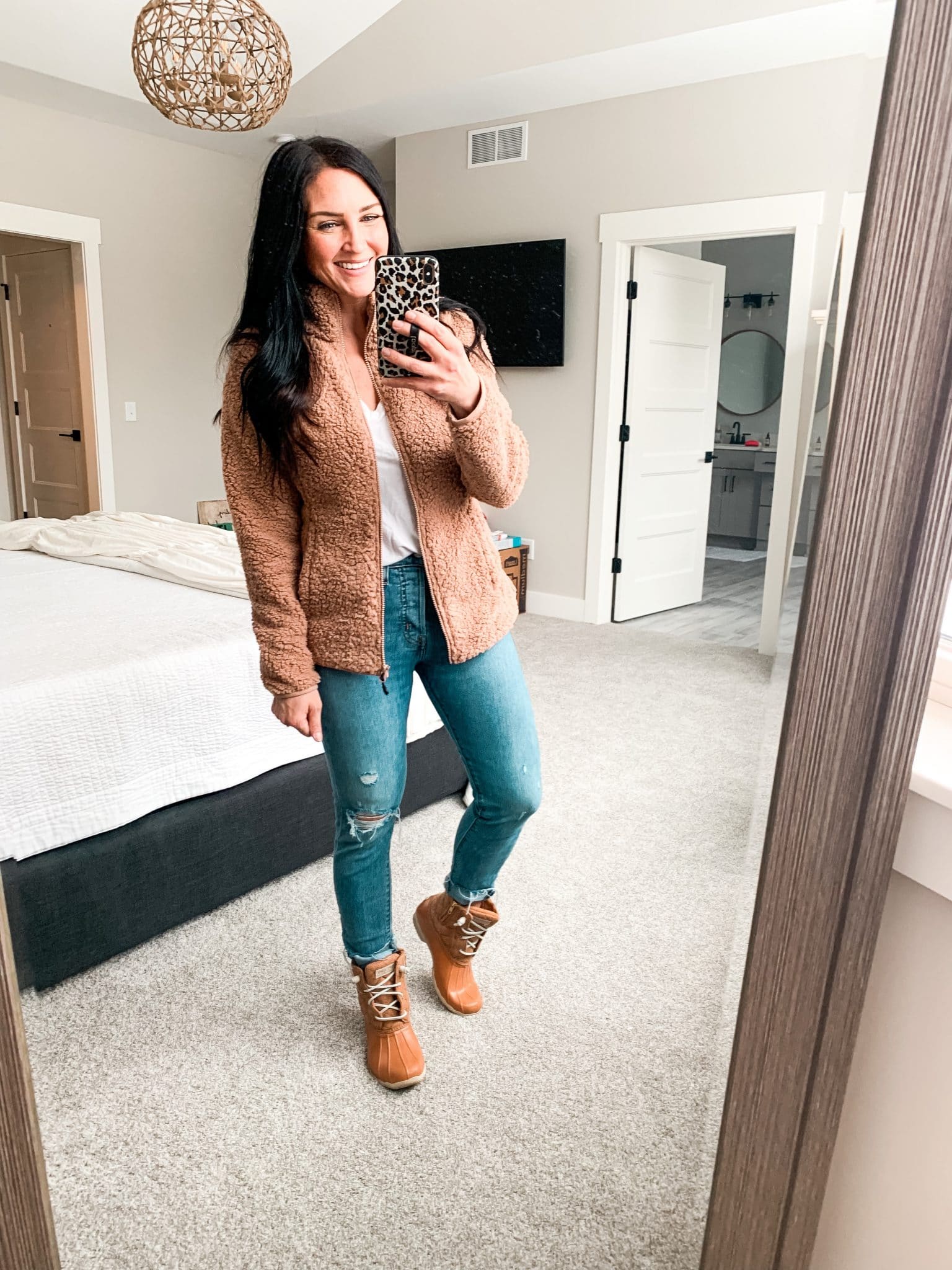 This jacket comes in so many colors and prints and is cozy warm. It's perfect for this Michigan weather! I like that it has shape to it, so when you zip it up, you don't look like a blob. 🙂 It has zipper side pockets and can be worn more shirt like, or as a jacket.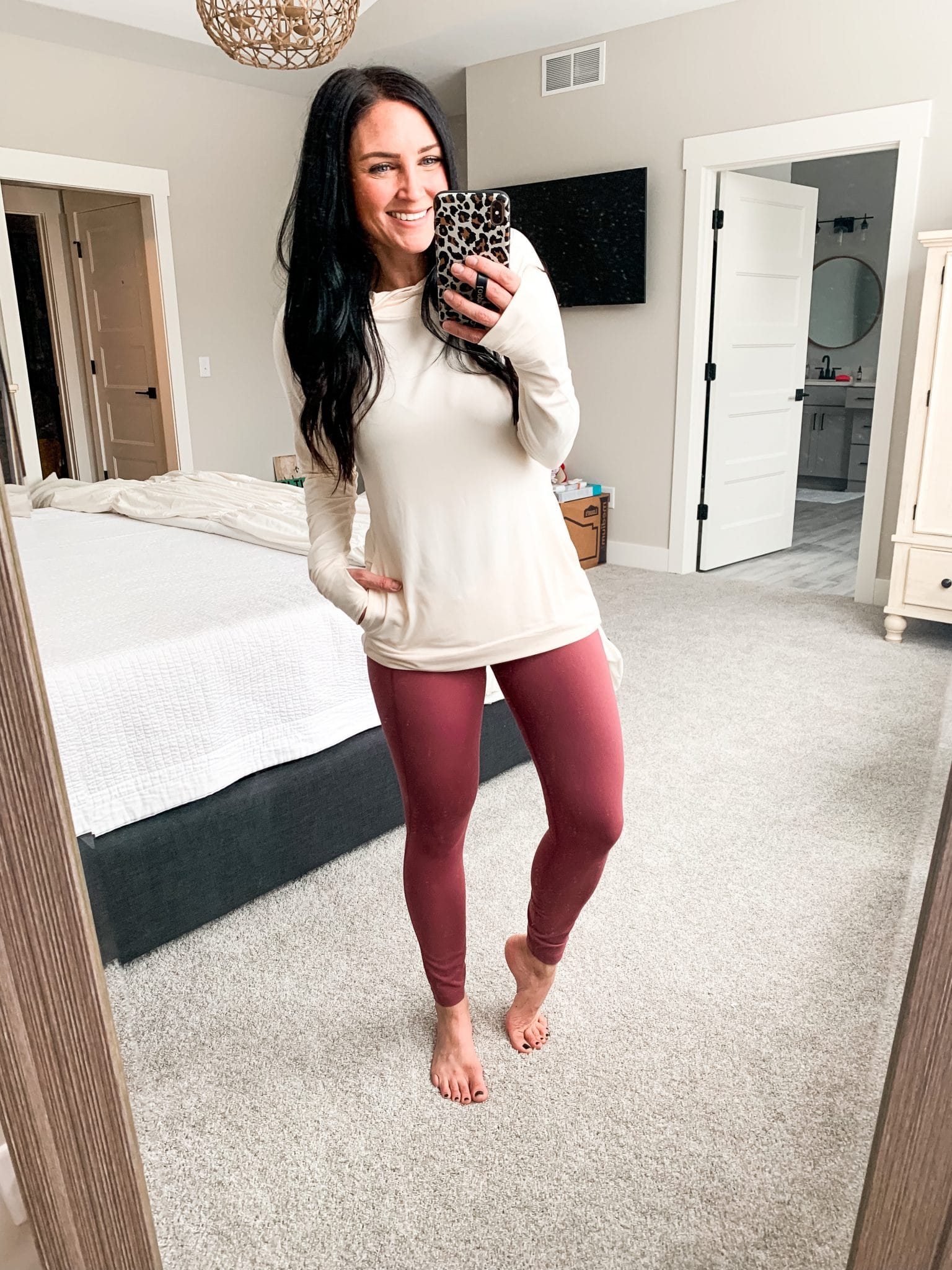 I love a workout top with thumbholes so I grabbed this one. It's buttery soft, has a hood and has a front pocket. The front pocket doesn't lay exactly flat, so be warned. But I do love it and it's a great winter workout top.
The leggings are so comfortable and the feature I bought them for is the gathered waistband. They are ruched from the hip to the top, right on the front, covering any mom flaws! They are 26″, so a perfect length for shorter legs. I'm wearing the color rose.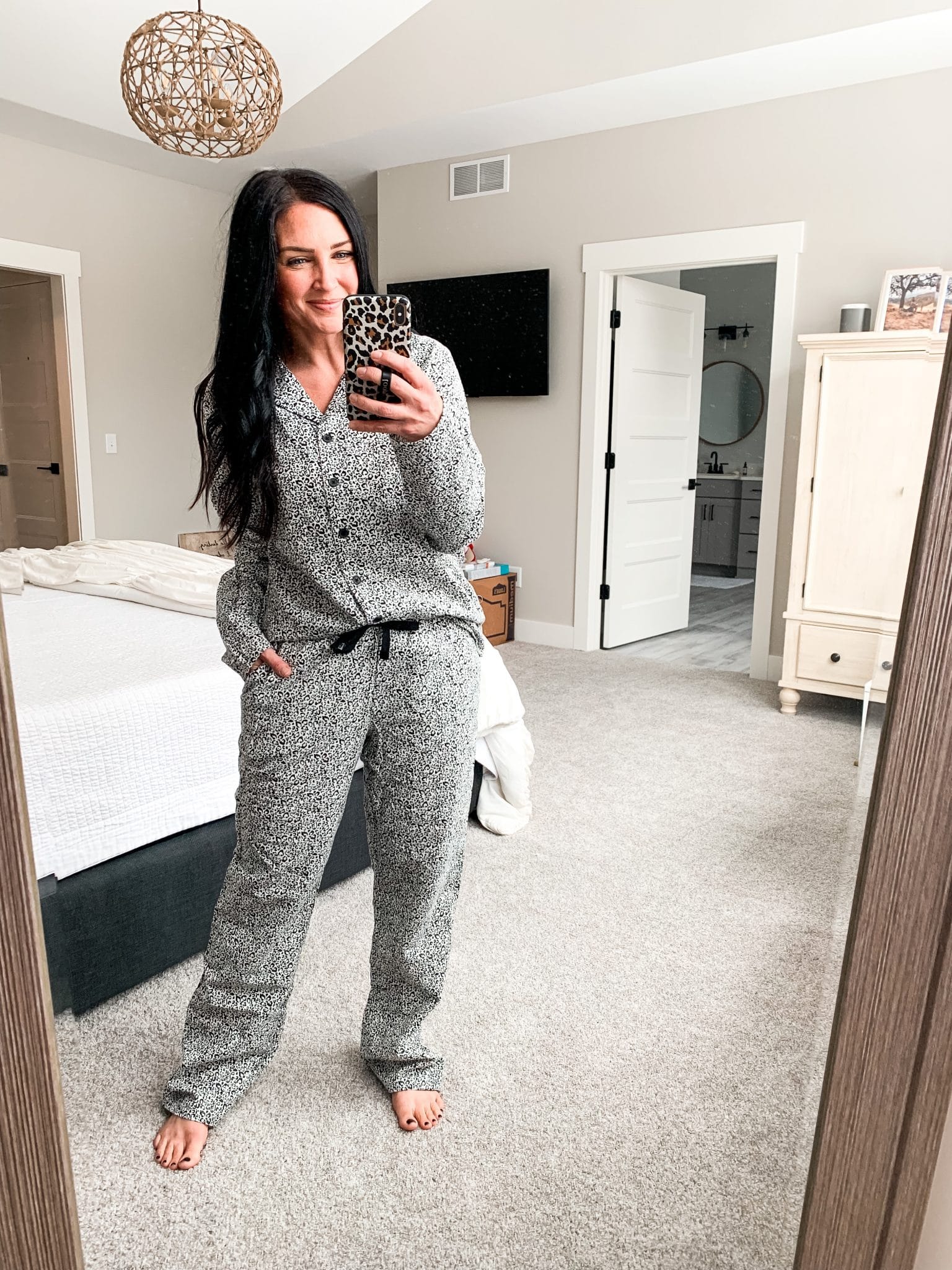 These pajamas are called flannel, but they aren't as thick as a traditional flannel set is. I love how soft the feel, even though they are very oversized. I need an XS and they would still be pretty big on me. These are around $25 and come in lots of colors, making them a perfect gift. These are the color snowy/leopard.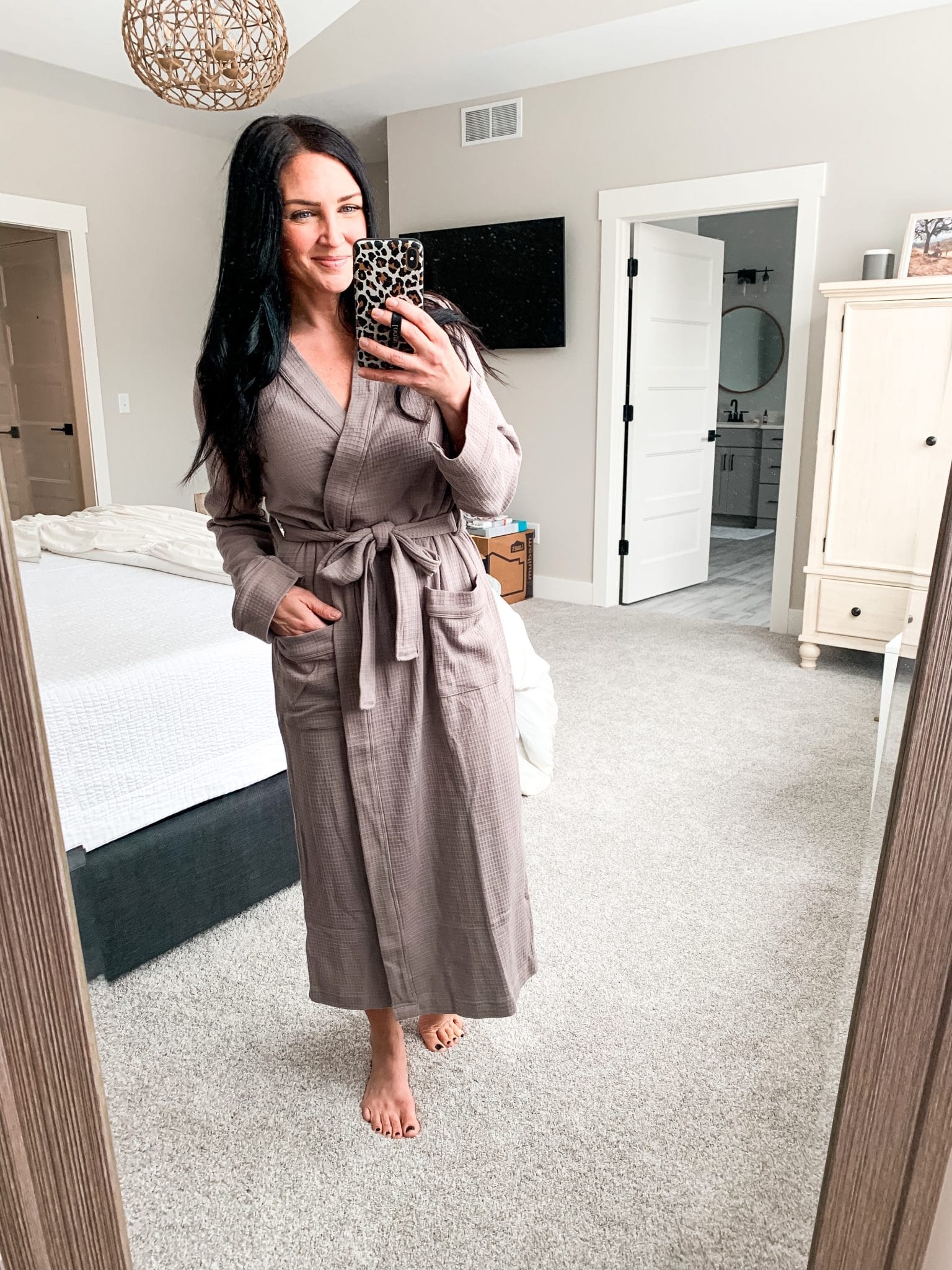 I love a good robe! This one is just that. Waffle knit, with just the perfect medium weight. Interior and exterior ties, a great price point and many colors. This one is full length, which I love too!