Brown paper packages tied up with string, these are a few of my favorite things! Still shopping for some girls? Your mom, sisters, best friend and any other girl will love my favorites on this girls gift guide!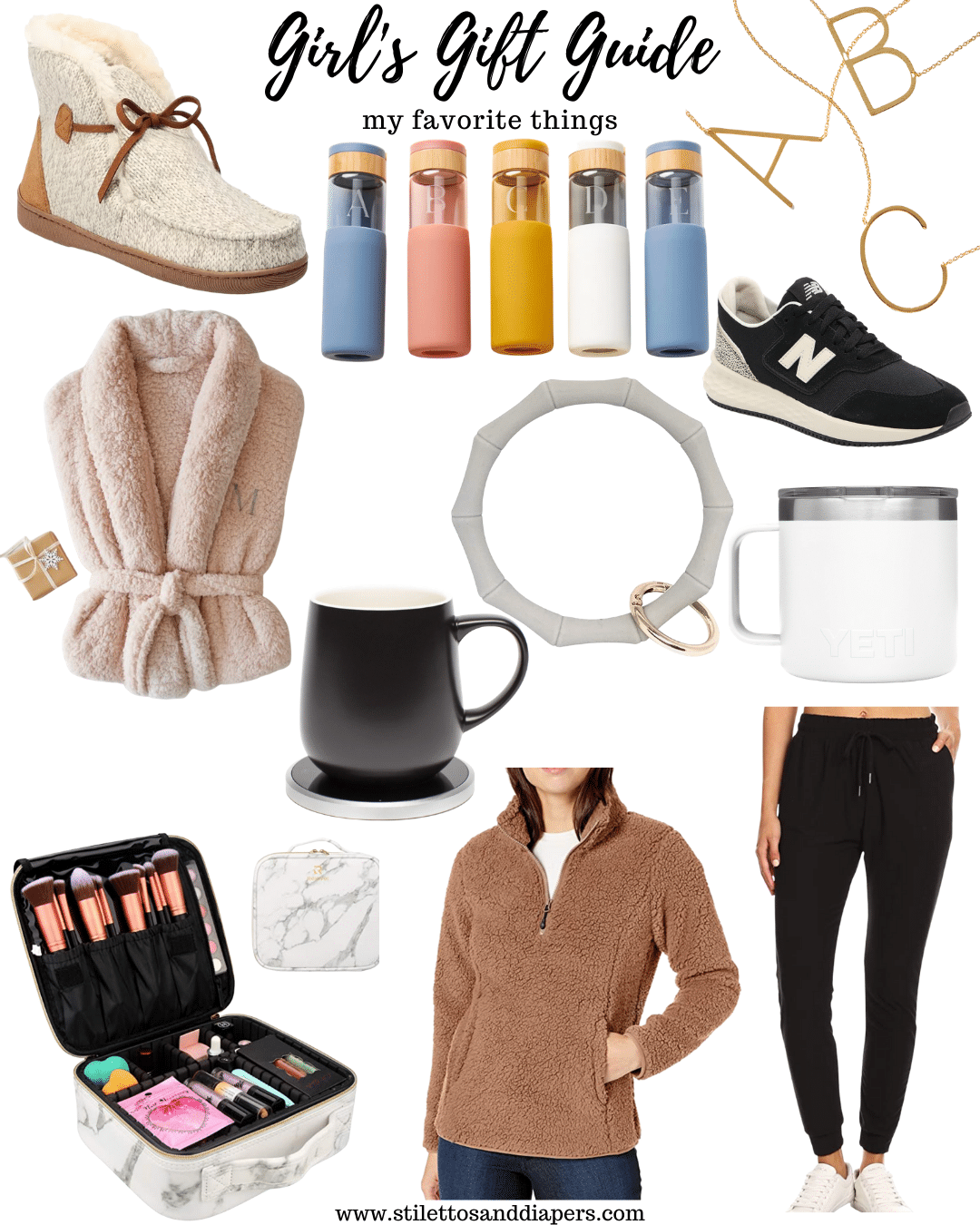 These are my favorite joggers ever! I have 2 pair and I wouldn't mind all the colors!
Virtual school moms rejoice! This mug and warmer keeps your cup of coffee hot while you get distracted and forget about your coffee during a zoom call. This is a great gift for any girl in your life!
Did you know? I have a robe collection. A travel robe, a winter robe, a summer robe…I have a thing. In my opinion, robes are just one of those gifts that are perfect to be given in the winter time and something people don't often have in a nice, newer version.
This is the best makeup case and fits an absolute ton. I've use this one for a couple years and it's holding up perfectly. It seriously keeps all your makeup and toiletries protected in the hard shell and is easy to organize.
I wear my "M" necklace all the time that is a similar style to this original one. It's a great, more personal gift and super affordable!
This key ring is the best little gift, stocking stuffer or gift topper! I have 2 and love using them for my keys. I often wear it like a bracelet and it makes mom life a bit easier. My sister has a newborn and was so thrilled when I gave her one of these!
You can never have enough slippers and these are the perfect winter pair. The whole boot style keeps your feet super warm.
This won't keep your kids from drinking your water just because it has your initial on it, but it is darn cute!
The Hubs got these for me for my Birthday and they're my favorite pair of sneakers ever. So comfortable, yet they look great enough to wear more "dressed up".
This is a new Amazon find for me and I absolutely love it! It's SUPER warm and perfect if you live where it's already really cold.
From keeping coffee hot to keeping cocktails cold, this is the best and most versatile mug. In all fairness, I stole mine from The Hubs. It is no longer his. 🙂