This week, I used that fun site that gives you a collage of your top 9 Instagram pictures of the year. Obviously, this one was full of my sweet little Lincoln! I decided to do a little recap of the year here, too. I always love looking back and am reminded of so many great memories!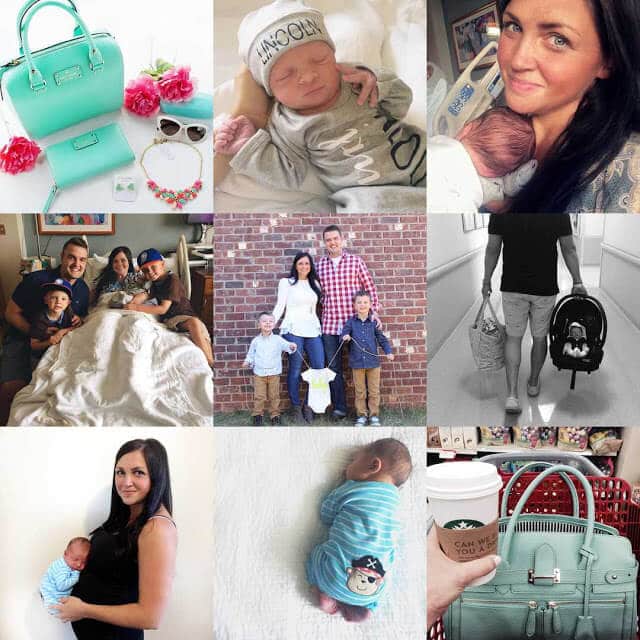 January – We came home from New Years in New York and spent what feels like the rest of the month in bed. Between morning sickness and a wicked cold/flu thing, I was wiped! My favorite look was this one I wore in NY.


February – Just before Valentine's Day, we shared the news that #3 was on the way! After that, we had big snowstorm that left us snowed in and Coop out of school for 8 days! My favorite look of the month was this cape and layers for all the cold!


March – Started this month off with a trip to Georgia to see my family, where I wore my favorite look of the month. We had a visit from my friend Rachel and her hubby and built these cool DIY floating shelves in our living room.


April – Easter weekend started off spring break here and I somehow agreed to spend it camping. We found out #3 was a little man and went on a trip to Atlanta to see the Braves play the Mets. My biggest baby turned 7 and I cried like he was moving out. (pregnancy hormones!) My favorite look was this maternity poncho that I still wear!


May – We celebrated Cooper's Birthday a bit late, I shared all my feelings about being a boy mom and had a low key Memorial Day weekend here. My favorite look this month was exciting to be able to bring out the shorts!


June – This month made me realize how hard pregnancy in the southern heat is and I started making mocktails to drink by the pool. I collaged my ever growing bump, Cooper had his last day of 1st grade and we took off for the beach, where I wore my favorite look of the month.


July – We came home from our beach trip to a fun July 4th at home. I gave my tips for road tripping with kids before we took off for Charleston for a baby moon with kids! My favorite look of the month was this this one with my overworn white skinnies.


August – I was getting nest-y and got to cooking healthy snacks, prepping school lunches and packing my hospital bags. I wore my favorite look to school orientation and soaked up our last weekend before school started back.


September – The big baby month! I shared my concerns about a repeat c-section, Lincoln's first week and birth story. Since I didn't cook much that month, I talked about all my favorite Charlotte restaurants and got take out from most of them. Haha.


October – I was starting to get back to normal this month. Lincoln turned 1 month old, we finally got a king bed, I got back to posting some fashion, we had our first pictures as a family of 5 and we had a ton of fall fun. My sweet grandma went to heaven and we were able to go to Georgia and spend a few days celebrating her life and spending time with family.


November – Callan turned 4 and we celebrated with a Paw Patrol party. I turned 31 and my mocktails turned back into cocktails. I posted about my love of the Target Cartweel app and my favorite look was red suede and stripes. My family came for Thanksgiving and it was warm enough to go boating in November!


December – The Hubs and I celebrated our 10 year anniversary. We got a Christmas tree, decorated the house and made cookies and a plate for Santa. I got to get all dressed up for a Christmas party, but my favorite look of the month was comfy and plaid. Lincoln turned 3 months old and will be 4 months in just a few short days.


2015 has been wonderful to us. It will always be a favorite of mine, because it brought me Lincoln! I'm so grateful for all the memories that we've been able to create this year and can't wait to see the excitement 2016 has in store!