Right along with almost everyone in the world, January brings a great time to reset, reevaluate and make changes for a better lifestyle. For me, January brings goals of purging my house, bettering myself as a mom and of course, eating healthier. I've actually been proud of how much I kept it together over the winter so far, as I usually become much more lax when the bathing suits are packed up. But I really didn't give up too much until the last couple of weeks. I can say, though, that I feel crappy. Eating all the fun food is a great time, until your pants are tight and your skin looks like a teenager again. So, just like last year, I'm doing a January Whole30! If you haven't been here before, check out where we did our first Whole30 and our results. If you haven't done it before, I highly encourage you to be strict and really commit to the full 30 days. I already know the foods I'm sensitive to, after completing it a couple time and can really customize my plan a bit more now. I have a 3 nights that I will be eating out for events this month and will just do my best then!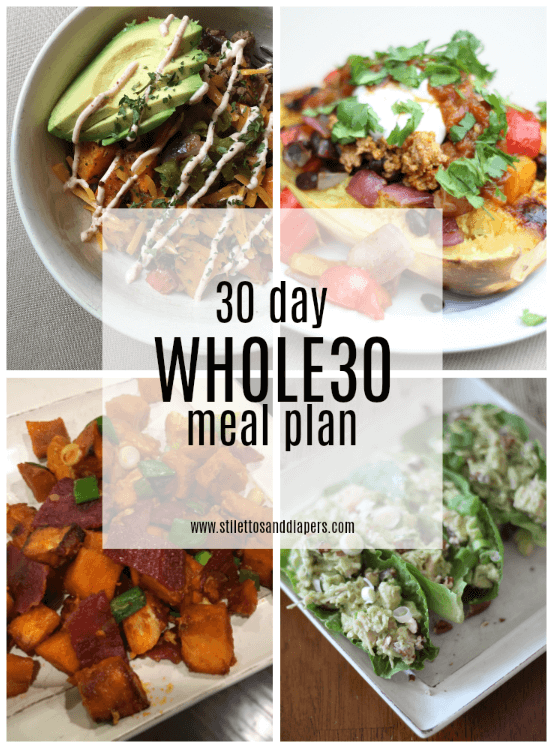 Most of these links go to my Pinterest board. I recommend following the board and pinning the recipes to a specific board you create. This will make it easier to find each day. I also keep this post open on my phone so I can easily check back to it.
Whole30 January Menu
2 – Spaghetti Squash Taco Boats (omit beans)
3 – Cauliflower Chicken Fried Rice
4 – Lettuce Wrap Burgers+ homemade fries
6 – Crockpot Roast with potatoes and carrots
10 – Breakfast: Eggs, Sausage, Banana Pancakes
11 – Grilled Chicken Salad
12 – Buffalo Chicken Casserole
13 – Zuppa Toscana
14 – Sheetpan Cashew Chicken – sub soy sauce with coconut aminos and cornstarch with tapioca starch. Serve with side of cauliflower rice.
15 – Sweet Potato Taco Skillet
16 – Eggroll in a Bowl
17 – Lemon Thyme Crockpot Chicken
19 – Sweet Potato Chipotle Chili
20 – Meatloaf, Roasted Potatoes, Brussel Sprouts
21 – Firecracker Pineapple Chicken – side of cauliflower rice
22 – Spaghetti Squash Taco Boats
23 – Chicken Cobb Salad
24 – Salmon with Avocado Salsa, Green Beans
25 – Lettuce Wrap Burgers + homemade fries
26 – Sweet and Sour Chicken –
27 – Balsamic Glazed Steak Rolls
28 – Grilled Hawaiian Chicken Packets – use compliant BBQ sauce and coconut aminos in place of soy sauce.
29 – Shepherd's Pie
30 – One Pan Salmon Bake
Here is a printable calendar that will help you with planning. I write mine down on my DIY calendar and menu board, so that everyone knows what's for dinner!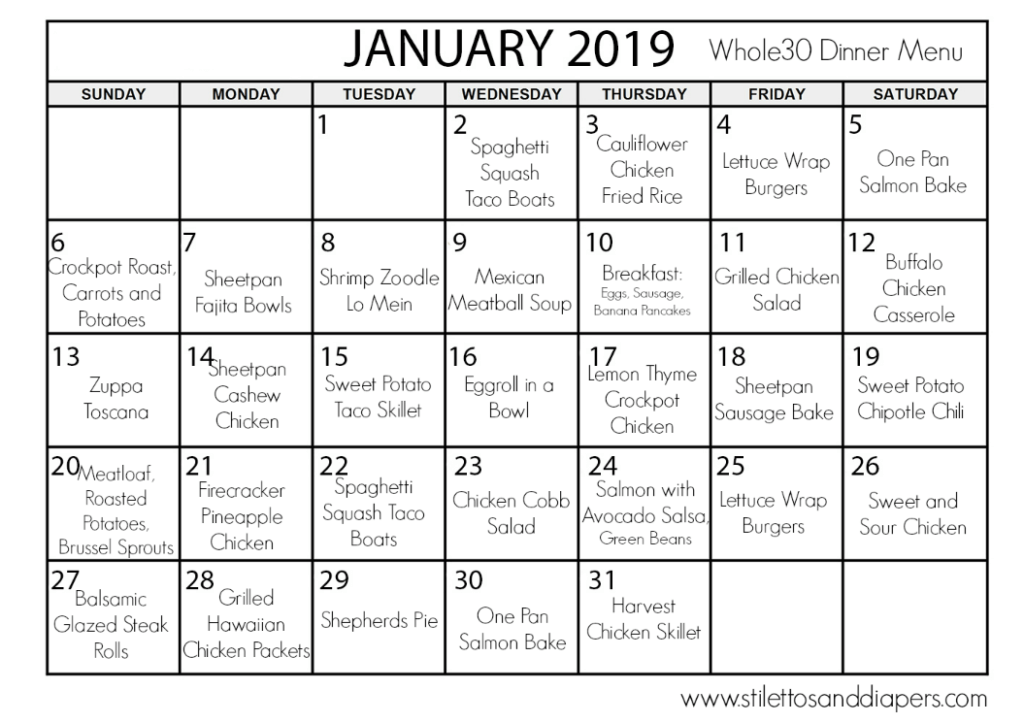 Lunch Ideas
Breakfast Ideas
Sweet Potato Waffle Breakfast Sandwich
If you need even more inspiration, check out my original Whole30 posts. I shared everything I put in my mouth for the full 30 days!
This month, I'm joining with Heather, Jessica and Lindsey for this Whole30. Make sure to follow along with them as well, because they'll be sharing meal plans, workout tips and their favorites throughout the month!
Tell me, are you going to join us in Whole30 January this month?!